16 million people visit Amsterdam each year for its tulips, cheese, windmills, and a notoriously open approach to everything.
This can make deciding where to stay quite the challenge.
Because of this, you will want some guidance on where the best areas to stay in Amsterdam are and which ones you should avoid.
In this article you will find:
We asked local Amsterdam expert Melissa Adams to create a guide on where to stay in the city and share her opinions on what she thinks a first time visitor to Amsterdam should see.
Whether you want to know where to get the best food or where you should base yourself if you want to explore the history and museums, this guide will help you plan your next visit to Amsterdam.
The Best Places to Stay in Amsterdam
We get a lot of the same questions from readers when they are looking for a place to stay in Amsterdam and thought we would answer them first.
The Top Neighborhoods to Stay in Amsterdam
Historic Centre – the Medieval heart of the city around Dam Square and the Red Light District
The Jordaan – Postcard-perfect views in one of Amsterdam's most renowned neighborhoods.
Museum District/Oud-Zuid – World-renowned cultural venues near Vondelpark and Leidseplein.
Oud-West- Off the tourist path neighborhood encompassing cultural hotspot De Hallen, offering eclectic shopping and easy access to popular attractions.
De Pijp – Multicultural neighborhood anchored by the Albert cuyp street market.
Jewish Quarter/Plantage – District around Waterlooplein and Artis Zoo, where a large Jewish population once lived.
Amsterdam-Noord – Futuristic architecture, edgy dining and eco-conscious experiments in a former shipyard on the north side of the Ij River.
1. The Historic Center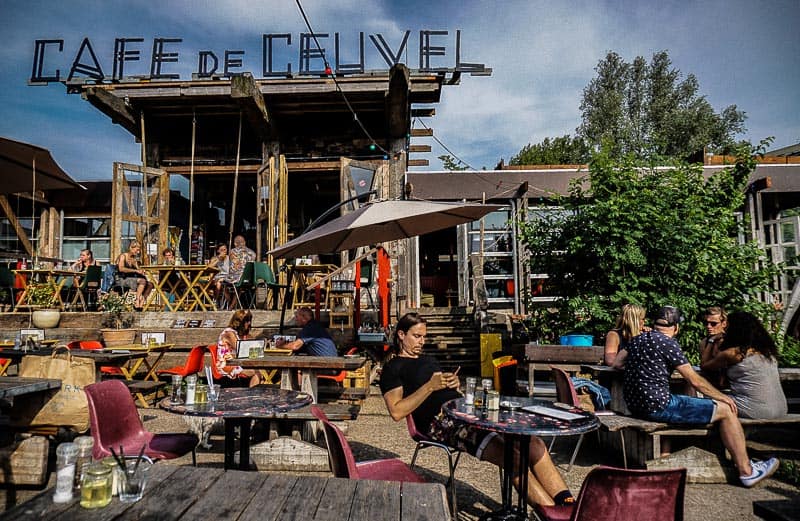 The historic city centre radiates from Dam Square, where a dam kept the city from flooding in the 13th century.
This is one of the best places to stay in Amsterdam.
This neighborhood is one of the oldest and most beautiful parts of the city.
It is punctuated with coffee shops, peep shows, brothels and prostitutes in red-lit windows, interspersed with fine restaurants, historic churches, and a craft brewery.
If this is your first time in Amsterdam and you want to be in the heart of it all then this is where you want to base yourself
Where to stay in Amsterdam Near The Historic Center
Check out availability and prices on Airbnb
Best 5-Star Hotel: Sofitel Legend The Grand – A 5-minute walk to Dam Square. Complimentary WiFi, Nespresso machines, Bose entertainment systems, butler service.
Check out availability and prices on TripAdvisor or Booking.com
Best Mid-Range Hotel: The Exchange – Fashion meets architecture in this central hotel on Damrak overlooking Amsterdam's early 20th-century Stock Exchange.
Check out availability and prices on TripAdvisor or Booking.com
Best Budget Hotel: Meeting Point – Basic hostel on lively Warmoesstraat bordering the Red Light District. Free WiFi.
Check out availability and prices on TripAdvisor or Booking.com
Top Things to do in the Historic District
Getting There
Amsterdam Central Station is the city's main public transportation hub.
Virtually all GVB trams and buses start their route in front of the station, which faces the historic center.
Most also stop at Dam Square in the center of town.
2. The Jordaan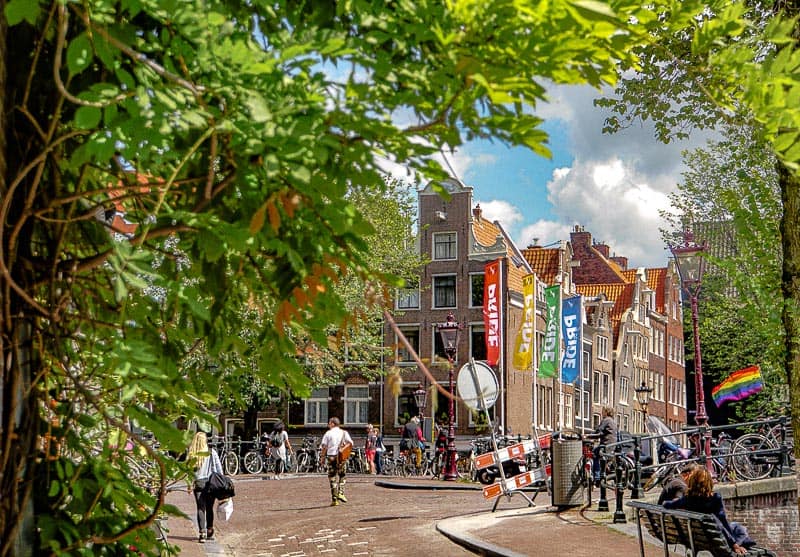 Once renowned for radical politics and rowdy sing-a-longs, the Jordaan has evolved over decades of gentrification from a working-class area into an upscale neighborhood for arty professionals.
With its cobbled streets, gabled homes and tree-lined canals, the picturesque district is a living picture postcard with an eclectic mix of art galleries, sidewalk bistros, and trendy boutiques.
Beginning at Brouwersgracht just west of Central Station, the Jordaan arches around the western Canal Ring between Prinsengracht and Lijnbaansgracht, ending at Leidsegracht.
This is by far the coolest district in Amsterdam to stay in.
Where to stay in The Jordaan district
Best 5-Star Hotel in Jordaan: Pulitzer – Beautiful waterfront hotel in 25 restored 17th– and 18th-century canal houses. Close to 9 streets and Anne Frank House.
Check out Availability & Prices Trip Advisor / Booking.com
Best Mid-Range Hotel in Jordaan: Amphora – Sophisticated B&B on the ground floor of a canal house in the heart of the Jordaan.
Check out Availability & Prices Trip Advisor / Booking.com
Best Budget Hotel in Jordaan: Hotel van Onna – Basic, family-run hotel in 3 adjacent waterfront canal houses dating from the 17th century. WiFi, continental breakfast included.
Check out Availability & Prices Trip Advisor / Booking.com
Things to See in The Jordaan
Getting There
Exit Tram 13, 14 or 17 at Westermarkt or Marnixstraat. Serene residential streets stretch to the north, bordered by an eclectic assortment of shops and cafés along Rozengracht.
3. Museum District/Oud-Zuid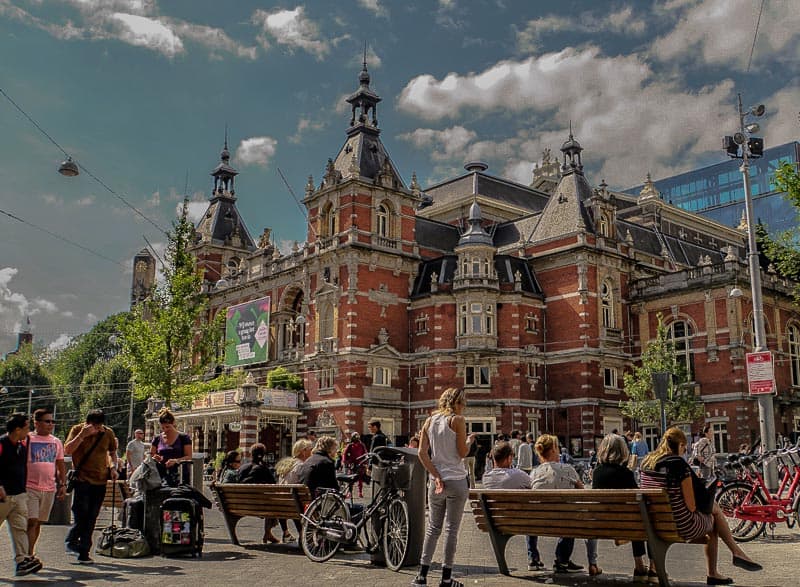 Amsterdam's leafy, exclusive Museum District encompasses world-renowned cultural venues,  popular green spaces, and a lively entertainment square.
A plethora of bars, restaurants, nightclubs, and hotels surround always buzzing Leidseplein.
Three repositories of iconic art—The Rijksmuseum, Van Gogh Museum and Stedelijk Museum—as well as many smaller galleries and the world-renowned Concertgebouw, are set on Museumplein.
This area has a great selection of budget accommodation and food.
If you are looking to save a little cash in an already expensive city then stay in this area of Amsterdam.
Great Places to Stay in Oud-Zuid
Best Hotel in Oud-Zuid: Conservatorium Hotel – Among the Leading Hotels of the World. Modern design, indoor pool, sauna, fitness center, spa, hammam, bar, Asian-inspired restaurant.
Check out Availability & Prices Trip Advisor / Booking.com
Best Mid-range Hotel in Oud-Zuid: Conscious Hotel Museum Square – Eco-conscious hotel convenient to all Museumplein attractions. Organic breakfast, free WiFi, HD flat-screen TVs, bike rental.
Check out Availability & Prices Trip Advisor / Booking.com
Best Budget Hotel in Oud-Zuid: Stayok Amsterdam Vondelpark – Basic dorms with free WiFi and a buffet breakfast in a former red-brick schoolhouse adjoining Vondelpark.
Check out Availability & Prices Trip Advisor / Booking.com
Places to see near the Oud-Zuid
Leidseplein: Bars, restaurants, and nightclubs surround this touristy square offering some of Amsterdam's best people-watching and street entertainment.
Getting to the Museum District
Tram 2 travels along Amsterdam's central spine, from Central Station to Museumplein, passing some of the city's best-known landmarks, squares, and shopping areas.
Tram 1 follows the same route until Leidseplein,
Tram 5 continues to the Rijksmuseum. Busses 170 and 172 also stop at Leidseplein.
4. The Oud-West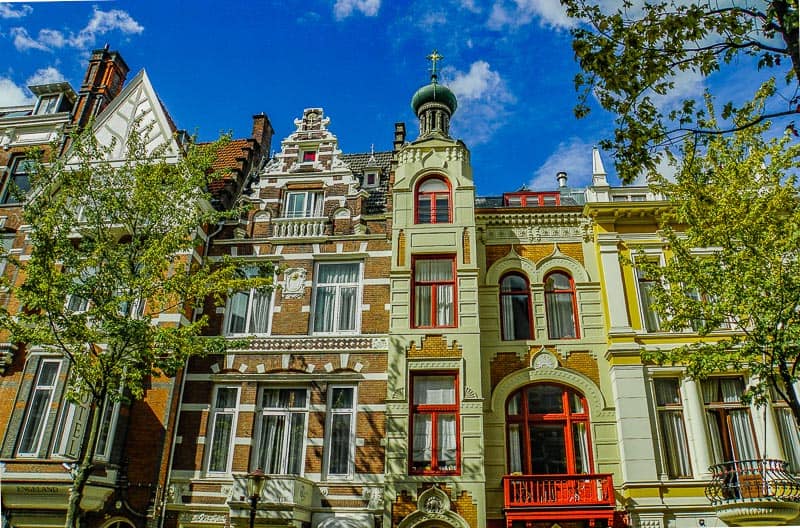 Like the neighboring Jordaan, the Oud-West developed as a result of rapid urban expansion.
After a decade of gentrification that began in the late 19th century, it's now a multicultural blend of residential neighborhoods served by a plethora of Moroccan and Turkish shops and cafés, interspersed with Dutch pubs and other ethnic eateries.
Just far enough from Dam Square to be outside the major tourist zone but with easy access to all popular attractions.
It's a good option if you're looking for a local taste of Amsterdam in a dynamic neighborhood many visitors neglect.
A 5-minute tram ride or 15-minute walk gets you to the center of town.
Best Places to Stay in the Oud-West
Best 5-Star Hotel in Oud-West: Hotel de Hallen – A Post-industrial chic hotel in De Hallen. Espresso machines, smart TV, WiFi.
Check out Availability & Prices Trip Advisor / Booking.com
Best Mid-range Hotel in Oud-West: Hotel not Hotel – Boutique hotel with quirky designs. Small, themed rooms with WiFi, onsite café.
Check out Availability & Prices Trip Advisor / Booking.com
Best Budget Hotel in Oud-West: CityHub Amsterdam – Small cabins offer WiFi, air-conditioning and changeable ambient lighting. €10 for breakfast across the street.
Check out Availability & Prices Trip Advisor /Booking.com
Things to See in The Oud-West
Zevenlandenhuizen (Houses of Seven Countries): A wealthy politician commissioned Dutch architect Tjeerd Kuipers to create this collection of homes, each representing a different country.
Hollandsche Manege: Since 1882, the Netherlands' national riding school has been housed in a neoclassical structure inspired by Vienna's Spanish Riding School in Amsterdam's Oud-West.
De Hallen: Since opening in 2014, this transformed turn-of-the-century tram depot has become one of Amsterdam's most popular hotspots.
Ten Katemarkt: Smaller than the Albert Cuypmarkt but just as diverse in offerings, this street market off Kinkerstraat has a true local vibe.
Getting There
Trams 13 and 17, as well as Bus 172, make numerous stops in Amsterdam's Oud-West.
5. De Pijp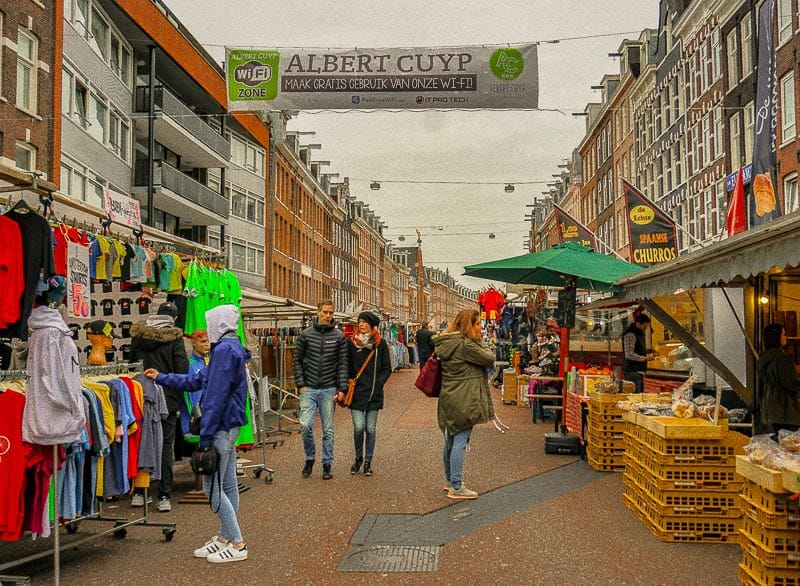 Students, artists, yuppies, and immigrants from some 150 nationalities discovered De Pijp in the 1960s, establishing the area as Amsterdam's colorful Latin Quarter.
While no one really knows what De Pijp stands for, some surmise it owes its name to the district's long narrow streets that resemble pipes or to the "Pipe," the gas company that once supplied energy to the area.
Removed from central Amsterdam's tourist throngs, De Pijp is now a pastiche of cultures and nationalities.
Along Albert Cuypstraat and Ferdinand Bolstraat – the neighborhood's main streets, Syrian, Moroccan, Spanish, Indian and Surinamese eateries thrive alongside Dutch pubs, Islamic butchers and Turkish delicatessens, reflecting the area's ethnic diversity.   
Where to Stay in De Pijp
Best Luxury Hotel in De Pijp: Sir Albert Hotel – Once a diamond factory, this 19th-century red-brick building is now a luxury hotel with accents of Japanese Modernism and Scandinavian design.
Check out Availability & Prices Trip Advisor / Booking.com
Best Mid-Range Hotel in De Pijp: Colours in de Pijp – Studio apartments in a renovated 19th-century townhouse across from Sarphatipark, around the corner from the Albert Cuypmarkt.
Check out Availability & Prices Trip Advisor / Booking.com
Best Budget Hotel in De Pijp: Bicycle Hotel Amsterdam – Basic rooms, inexpensive bike rentals, free WiFi, breakfast included. Steep stairs, no elevator.
Check out Availability & Prices Trip Advisor / Booking.com
Things to see in De Pijp
Albert Cuyp market: The granddaddy of Amsterdam street markets boasts 260+ stands selling fresh produce, fish, flowers, fabrics, clothing, accessories, and an array of trinkets you never knew you needed.
Taart van mijn Tante: Experience sensory overload in a fantasy tearoom replete with kitsch, cakes with sassy names like "Chocolate Bitch Pie," and a mishmash of colorful crockery and furniture.
Scandinavian Embassy: Concept fashion meets food and specialty coffee at this rustic bistro popular for Sunday Brunch.
Sarphatipark: Jewish philanthropist Samuel Sarphati took the initiative for the construction of this manicured neighborhood park.
Heineken Experience: Even Amsterdam Marketing suggests you get drunk before visiting this homage to a beer now produced by a multinational firm, concluding it "must have been arranged by people who had too much beer themselves."
Getting There
From Central Station, take tram 24 to Marie Heinekenplein or tram 4 to Stadhouderskade.
6. The Old Jewish Quarter/Plantage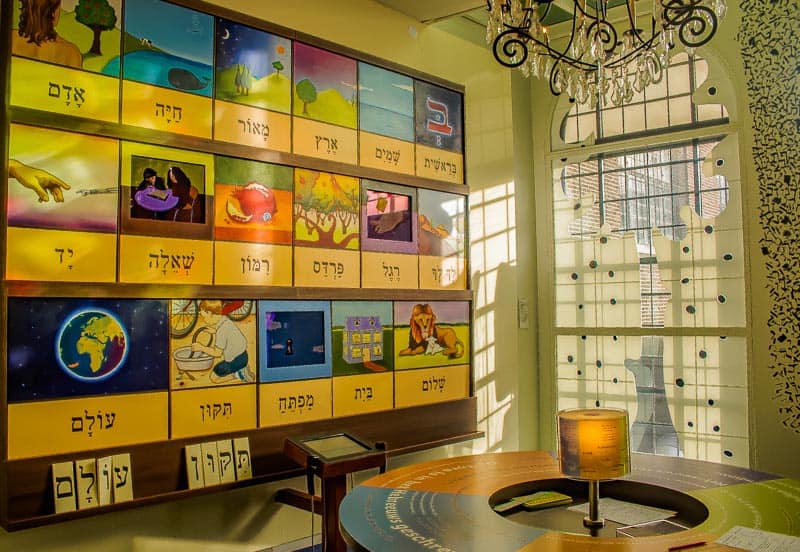 Amsterdam has been a sanctuary for Jews since the 16th century.
The first influx came after the Spanish and Portuguese Inquisitions, a second from being pushed from Germany, Poland, and Russia by antisemitic regimes.
Regardless of origin, most early Jewish immigrants settled around Waterlooplein, where Rembrandt lived at the height of his fame.
Just east of Waterlooplein, De Plantage provides a stark contrast to the medieval cobblestones and canals of the Grachtengordel.
Home to Artis Royal Zoo and Hortus Botanical Gardens, it's greener and less touristy than Amsterdam's historic center, with leafy boulevards and elegant squares.
A great Amsterdam neighborhood to base yourself if you are visiting with kids.
Where to Stay in Plantage
Best Hotel in Plantage: Waldorf Astoria – 5-star luxury in canal-side mansions on the prestigious Herengracht, with a grand staircase built by Louis XIV's architect.
Check out Availability & Prices Trip Advisor / Booking.com
Best Mid-Range Hotel in Plantage: Rembrandt Square Hotel – Set on lively Rembrandtplein, this hotel features 24-hour reception, a tour desk and a brightly-colored lounge with leather seating. Free WiFi, flat-screen cable TV.
Check out Availability & Prices Trip Advisor / Booking.com
Best Budget Hotel in Plantage: Ecomama Hotel – Ecomama offers dorms and private rooms with Dutch themes, free WiFi, ticket service, a 24-hour front desk, and luggage storage.
Check out Availability & Prices Trip Advisor / Booking.com
Things to See near Old Jewish Quarter/Plantage
Jewish Historical Museum: In four restored 17th– and 18th-century synagogues, this museum traces the history of the Jews in Holland, with a special wing for children.
Portuguese Synagogue: One of Amsterdam's largest structures when it was built in 1675, the Portuguese Synagogue was modeled after Jerusalem's Temple of Solomon.
Amsterdam Resistance Museum: Holocaust lore and exhibits about the Netherlands' role in World War II are the focus of this thoughtful perspective of Holland during Hitler's tyrannical reign.
Rembrandthuis: See where the Netherlands' greatest artist lived and worked for 20 years in this meticulously refurbished home with an extensive collection of Rembrandt's etchings.
Getting There
From Central Station take tram 9 or Metro 53 to Waterlooplein.
7. Amsterdam-Noord
Unlike the postcard-perfect vistas of Amsterdam's 17th-century Grachtengordel, Noord is a blustery expanse of open spaces, angular structures, and cutting-edge architecture.
A dilapidated shipyard in the 1980s, the newly hip neighborhood across the Ij River is now home to creative businesses like Discovery Channel and MTV, as well as waterside restaurants, the EYE Film Institute and A'dam Lookout.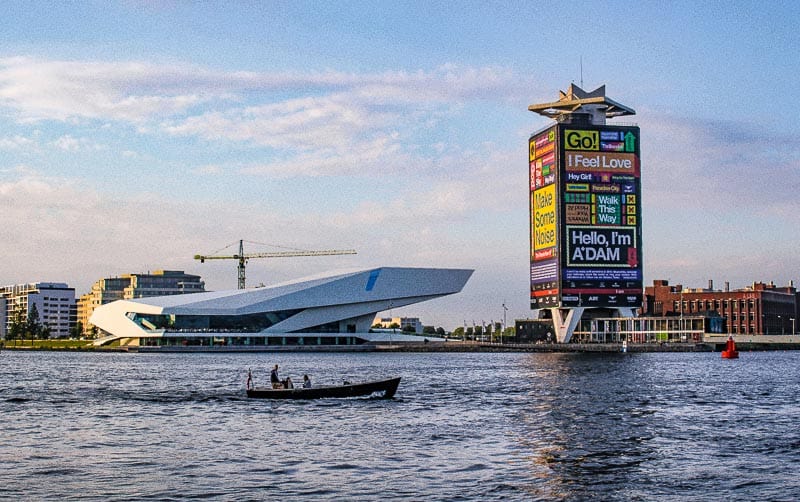 Throughout the year, festivals, exhibitions, and Ij Hallen, Europe's large flea market, take place on NDSM Wharf and the Ij Promenade.
Cycling along the Ijsselmeer coast to Durgerdam offers pastoral views and the chance to refuel at Café 't Sluisje at the end of Niewendammerdijk, serving Dutch apple pie in a 500-year-old building.
Best Hotels in Amsterdam Noord
Best Luxury Hotel in Noord: Faralda Crane Hotel – The last remaining crane on NDSM was dismantled in 2013 and converted into a luxury hotel. Three design suites and a rooftop jacuzzi.
Check out Availability & Prices Trip Advisor / Booking.com
Best Mid-Range Hotel in Noord: Amstel Botel – Simply-furnished rooms aboard a boat on the River IJ. Bar, breakfast buffet, free WiFi, rental bikes.
Check out Availability & Prices Trip Advisor / Booking.com
Best Budget Hotel in Noord: ClinkNOORD – Mixed dorms and private ensuites. Bed equipped with a plug, USB port, and light.
Check out Availability & Prices Trip Advisor /Booking.com
Things to See in Amsterdam Noord
IJ Kantine: Casual fare is served in a former assembly warehouse that was once a cafeteria for NDSM shipbuilders.
Nooderlicht: Distinguishable by its airplane hangar shape, Noorderlicht offers waterfront dining and dancing, plus campfires, poetry readings and DJ nights.
GeWoonboot: Adjacent to Noorderlicht, visit a self-sustaining houseboat with its own heating, electric and water purification systems.
De Pannenkoekenboot: Take a 75-minute cruise along the IJ fueled by as many Dutch pancakes as you can consume.
IJ-Hallen: Europe's largest flea market takes place on the second weekend of most months in two industrial warehouses filled with 750 stands selling second-hand clothes, shoes, antiques, books, furniture and other treasures.
Getting There
Reaching Noord: From the north side of Amsterdam Central Station, free GVB ferries transport people, bikes and scooters across the Ij River to Amsterdam-Noord.
The last ferry returns to Central Station at 1 am on Fridays and Saturdays.
Final Thoughts
Whatever brings you to this water-laced global village, you're likely to be awed by Amsterdam's Golden Age mansions, enchanting canals (which outnumber those in Venice) and historic landmarks that recall the medieval fishing village on the Amstel River.
It is a place you will want to visit again and again.
Disclosure: There are some affiliate links in the post above, but these are all products we highly recommend. We won't put anything on this page that we haven't verified and/or personally used.
More valuable Amsterdam Resources