Whenever someone thinks of a vacation trip in the Philippines, the first destination that most likely comes to mind is Boracay, and this is especially because of its dreamy and world-renowned white sand beaches!– Things to Do in Boracay / May 24, 2019 –
Of course it helps to note that there are a LOT of other islands in my home country that are not only beautiful but have also been recently gaining more recognition (e.g. Siargao, Batanes, and more!) Nevertheless, the fame of Boracay as one of the top islands in Asia remains. This is no wonder, of course, because it truly holds an unmistakable magnificence — a magnificence that various international travel agencies and publications have come to acknowledge by showering Boracay with various awards and accolades over the years.
Today though, it's true that given the continued rise of Boracay's popularity, there have been several travelers who have been put off by it since they said that it was too 'touristy'. I have actually first landed in this island at a time when it had already been in such a 'commercialized' state (as some would say); but I had a really, really, great time there! It then made me realize that for as long as you know what to expect, what to do, when to go, and where to go, you'll end up enjoying the utmost beauty of Boracay! So give it a try!
» What You Should Expect and Remember
It can get crowded so try to travel at off-peak season (somewhere in June to October)
Not only is it cheaper (accommodation, airfare, etc.) but you will also be able to avoid the throng of people. You can't avoid this kind of 'touristy' state because it really comes with very popular places (like come on, what can you expect?).

However, I have to say that the high peak season also has a distinct charm to it because it's the period wherein a lot of events and parties are abound! I actually remember how fun (and funny) it was to book a getaway trip to Boracay some time ago in March, only to see that almost all of the people I know in university were also taking a breather in the island — from that point on, it turned into a big 'get-together' for all of us!
If you're a foreigner though, don't worry! Boracay is a great place to meet people. Besides, we Filipinos are known for being friendly and warm so don't be shy in striking up a conversation with someone!

Don't confine yourself in the 'White Beach'
The center of it all is 'White Beach' — a 4-kilometer-long postcard-perfect stretch that is divided into three stations (Station 1, Station 2, and Station 3). Apart from the glorious view, this is also the place where all the action happens! From bars, hotels, restaurants, to shops and more! So it naturally happens that this is the most crowded part of the island; fortunately however, there are other white sand beaches in Boracay that you can explore which are above all, less packed. (I will discuss below what these beaches are!)
Contrary to popular belief, it's NOT expensive to stay in Boracay
There are a lot of hotels and inns that won't break your travel budget. There are even various restaurants scattered around the island that can offer you hearty yet ridiculously affordable meals; so it can surely be a backpacker's haven! (I will also be tackling this topic below).
Once you keep these expectations and tips on check, it's time to plan the exciting things that you must do in this glorious island. As based from my previous experiences, below are my recommended top 5 things to do in Boracay that you should absolutely consider!
.
.
.
1.
Go beach-hopping to enjoy the island's white beaches and turquoise waters!
.
.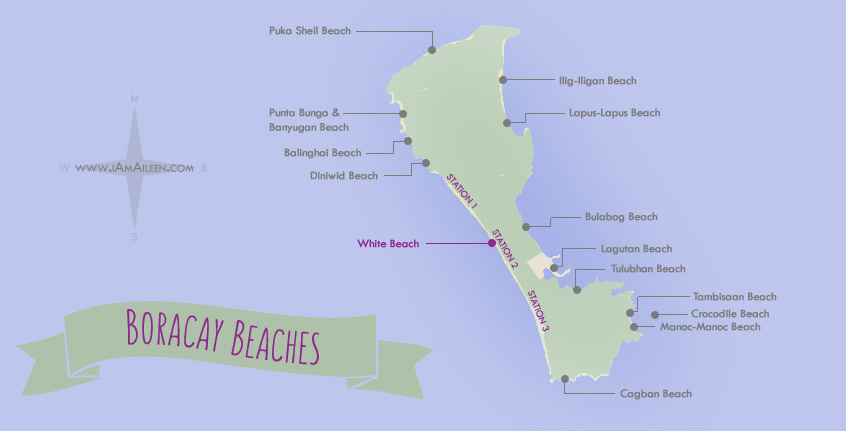 As I have mentioned above, DON'T enclose yourself completely in White Beach especially if you want to escape the horde of people. Of course it holds that iconic splendor that you've seen in photos but if you're looking for more tranquility, you can still achieve it in the rest of the island. You see, the great thing about Boracay is that there are a lot of other areas that you can go to, and they are equally picturesque as that of the prominent White Beach.
And the best thing about it? There are 13 of them and they are not too far away from one another because Boracay is a small island that is only approximately 7 kilometers long.
★

Puka Shell Beach
Named after 'Puka' shells (shells of cone snails that are bead-like objects that is normally used in making beach anklets, bracelets, and necklaces) this beach is the next crowd favorite in Boracay. Truth be told, it's simple surroundings is similar as that of White Beach back when it wasn't so cramped yet. (Simply catch a ride with a tricycle and you're bound to reach this place in just 20 minutes from White Beach).

★ 

Ilig-iligan Beach
With the same white sand feature, this is a great spot for snorkeling and it has some scenic limestone islets that you can explore. I believe that there are two of these islets: one is deep and the other, shallow. To reach this beach, there are two ways: either join an island-hopping trip that has a stopover here or just simply walk inland from the White Beach.
Lapus-Lapus Beach
To the best of my knowledge, this beautiful stretch is privately-owned by the Fairways & Bluewater Newcoast Resort and that it is only open to their guests. It really has that feel of seclusion to it, so if you want to visit this part, you have to book into the resort.

★ 

Bulabog Beach
If you're into beach sports like kiteboarding, parasailing, and windsurfing then this is the beach for you! You will instantly feel the vibrant vibe due to these adrenaline-pumped water activities done by local and tourists alike, so if you're for this kind of thing, make sure to book a hotel in this part of the island.
Lagutan Beach
This is actually one of the places where boats dock in Boracay. Though it may not be as scenic as the others, photographers may find the charm of this place frame-worthy.
Tulubhan Beach
There are some local villages that live by this beach and they typically go to the sea to look for seafood like fish, urchins, and more. With decent resorts here and there, Tulubhan can be a nice place to stay in if you're looking for a quiet getaway.

★ 

Tambisaan Beach
Tambisaan is popular for its coral gardens and reefs that are just near the shore. For this, you can simply bring your gear with you and then take your own sweet time snorkeling in these waters.

★ 

Crocodile Beach
This is a small nearby island at the southeast part of Boracay. Often a trip that comes along in prearranged tours, it's a favorite destination for underwater activities given the abundant and unspoiled marine life in this area. What's more is that there are also small canyons where you can see some sea snakes.
Manoc-Manoc Beach
A lot of locals play here so it can be a bit crowded, but despite the low-key attractiveness of the landscape, it can be a quaint change of scene.
Cagban Beach
Much like Lagutan, this is one of the boat docks in the island (it's actually the main port), but somewhere near this area, you can find private spots to relax in under the sun.

★ 

Diniwid Beach
This is close to White Beach's Station 1 and it is full of backpacker-friendly resorts. What I like about this place (that is only 200m long) are the stunning cliff side views! To add, there is also a crowd favorite here called Spider House and it is a great place to hangout. Otherwise, you can lounge in the water or lie down on a floating wooden piece that they have set up.
Balinghai Beach
Yet another small private beach but this time, owned by Balinghai Resort and it has a lovely view. Unlike Lapus-Lapus, they permit non-resort guests as long as you pay the entrance fee (wherein the value is consumable in food from the restaurant). With this in mind, take advantage of the scenery by eating your meals by the beach! Just take note that during high tide, the beach is almost entirely submerged so time it on the low tide.

★ 

Punta Bunga & Banyugan Beach
An additional private beach of the island, this piece of land is owned by the big chain: Shangri-La Resorts. I have to say that this part of the beach is very idyllic (hence the reason why Shangri-La bought it) and since it's only open to in-house guests of the resort, if you have the budget, this is a great place to book yourself into.
*★ = Favorite
.
.
2.
Enjoy the sunrise and sunset.
.
.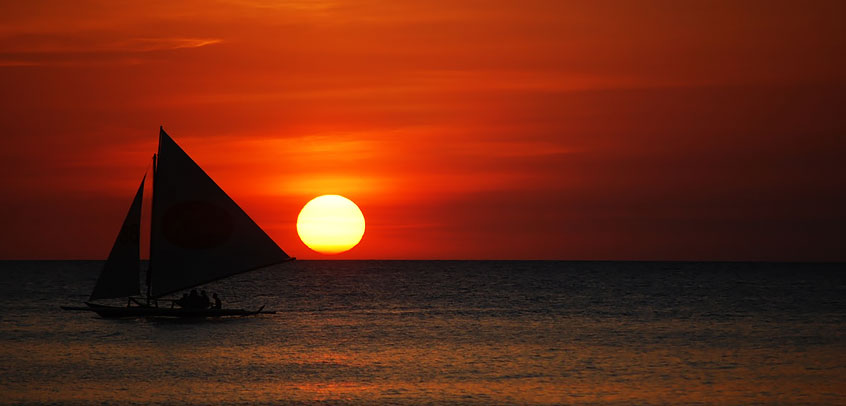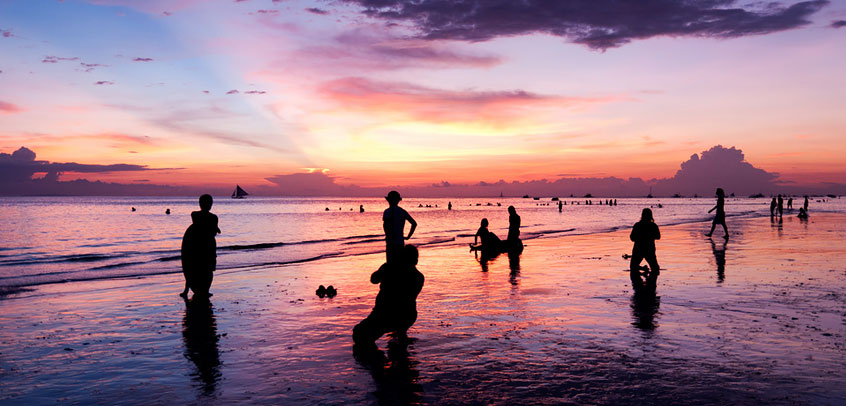 Top Photo by Tod Baker / Bottom by Ji Heng Wu / CC
Ask anyone who has been to this island and they will surely tell you about Boracay's breathtaking and extraordinary sunsets! It's a view that will really mark its spot in your heart and mind, that up to this day, I myself can still picture out the scenes in my mind and it makes me swell with happiness… with a tinge of melancholy (because I miss it a lot!)
Feel free to pick your spot in any of the Boracay beaches to watch the sunsets (typically between 5 to 6PM), but I do highly recommend the view by the White Beach for this since the silhouette of the passing boats (or paraws) by the horizon perfectly adds to this spectacular display.
…But of course, don't forget about the sunrise too! It is equally beautiful and it's always a wonderful thing to welcome the new day by the beach in this way. So enjoy and savor this experience!
.
.
3.
Join the island's lively nightlife and events!
.
.

I personally think that if you were to ever ask Filipinos as to why they visit Boracay, their answer would be because of two things: (1) the beach and (2) the nightlife. Actually, a huge chunk of the younger population LOVE to go to Boracay for the nightlife scene!
Indeed, when I was still in university, every vacation time (around March to April), a lot of my friends would suggest going to Boracay as it also in those times that the bars and clubs in the island would typically start to do themed parties (think foam party, neon party, etc. etc.) in anticipation for the youngsters who are oh-so-ready to dance and drink their worries away!
NOTE: The country in general has cheap alcohol so if you're a foreigner (who holds a stronger currency) take advantage of this! In fact, there are 'happy hours' in each and every bar in Boracay wherein during off-peak times, most drinks will be at a half price.
If you want to know the places for partying with the right vibrant crowd, consider the most popular bars and clubs below:
Exit Bar
One of the well-known bars in Boracay. Back when I was in the island, me and my friends spent a good amount of our time here especially since we enjoyed the kind of music that they were playing.
Coco Bar
Famous for its neon-lit bar, it's a vibrant place to be in! Come and enjoy your night here with their signature drinks while playing a game of Jenga.
Guilly's Island
This is where most of the people go to for partying, and it has that gung-ho kind of vibe going on. Open from 5PM to 4AM, you can enjoy 'happy hour' from 5PM to 9PM.
Epic
With a prime location in Station 2 near D'Mall, Epic is one of the classier places for partying with your friends. Come morning though, it's your typical restaurant spot. (Happy hour happens from 12PM to 10PM).

★

 

Cocomangas Shooters Bar
Famous for its

'15 Shots' challenge

, one can say that they have profoundly 'conquered' Boracay if they managed to win this ordeal. As the name goes, you have to chug down 15 shots consecutively and if you can still manage to stand after drinking it all, you will become a part of the 'legends': you'll get a shirt stating your achievement, your name will be engraved on the 'golden' wall, and then you will be counted to the scoring table that is grouped per country. (Apparently, Filipinos are winning so far!) Given this kind of challenge, Cocomangas can be such a fun and lively place to be!
Club Paraw
A favorite of both locals and tourists, you will enjoy a bigger dance floor in this venue. Make sure that you take advantage of happy hour from 4PM to 9PM.
*★ = Favorite
Of course, there are TONS of other bars and restaurants in Boracay, and as much as I want to list them all, I chose to merely pick the most known ones above. Otherwise, if you're more into a low-key kind of night, just pick a restaurant by the beach and enjoy a show of firedancers!
Anyhow, if you ever find yourself traveling to Boracay alone, don't fret! As I've said, it's a great place to meet locals and fellow travelers (even expats!), and the best way to start a networking spree? By joining the famous Boracay Pub Crawl!
You're bound to meet new friends and you're also bound to have a crazy night! For a cheap price of only Php 990 ($20~) you will get to 'hop' around 5 bars + clubs, have free drinks, get discounted drinks, gain a free iconic shirt + shooter glass, and experience fun get-to-know games with the other group participants all night long! (To book your trip, go online here).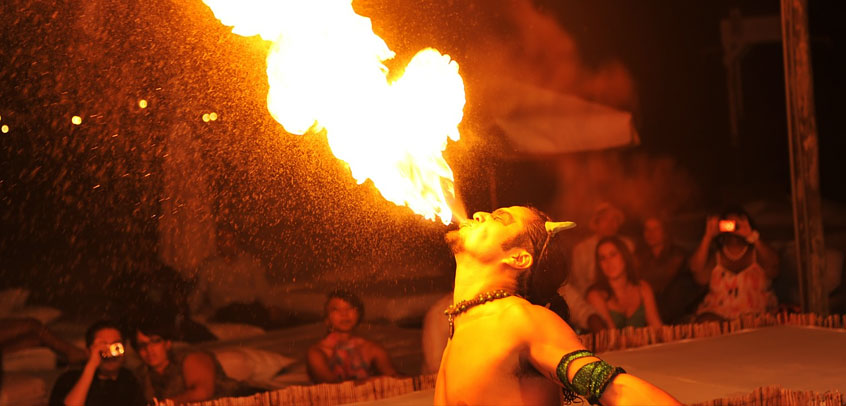 Now, if you rather want to know the best time for visiting Boracay in order to fully enjoy the peak of the island's nightlife, that would be during:
"LaBoracay" – (Month of May) From the words 'Labor Day' and 'Boracay', Laboracay is the biggest summer party celebration of the island! It's not an official event though, but it's a term that is typically used by Filipinos to commemorate the series of big events that commonly happens during this period. If you must know, it's not only the locals who come here for LaBoracay but even foreign and local celebrities who are ready to party hard! (From DJs, to actors, etc.). If you want to know the complete list of parties every year, you can check this site.
Holy Week
Christmas & New Year
If you want some novel or quirky fun, check out this theatrical variety show. Otherwise, if you're a fan of sports, the 'Boracay International Dragon Boat Festival' and 'International Beach Volleyball Tournament' are held during the month of May (1st half) and something along this same month, the annual 'Dragon Boat Racing' affair of the Philippine Dragon Boat Federation is also held.
Come January (2nd half), water sports take place under the event name 'Boracay International Funboard Cup'. And since it's the beach, there is a Frisbee tournament that is done on the White Beach during July (called as 'Boracay Open Asian Beach Ultimate').
.
.
4.
Indulge yourself with the local food.
.
.

One of the things that you have to understand about Boracay is that if you are not well-informed, you could end up finding all these typical western restaurants that hold no personality of the island's cuisine. This is not to say that these western restaurants are no good — because they are — but if you really want to enjoy true Filipino fare and dishes, follow my advice and tips:
Go to D'Talipapa – because a beach trip is NOT complete without seafood! For sure there are a lot of seafood restaurants in White Beach as an example, but if you want the true-blue way of eating like a local, drop by Station 2 to find D'Talipapa — a wet market that sells fresh seafood ingredients! Once you are done shopping for the food that you would like to eat, simply go to one of the nearby restaurants and have them cook it for you. (They have a wide range of cooking styles that you can choose from.)
Go to Filipino Restaurants – and try local dishes! Other than gaining the chance to experience our hearty food, these are typically priced cheap too so it's quite a steal. (Starting at Php 50 or $1+). For my favorites, try Smoke Resto at D'Mall, Plato D Boracay (also) at D'Mall, Mesa at Station 2, or Boracay Kitchen at Station 1.
Try street food – To start, taste the local BBQ sticks, pork fat crackers (chicharon), balut (famous fertilized egg), and of course the Chorizo Burger! This is a favorite snack in this island. What is it? Well, it's simply a sweeter version of grilled chorizo with sweet sauce in a bun… 

BUT

 the taste is something that everyone and you would go gaga for! (If you're not a fan of sweet meat then this might not work for you, but it's still worth a try).
Take advantage of the fresh local fruits – what else but mangoes?! I promise you, we might just have the best mangoes that you will ever taste in your whole life! Other than this, indulge yourself with coconut juice that is freshly picked. And while we're in the topic of drinks, take your time in enjoying all the kinds of fresh juice mixes that every establishment serves. If you want to try another favorite, go to Jonah's Fruit Shake & Snack Bar at Station 1 because the drinks here are absolutely addictive! They are even served in such big quantities apart from being cheap; therefore, it's going to be worth your money.

If you truly want some western fare, go to Aria at D'Mall for Italian cuisine, Bite Club at Station 2 for burgers, Tres Amigos at D'Mall for Mexican fare, and Zuzuni at Station 1 for desserts.
.
.
5.
Try out the various water sports and activities!
.
.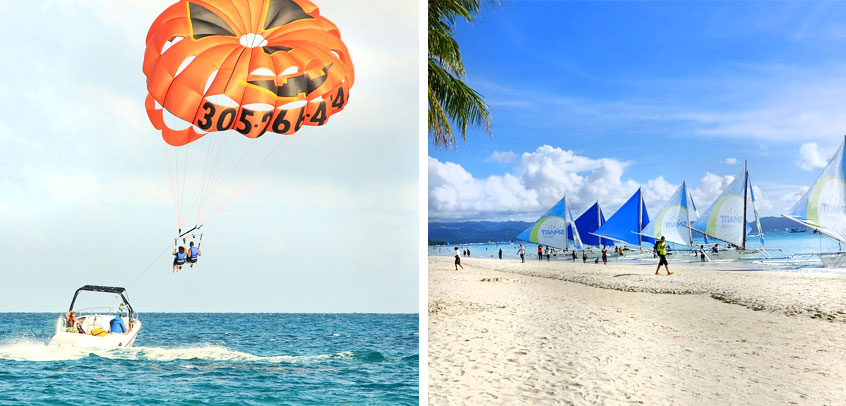 Boracay can hold your attention for a looooong while given the array of activities that you can do. It may be a small island but it sure packs a LOT of fun! Aside from the island-hopping tour activity that I have already suggested at #1, try these water activities below to get the most out of your summer vacation:
★

Fly Fish Ride
I absolutely recommend this if you want to have a wild ride with your friends! Basically, you will be riding this HUGE inflatable that's like a 'flying fish'. It will be pulled by a speedboat that will abuse its power and speed, and you have to hang on to it (for dear life) as it tries to spin you around at the sea! You can even try to put a challenge among your friends, like who will fall off the most for example! If I can impart another advice, let your competitiveness slide for a bit and then let yourself get thrown off the 'fly fish'. Why? Because it's part of the fun! (There's the milder alternative for this like a banana boat, but come on, go and inject some exhilaration to your vacation!)
Photo by Kashmut / CC
Snorkeling or Scuba Diving
Boracay is not not only beautiful above water but underwater too! You won't see much of a 'view' in the shallow waters of White Beach but your snorkeling gear will be put to good use in the other beaches like Ilig-Iligan or Tambisaan. (Though if you want the full-blown snorkeling experience, you should rather head to Batangas or Palawan — which are other destinations in the Philippines). Nevertheless, if you're more into scuba diving, you will see more coral reefs in the deeper parts of the Boracay ocean. >There are a lot of rental shops around Boracay and PADI-certified divers will only have to pay Php 1,600 ($35+) while beginners can take an introductory course for just Php 3,000 ($50+) only

– Beginner diver? Book online for an introductory course
– Wanna take the PADI course? Take this licensing course by booking online

Marine Walk
This is an activity that lets you walk on the seabed as you wear a 30kg helmet to keep you down on the floor. This package that is customarily priced at Php 900 ($20+) comes with free compilations of your underwater photos + videos as well as few pieces of bread that you can feed to the fishes while you're submerged. (To book this marine walk or helmet diving experience, reserve online.)
'Mermaiding'
A new 'thing' that seemed to have popped up recently… I haven't tried this for myself but it seems like it's spearheaded by the 'Philippine Mermaid Swimming Academy'. What happens is that you will be joining a 'mermaid swimming' course under a professional teacher as you wear a stretchable fabric mermaid tail. You can either get a package where you learn how to swim with your fins or just take photos with it (or both!). I don't think this is my cup of tea but it could be yours. Besides, the exercise AND the photos that come with it are interesting perks! (To book, reserve online here.)

★

Paraw Sailing
Paraw is a sail boat with two outriggers to keep it afloat on sea. This is a GREAT way to enjoy the waves and the view of Boracay with your friends especially since it's also quite affordable. If I may add a tip, I suggest that you go sailing in a paraw at a time before or during sunset! (To book, reserve online here.)

★

 Cliff Diving
I never leave Boracay without doing a cliff diving spree in the island and I suggest that you do the same! If you want the ultimate experience, I highly recommend signing up for the tour in Ariel's Point. Priced at Php 2,800 ($50+) per person, it's a deal that has a lot of 'perks'. Apart from enjoying this special spot's cliff diving platforms (with heights at 3 meters, 5 meters, 6 meters, 7 meters, and 13 meters) this cost lets you enjoy a roundtrip boat ride, unlimited drinks, BBQ lunch buffet, afternoon snacks, and full use of Ariel Point's other services (canoes, kayaks, snorkeling gear, and floating raft). Ain't that a steal?!
Zorb and Zipline
These are located in certain parts of the island and it's one of those newer activities that have been on the rise for tourists lately.
ATV Ride
Explore Boracay in a swanky ATV! Most of these trips go to Mt. Luho which is the highest peak in the island so it's a chance for you to get an aerial-like view of it all as a whole. Renting these ATVs are said to cost Php 1,000 ($22+) per person.

★

Other Water Activities
*★ = Favorite
.
Avail a massage service – the stretch of White Beach is full of massage shops that are relatively cheap and it's the perfect day-ender for you after all the arduous activities that you have been through. For this, check out Bella Isla or Mandala Spa.
Try a "kawa" relaxation treatment – For a more traditional experience, join this day tour wherein after you do white water rafting, visit the Bugtong Bato Falls and some other exciting stops, you'll get to be pampered in a "kawa" spa.
Get a henna tattoo – if you're not into the real permanent tattoos but still into the idea of marking your body with some temporary ink, then a henna tattoo is the option for you! You will see a lot of beach-goers who have these marks on their body and if you find it cool enough, join the craze and display that art on your body. The beach is speckled with small stands of these henna artists so just take your pick, choose a design, and then flaunt it all for the rest of your stay.
Do a Go-Kart experience with friends – Enjoy an exhilarating Go-Kart activity at Boracay Paradise with your family and/or family. Round trip service transfers are even provided for your convenience — to book your spots, go here.
Marvel at professionally-made sandcastles or make one of your own – there was a time when White Beach had lots of magnificent sand art displayed every day, however the local government decided to minimize this activity for some reason. Anyhow, this practice is still there so just explore the length of White Beach and you're bound to see one; or better yet, make your own!
Do beach sports with your friends – there are shops that can rent you some but I suggest that you just bring your own volleyball, frisbee, or soccer ball to play with your friends.
Go for a night swim – do you want to have the sea all to yourself? Then why not a night swim, right? Try it at least once!
Try a unique helicopter flight above Boracay – Get a different perspective of the beauty of Boracay with this exhilarating helicopter ride. Book your spot now online.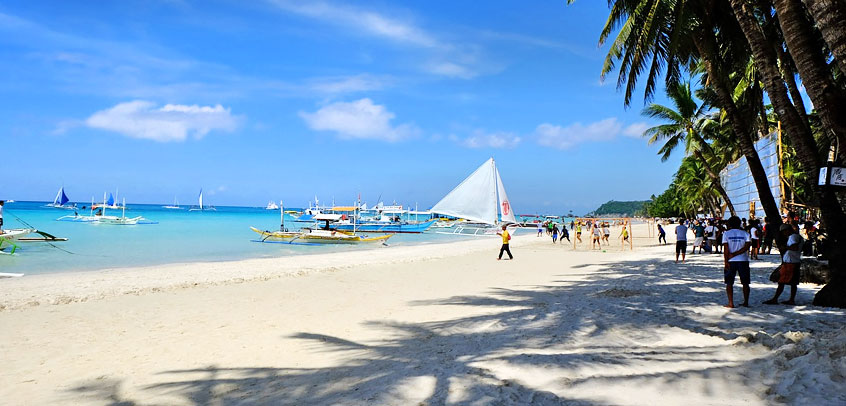 » How to Get to Boracay?
The best way to reach Boracay is to ride an airplane. There are various airlines that you can choose from: Air Asia, Cebu Pacific, Philippine Airlines, or SEAIR among many others.
As you inspect your options with these airlines, consider the fact that you have two routes to choose from in order to get to the island of Boracay:
Caticlan Route


PRO

: It's the fastest connection to Boracay. After landing, you just need to reach the Caticlan Jetty Port that is a 3-minute tricycle ride away or a 10-minute walk. From this port, you just need to board another boat (total cost of Php 200 or $4+) that will take you to Boracay in just 15 minutes.


CON

: Airfare is more expensive than that of Kalibo and since the airport size is small, it is limited to small aircrafts only and have more flight disruption problems due to a sunset flight limitation and weather sensitivity conditions.
Kalibo Route


PRO

: As mentioned, airfare is cheaper and the larger aircrafts can land here since the airport is bigger (it's an international airport). It helps to mention that it's usually in this route that promo fares are typically applied so watch out for those!


CON

: Travel time to Caticlan takes a while. After landing, you need to take either a bus or a van in order to get to Caticlan Jetty Port that is 1.5 to 2 hours away. After arriving in the port, you also have to take the 15-minute boat ride.


.
.
» Where to Stay in Boracay?
Aside from the big luxury names like Boracay Regency, Discovery Shores, Shangri-La Hotel, etc. there are hundred of other accommodations that can fit smaller budgets so you shouldn't worry if you have such.
What I can give you as a tip in order to get the cheapest discounted rates (across ALL budget and luxurious stays) is to book online with Agoda! I have been using this website for years and it has never failed me. Seriously, you have to reap the benefits of this booking platform!
TIP: My choices for cheap accommodation hostels are MNL Beach Hostel Boracay and YB Hostel. If you don't fancy hostels since you're more of the affordable-resorts kind of person, you can always search through Agoda for more choices — filter your search by price, rating, reviews, stars, and more. As a standard too, remember that the accommodation choices in Boracay is sort of streamlined in a way that most of the accommodation in Station 1 are high-priced, Station 2 are medium-priced, and Station 3 are low-priced.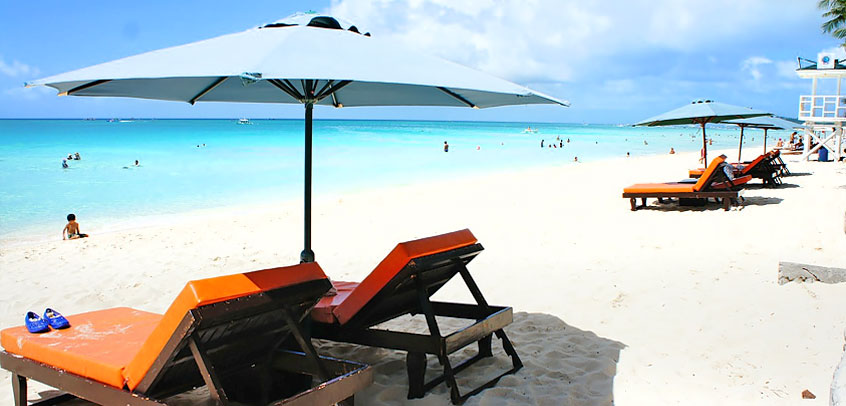 .
It should be apparent by now that Boracay is packed with a lot of activities and attractions that can attract every kind of traveler out there. Like I said, it may be a touristy place now, but its glory still remains especially if you know what to expect, what to do, when to go, and where to go — which you should perfectly know by now after reading this travel guide that I have put up for you!
So what are you waiting for…?
Start planning your perfect summer escapade to Boracay — go and have the BEST time of your life!
IMPORTANT NOTE: Like any responsible tourist and traveler, PLEASE mind your trash when you party and/or stay in Boracay. Don't leave anything behind. Remember to dispose your trash properly and responsibly. There have been rising problems of irresponsible visitors over the years and I hope that you don't become one of them. We really should respect nature more and continue to do our part in saving the environment. Please, and thank you!
Is Boracay on your travel bucket list? Why so?
Or have you been to Boracay before? What things to do in Boracay did you do?
What other tips would you like to add to this article?