The radiant port city of Osaka in Japan is the 2nd largest metropolitan area after Tokyo given that it boasts a bustling commercial center and a number of interesting attractions. In fact, other than Kyoto, it is the best place to base yourself in if you want to discover the top spots around Kansai region! (Day Trips from Osaka)
Plus, with the country's well-connected railways and shinkansen (bullet train) system, a lot of places can be reached in just a day — which is absolutely helpful for us, travelers, who want to make the most out of our stay.
So in order to save you the trouble of researching these best spots, below are the top 15 day trips from Osaka that you must consider for your itinerary!
.
Pre-Travel Guide for Day Trips from Osaka
How to get to Osaka?
International visitors typically arrive at Kansai International Airport (KIX) and I recommend browsing through Skyscanner to find the best flight deals from your point of origin (local + international). If you're from the Philippines like me, Skyscanner also scans through Philippine Airlies and budget airlines such as Air Asia and Cebu Pacific in order to find which of them has the cheapest rate on the dates you choose.
If you're rather coming from Tokyo, there are a number of shinkansen trains that service Osaka as a destination, with Nozomi being one of the speediest as it can take you there in just 2 hours and 30 minutes. The Hikari shinkansen is also another option but with an extra 30 minutes or so to the travel time.
Anyhow, from Kansai International Airport to Osaka's city center, you can opt to ride the Nankai Electric Railway that offers a service to Namba (central district in Osaka) — and it will only take 35 minutes if you take the Nankai Rapi:t (¥1,450) or 45 minutes via the Nankai Airport Express (¥930).
Otherwise, there are also other options like taking a limousine bus.
Best way to travel around Osaka and Kansai?
Definitely by train! Thankfully, there are a number of local railway operators that you can consider when doing your day trips from Osaka — and they even offer packaged tourist train passes that will save you the money, time and effort!

Rest assured, all of the places that I'll be listing below are day trips from Osaka that you can do with the use of the applicable train tourist pass from the railway companies mentioned above.
Where to best stay in Osaka?
To search for the best hotel accommodation for your Osaka itinerary at the best prices, I suggest checking out Agoda and Booking.com. But if you're rather interested in renting comfortable houses or apartments, check AirBnB (sign up via my link to get FREE $40 credit!).
If you want particular hotel names I suggest any of the places to stay as follows…

(Budget to Mid-Range) First Cabin Hanshin Nishiumeda: This is an interesting accommodation that is similar to capsule hotels at the same price point

BUT

 without the claustrophobia! Made after the vision of a first class section of an airplane, you will love the comfortable features and ample amenities that it has. (Rooms are also sectioned by gender).
(Mid-Range) Hotel Hankyu RESPIRE OSAKA: Opened just last November 2019, the hotel has a great expanse. Combining the meanings of the words "rest" and "inspire", the hotel delivers on its promise of filling its guests with vitality and relaxation. Another interesting thing about the rooms — which you won't typically see in most Japanese hotels and homes — is the fact that the bathroom and toilet are separated. It's also right in front of Hankyu Osaka Umeda station and JR Osaka station, thereby making it a prime and convenient location!

TIP

: For your daily cravings, drop by the nearby Food Hall at Hotel new Hankyu Osaka! With a sophisticated space, you can choose to dine on burgers at UMAMI BURGER, eat conveyor belt sushi at Mawaru Ganso-suhi or enjoy fried pizza from Il Panzerotto.

(Mid-Range) FP Hotels Grand South Namba: Located near a massive Mega Don Quijote shop, this Osaka accommodation is one of the best hotels in the city that does not break your travel budget while also giving you your money's worth. After all, one of the perks is that you can get complimentary breakfast if you book via the link above.
(Luxury) Sheraton Miyako Hotel Osaka: Not only is this a centrally-located hotel that directly connects to a train station, but it is also one of the best hotels in Osaka that's perfect for business and travel trips. I also particularly loved the serene Japanese ambiance and design elements that it has! When it comes to logistics, the airport limousine bus stop is right in front of the hotel too.
.
1. Outskirts of Osaka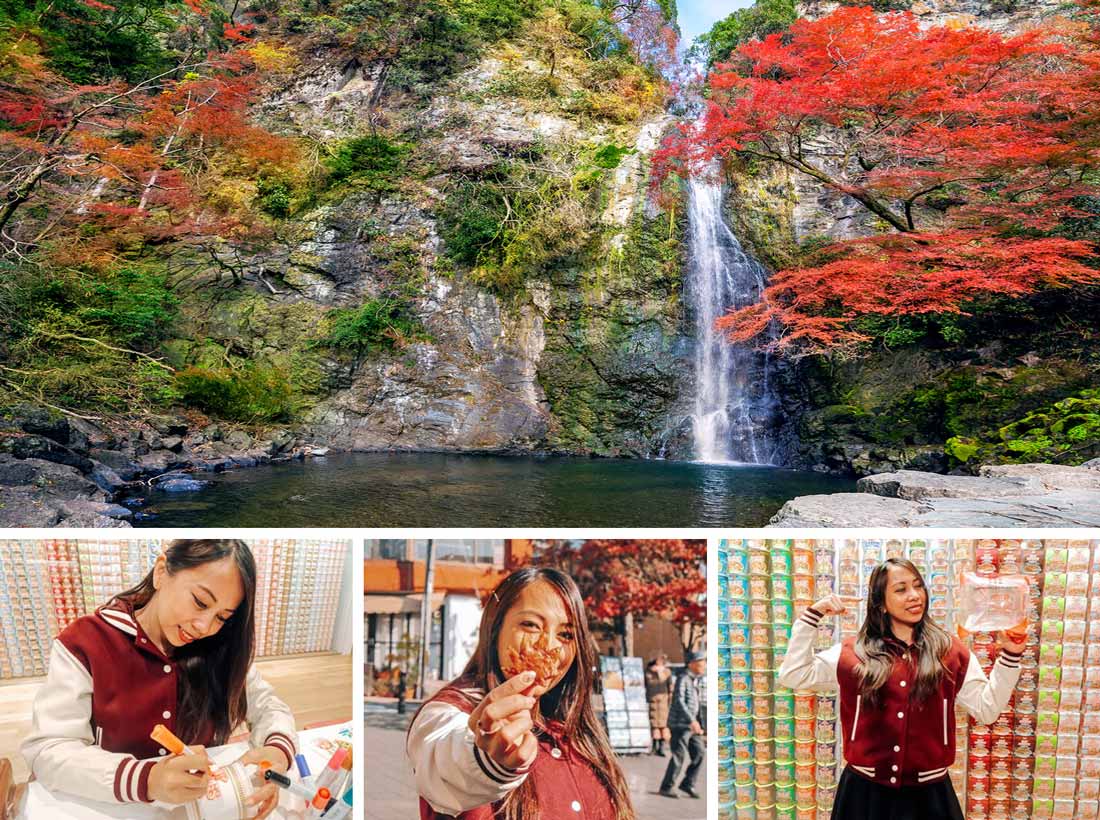 Beyond the famous Dotonbori district and Universal Studios Japan are some key spots near Osaka are NOT to be missed!
Minoo Park: This forested valley that features a picturesque waterfall is a great option for days trips from Osaka as it is just north of the city. I highly recommend coming here during autumn season as it is one of the best places in the Kansai region for seeing fall foliage!


.


So with your Hankyu Tourist Pass, just head on over to Hankyu Minuu Station to start your 45-minute hiking trail — which is actually quite scenic given the number of shops and temples that surround it. But of course, if you're not up for a long walk, there is a taxi service just beside the station that can take you up to the waterfall.


.


Once you're done with your visit, don't forget to check out a local sweet snack called momiji tempura which is basically made up of maple leaves that are deep fried in batter.
(

TIP

: Come around the second half of November to see it in its full colors!)
.
.
CupNoodles Museum Osaka Ikeda: This is a well-known interactive museum that shows the history of Japan's instant ramen and its inventor, Momofuku Ando. There are actually two CupNoodles Museum in Japan, but this branch in Osaka is the first and original one — after all, it is built in the birthplace of instant ramen "Chiken Ramen' which was the first of its kind. Moreover, another benefit of visiting this branch is that it has FREE entrance as opposed to the one in Tokyo that's paid.


.


You'll also get to do and see a lot of fun stuff like creating your own original CupNoodles, making Chicken Ramen by hand, and so much more! Armed with a Hankyu Tourist Pass, you just need to go to Ikeda Station and from there, the museum is just a 5-minute walk away.
(WEBSITE: [link])


READ MORE HERE: When in Kansai: CupNoodles Museum Osaka Ikeda

TIP

: Complete your experience at Ganko Ishibashien and try their steam egg dish that uses chicken ramen! You will love how unique and delicious this dish is that you just got to try it yourself.


.




.
2. Central of Kyoto (Kyoto Prefecture)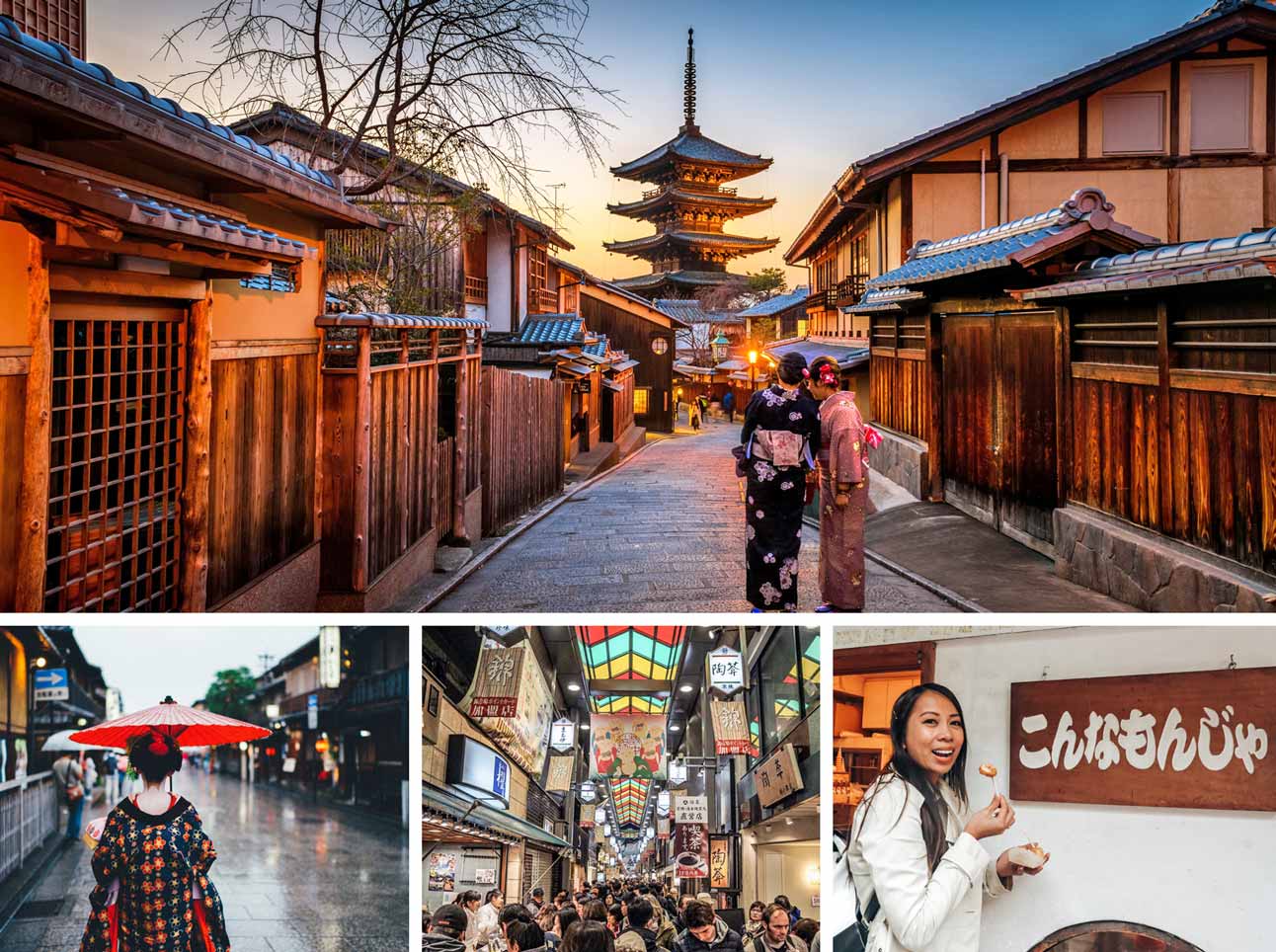 Naturally, Kyoto tops this list of day trips from Osaka given its rich culture and history! With the number of sublime temples, shrines, gardens, geisha houses, and teahouses in the city, there's sure to be a number of things to keep you occupied. For starters, below are the top spots to see in the center of Kyoto and all of these can be reached with a Hankyu Tourist Pass.
Nishiki Market: A vibrant marketplace in downtown Kyoto. With tis rich history and tradition, it is a must to go here especially if you want to grab the best Kyoto delicacies. Some of the top shops you must not miss are…

Konna Monja: A quaint shop that serves soymilk donuts and soft serve ice cream that are not only delectable but also healthier than most!
Kyukyodo Honten: Operating since 1663, this is a stationery store that offers a wide range of crafter Japanese paper, cards, calligraphy brushes and so much more.
Hakuchikudo: This is a store that specializes in sensu folding fans for over 300 years now! This is the perfect place to drop by if you want to bring home a meaningful gift or souvenir.
Echizen Wakasaya: After all the walking, fill yourself up with some delectable fresh seafood bowls at this specialty restaurant. They're also of amazing value so it's a must to try!


.

Gion: Kyoto's geisha district where you can try and glimpse geisha and maiko alike. You will also love its surrounding traditional buildings and rustic ambiance. Don't also miss out on Gion Corner where you can witness a wide variety of Japanese traditional performing arts, including a kyomai dance performed by maiko dancers.


.

Ninenzaka and Sannenzaka: Iconic historical alleys in Kyoto that best represent the good old days, and they even both lead to the Kiyomizudera temple which is one of the main attractions of Kyoto
.


.
3. Outskirts of Kyoto (Kyoto Prefecture)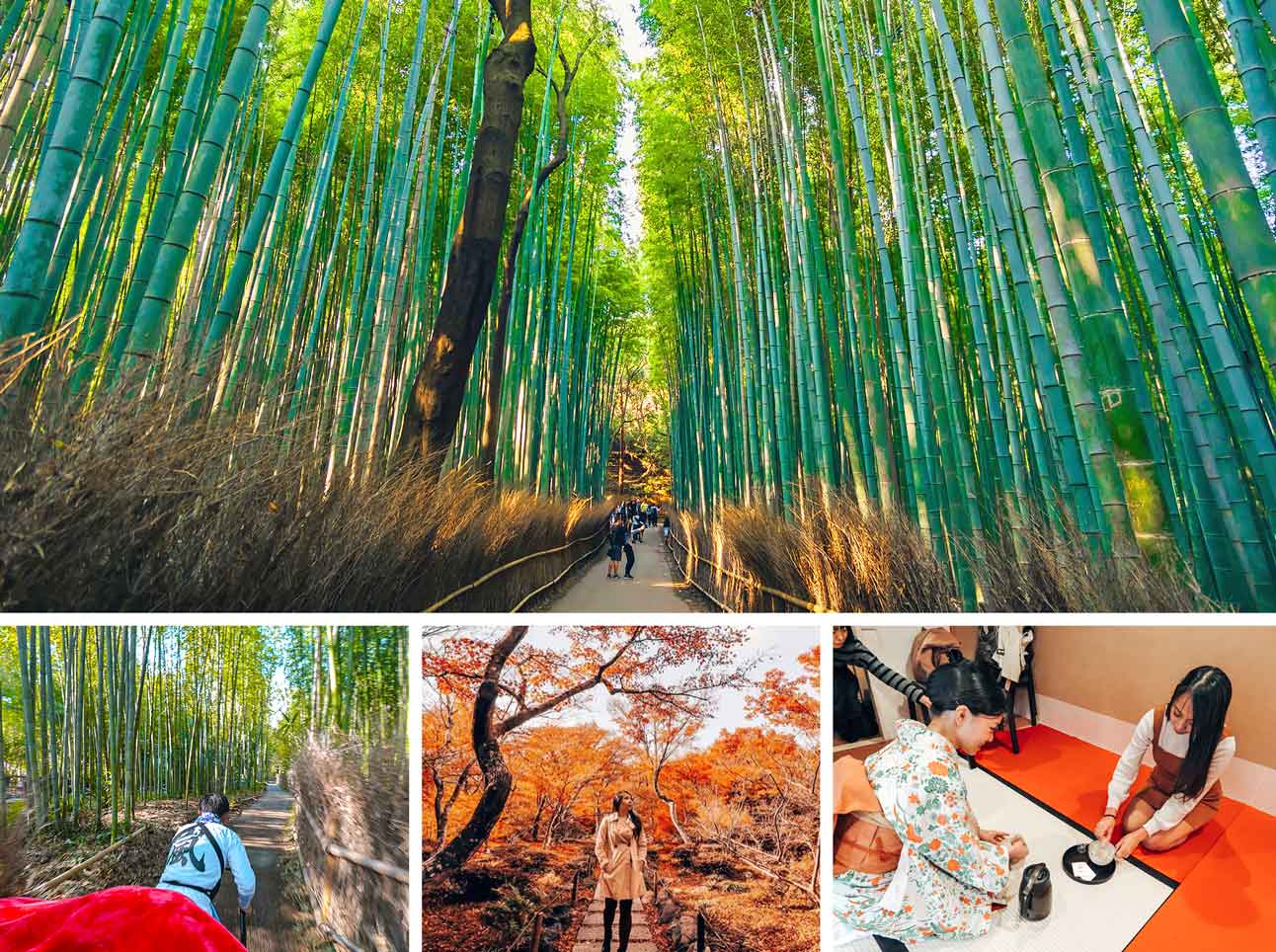 The fun doesn't stop when you're in Kyoto because there is also a number of attractions on its outskirts that can be a part of your day trips from Osaka! And like I mentioned before, you can access them all with the help of a Hankyu Tourist Pass.
Arashiyama: A beautiful district on the western outskirts of Kyoto and it holds a number of amazing spots for you to explore as day trips from Osaka…

Bamboo Grove: A scenic walking path that is best explored on a traditional jinrikisha or rickshaw. For such, I would suggest booking with Ebisuya since they take you to local and hidden areas in Arashiyama that no taxi or bus can take you to. Truth be told, if you want a personalized itinerary, they are the best guides that you can ask for! As an example, they can take you to Houkyouin Temple, an off-the-beaten-path location that has high popularity for its gardens that are a sight to behold especially in autumn and spring season.
Togetsukyo Bridge: A central landmark in which its name roughly translates to "Moon Crossing Bridge". I absolutely love the views from and away from this bridge especially during autumn and sakura (spring) season! Couple that with the surrounding shops and restaurants and it surely makes for a great attraction. For instance, make sure to drop by Togetsutei for a traditional Japanese meal as you enjoy the surrounding scenic views.
Chasanraku: Come and experience Japan's interesting tea culture in this charming spot. You can opt to shop and drink their special local teas, or participate in a tea ceremony workshop as you get to learn more about the world of Japanese tea. For more information, see here.


.

Kinkaku-ji (Golden Pavilion): This is a famous Zen temple found in northern Kyoto, and as the name implies it is completetely covered in gold leaf (specifically, its top 2 floors). As per history, this is formally called as Rokuonji and it was the retirement villa of a shogun named as Ashikaga Yoshimitsu.


.

Fushimi Inari Shrine: This place is known for its thousands of striking torii gates bordering the trails that go behind the shrine up to the sacred Mount Inari. It helps to note that this important Shinto shrine is dedicated to Inari, the god of rice and sake.


.




.




.
4. Central of Nara (Nara Prefecture)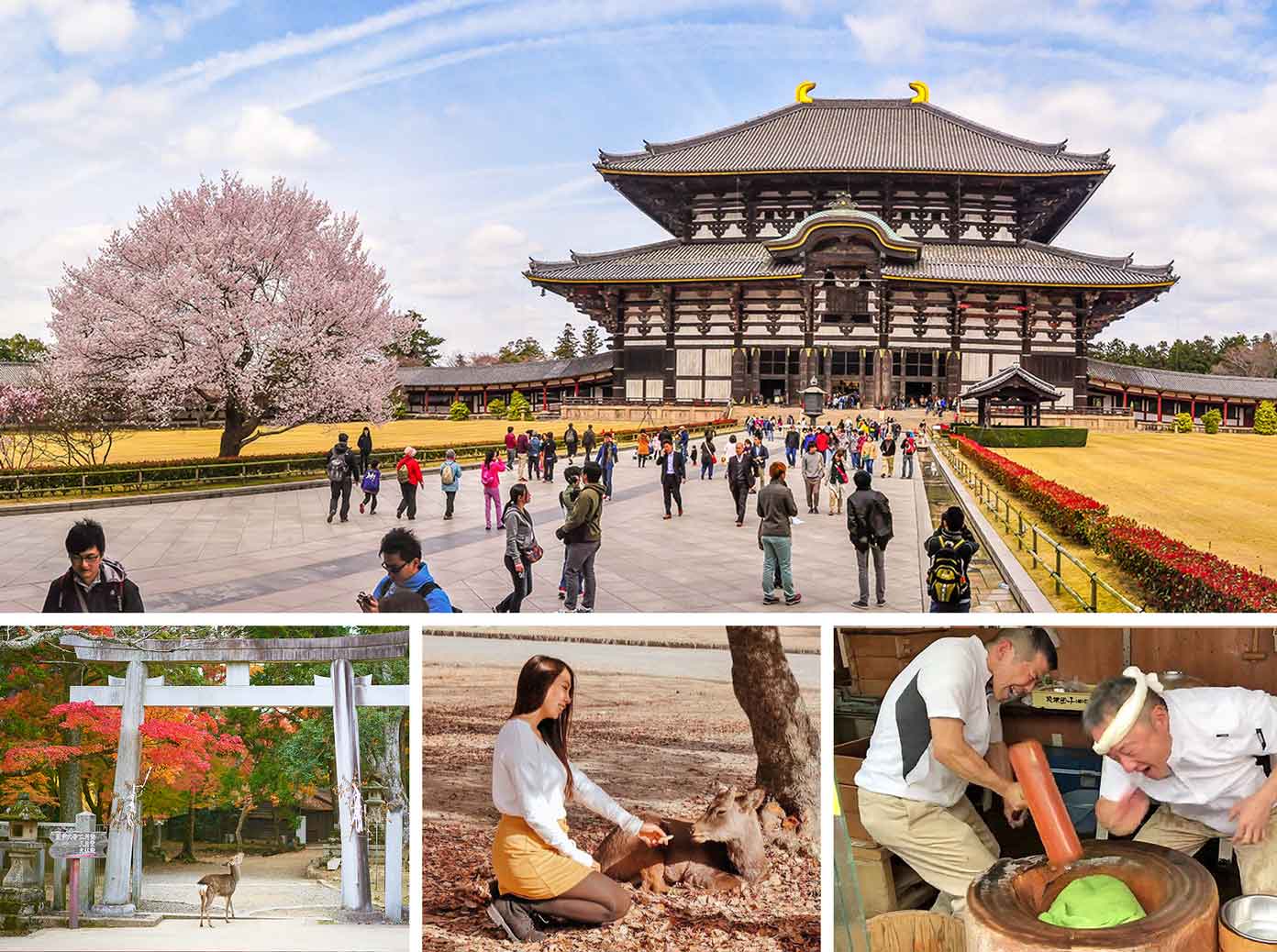 A Kansai trip is never complete without a stopover to Japan's first permanent capital: Nara. To date, it is home to many top sights such as…
Nara Park: A large park in central Nara that encompasses many of the city's main attractions like Todaiji along with a thousand of freely roaming deer! It is really not a wonder that these deers have become Nara's city symbol because apart from their huge number, they are incredibly cute and tame — until you start to feed them since they can get quite aggressive. (

TRIVIA

: Nevertheless, they are revered as they are considered messengers of the gods and they have even been designated as a natural treasure).

Nakatanidou: Found near Nara park is this award-winning shop that makes traditional daifuku mochi. If you time your visit right, you can witness the owner do a fun and speedy mochitsuki or the traditional mochi-pounding ceremony!

*Armed with a Kintetsu Rail Pass, Nara Park is just a 5-minute walk from Kintetsu Nara Station (as opposed to a 20-minute walk from JR Nara Station).

Todaiji Temple: One of the country's historically significant temples as it was first constructed as the head temple of all provincial Buddhist temples in Japan. Truth be told, it grew so powerful that it helped make Nara the first capital. Some of the amazing things you should witness here are the towering Nandaimon Gate which holds 2 fierce-looking statues of Nio Guardian Kings, as well as the main hall called as Daibutsuden where they house one of Japan's largest bronze statues of Buddha at 15 meters tall.


.


Don't also miss out on the nearby Kofukuji Temple which used to be the family temple of the most powerful aristocratic clan during the Nara and Heian Periods.


.




.
5. Outskirts of Nara (Nara Prefecture)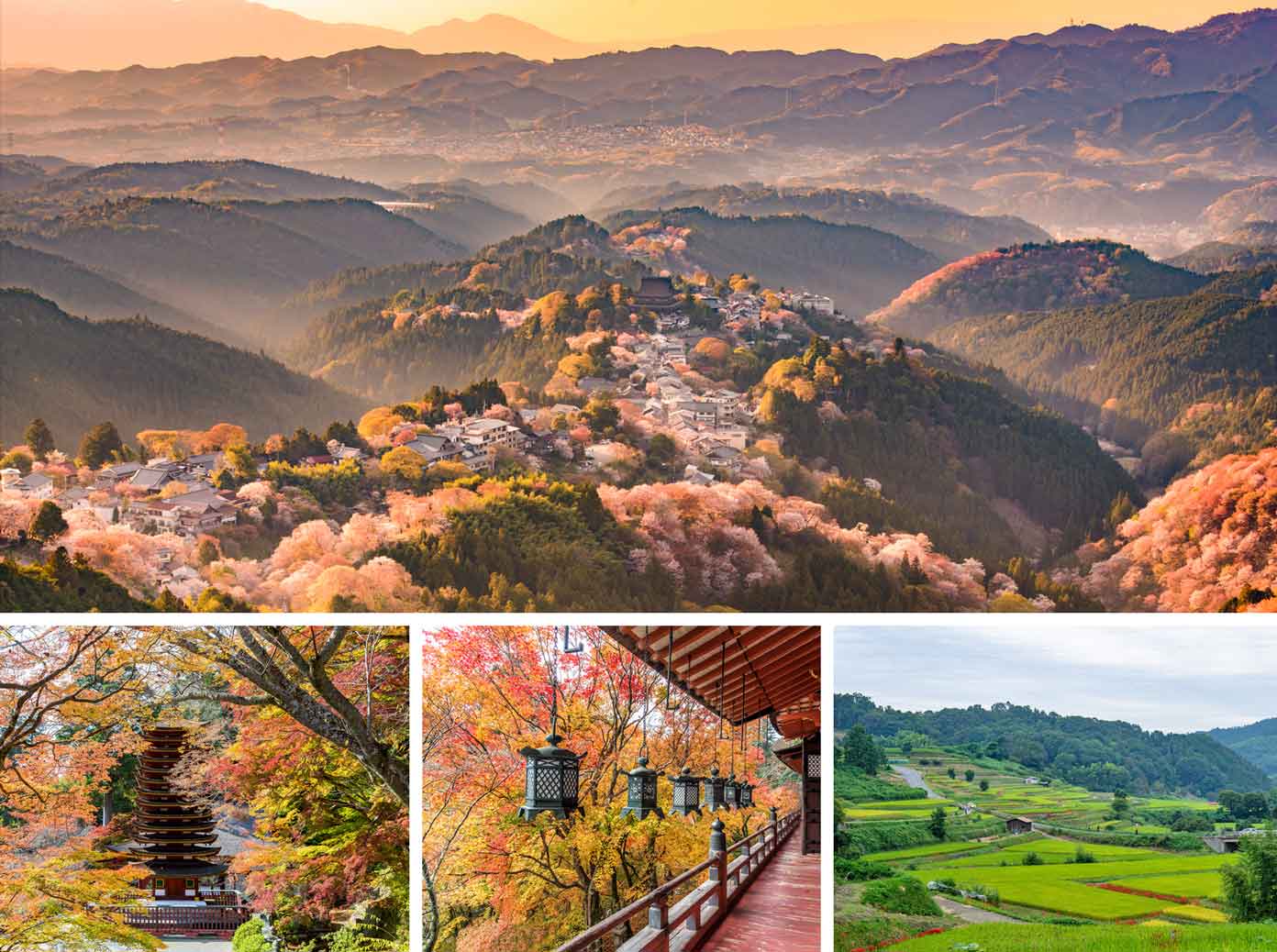 Most travelers only concentrate on Nara Park and its deers but did you know there is still SO much to see in the prefecture? Don't miss out on them and consider putting the following as a part of your day trips from Osaka!
Tanzan Shrine: Located in the mountains south of central Sakurai is this beautiful shrine which is especially famous during autumn season (more so at its peak which is usually in the second half of November). After the torii gate and at the top of the steps, you will find at the entrance a unique 13-story pagoda that stands 17 meters tall. To the right of it is a complex of buildings that includes the shrine's main hall which and an open balcony that is one of the most attractive spots on the shrine grounds (especially during autumn!)


.

Asuka Village: This area near Nara City (together with Sakurai) is considered to be the cradle of Japanese civilization because it is here where the first Japanese emperors established their capitals and many of the country's oldest shrines, temples, tombs, monuments and so much more. As you may already know, Kyoto was the Japanese capital from 794 to 1868, and Nara was the first permanent capital from 710 to 784. But before 710, the center of power was located around Asuka and Sakurai.

TIP:

There are a number of temples, shrines, tombs and museums to see iin Asuka and iit is best to explore them with a rental bicycle! Don't forget to drop by Amakashi Hill for a panoramic view over Asuka Town. After that, you can stop by Kotodama Cafe which was once a sake brewery over 200 years ago.


.

Mount Yoshinoyama: For centuries now, this mountain has been Japan's most famous cherry blossom (sakura) viewing spot. In fact, it is said that the first trees that were planted here were more than 1,300 years ago — and today, the whole of the slopes are covered by approximately 30,000 cherry trees of many different varieties! There are 4 areas to explore: the Shimo Senbon (lower 1000 trees) at the base of the mountain, Naka Senbon (middle 1000 trees), Kami Senbon (upper 1000 trees) and Oku Senbon (inner 1000 trees) at the top of the mountain.
~ TIP: The places above are easily accessible with a Kintetsu Rail Pass.
.
.
6. Kobe (Hyogo Prefecture)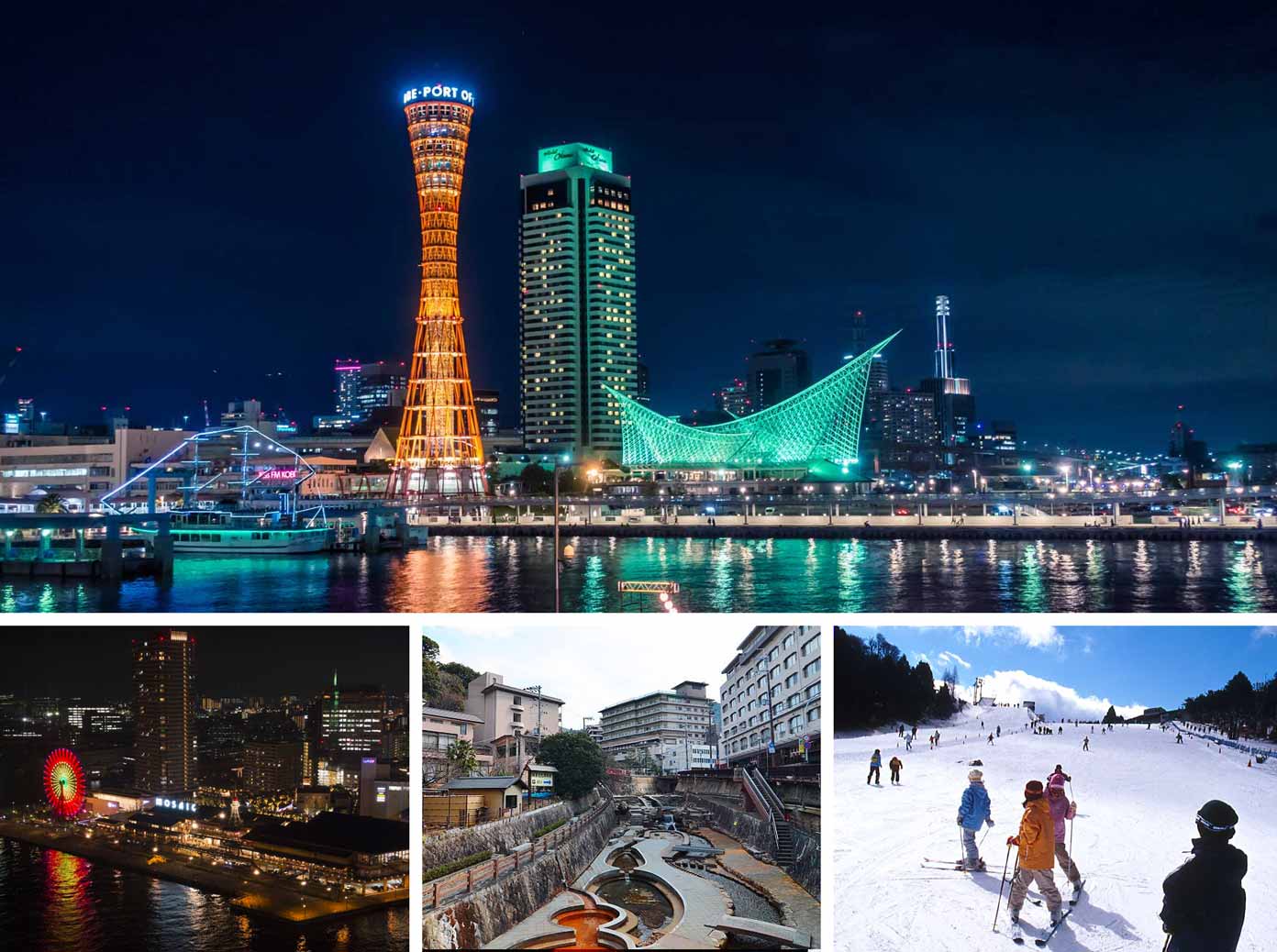 The first thing that probably comes to your mind for this section would be 'Kobe beef', a famous local brand of wagyu (Japanese) beef — and of course, it's no doubt that this is one of the top reasons why you should include Kobe for your list of day trips from Osaka. But beyond this gastronomical adventure is the fact that this city can also bring you a lot of other fun options and activities!
~ TIP: Use a Hanshin Tourist Pass to easily reach Kobe city.
Arima Onsen: An onsen (hot spring) resort within the city that holds a long history, making it one of Japan's oldest.


.

Meriken Park: A waterfront area where you can find the city's iconic architectural structures like the red Kobe Port Tower (serving as a symbol of the city) and the Kobe Maritime Museum (with its dramatic steel framework).


.

Shin-Kobe Ropeway: For rewarding views over the city, this is a must to include in your Kansai travel itinerary! But if you're into hiking, there is a trail from Shin-Kobe Station in which there are some great stops along the way like the Nunobiki Waterfall and the Nunobiki Herb Garden.


.


.
7. Mount Rokko National Park (Hyogo Prefecture)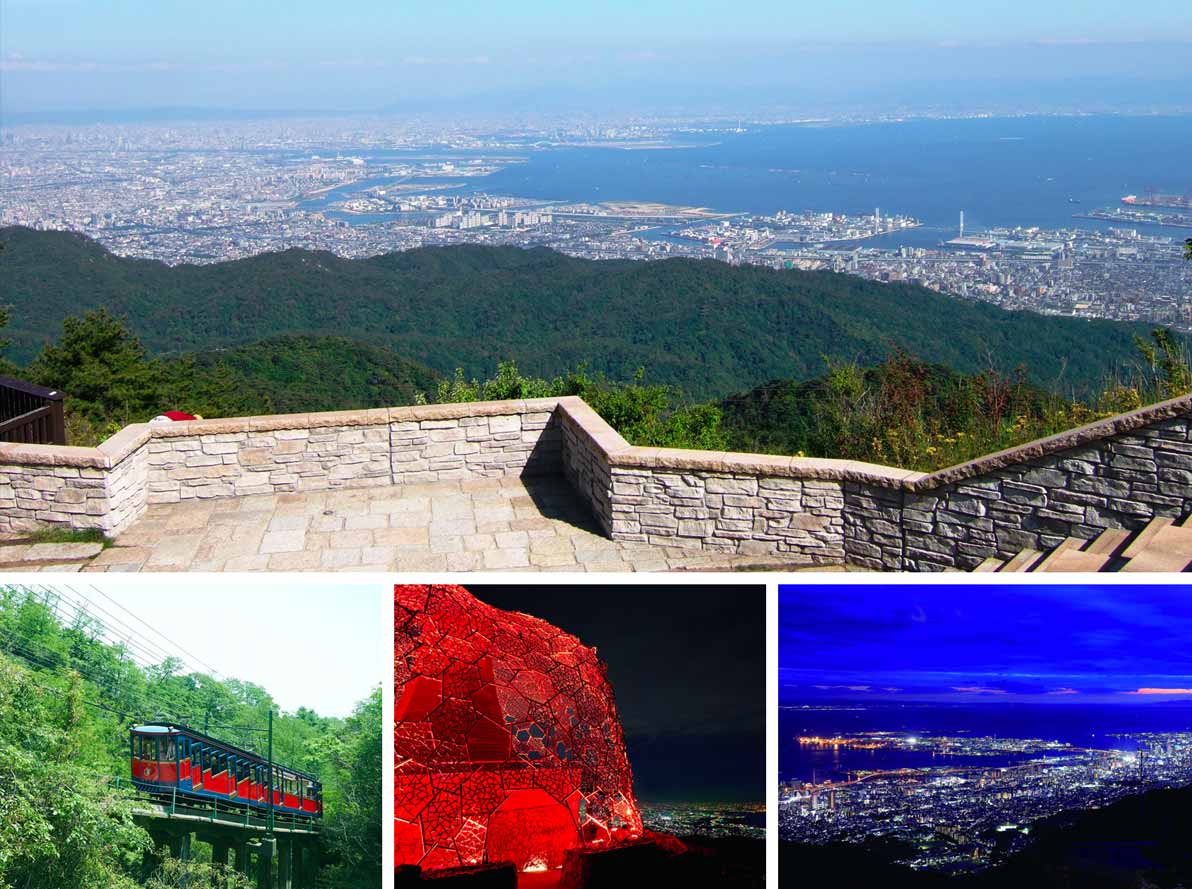 This is the highest peak in the Rokko mountain range and it grants a majestic backdrop to the city of Kobe.
To reach these memorable panoramic views, you can use the Rokko Cable Car to go up the mountain. Your trip won't be a waste as well because at the top you can also find a botanical garden, an observatory, a music box museum, and Rokko Garden Terrace among many others.
You can even enjoy skiing or snow activities at Rokko Snow Park in winter season! (Below is a complete list of the things you must do in this mountain).
Rokko Cable Car
Rokko International Musical Box Museum
Rokko Alpine Botanical Garden
Mount Rokko Snow Park
Mount Rokko Country House
Rokko Garden Terrace
~ TIP: The place is easily accessible with a Hankyu Tourist Pass.
.
.
8. Amagasaki (Hyogo Prefecture)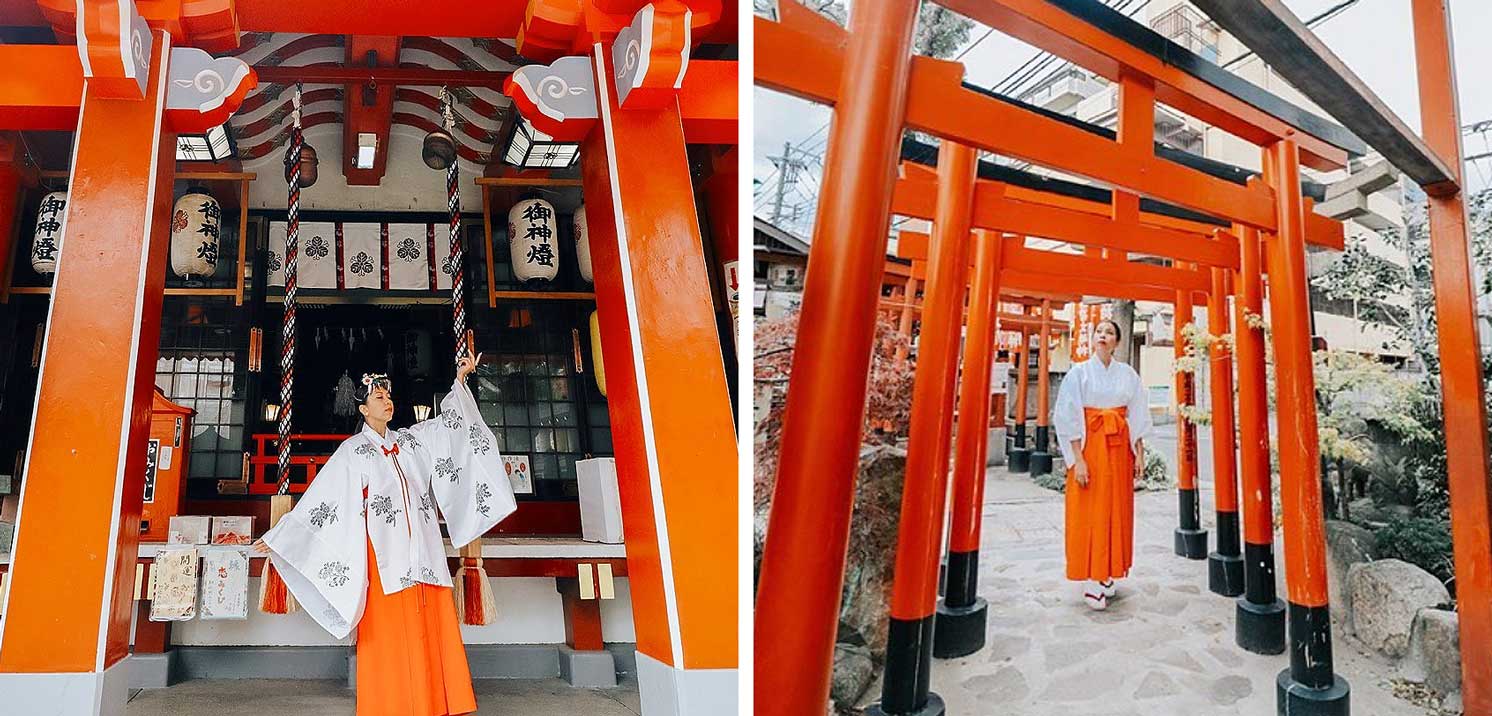 Have you heard of the hit anime movie: Your Name (Kimi no Nawa)? If so, you would recall that the main heroine, Mitsuha, worked as a miko — a Shinto shrine maiden. Now, if you're curious about this kind of work, you can actually head over to Hyogo Prefecture's Amagasaki Ebisu Shrine in Amagasaki City with your Hanshin Tourist Pass to sign up for their miko experience package.
I personally tried it out and it was such an enriching and fun affair! You only need to book online a day in advance and for 1 hour, you can dress up in miko attire, learn about their duties, take photos, and try kaguramai (a dance performed by miko with bells and chimes, much like what Mitsuha did in the movie too).
~ ALTERNATIVE: Within the same Hyogo Prefecture, you can opt to head to Asago's Takeda Castle, a ruined fortress that is best known as the 'castle floating in the sky' because of how it is often shrouded in a sea of clouds in autumn mornings (around October and November at sunrise).
.
.
9. Kada (Wakayama Prefecture)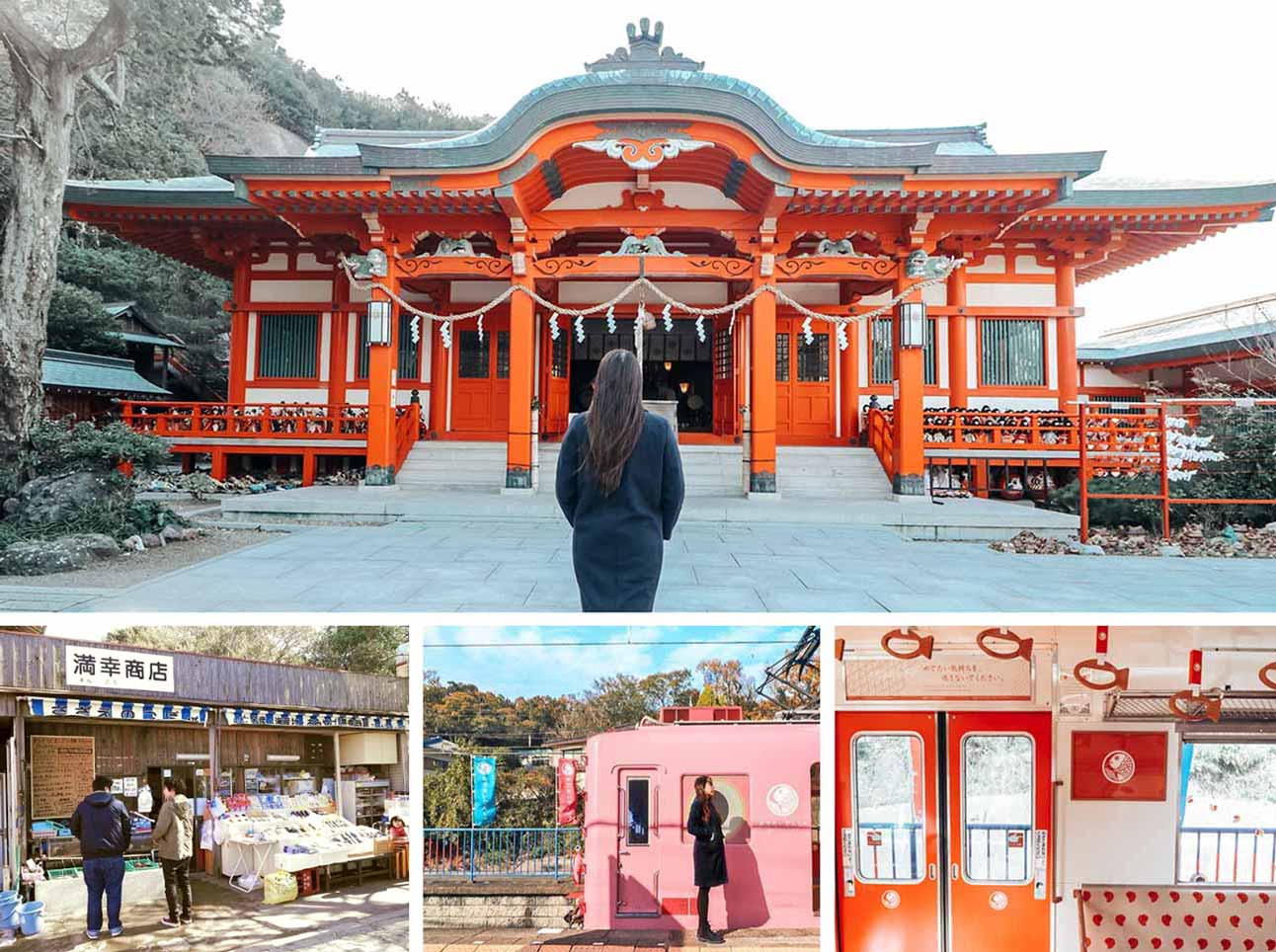 Venture off to a place that most tourists might not even know of yet: the port town of Kada! It's one of the best places you should go to especially when you already hold a NANKAI ALL LINE 2-Day Pass, because with it, you can ride the adorable Medetai Train to Kada. As you can see from the photos above, these are themed trains with a lot of fun and quirky sea-themed designs that are based from Kada's representative seafood, the 'tai' or sea bream.
Once you've had your fill of this enjoyable sightseeing Medetai Train, here are some things to do in Kada…
Awashima Shrine: A highly popular shrine for the Japanese, especially for those who pray for fertility and safe birth — as well as for those who want to donate their Japanese dolls. This is the reason why you'll see a lot of dolls here! Apparently, Shinto belief has it that inanimate objects can develop souls over time and to dispose of them, it must be done properly so as not to have their angry spirits curse the owner. And so, this is where Awashima Shrine comes in because they can keep that doll until it is time to hold a 'memorial service' for them called as kuyo.


.


Apart from this, this shrine hold a popular festival on a Japanese traditional festival Hinamatsuri, the Girl's Day Doll Festival (every 3rd of March). It's called Hinanagashi, wherein they put all the dolls on a boat and drift it off to the sea.


.

Mankou Syouten: It's a little restaurant near the shrine, but don't let its looks fool you because their meals pack a punch! You'll love indulging its comfort food dishes that are all freshly sourced.


.




.
10. Wakayama (Wakayama Prefecture)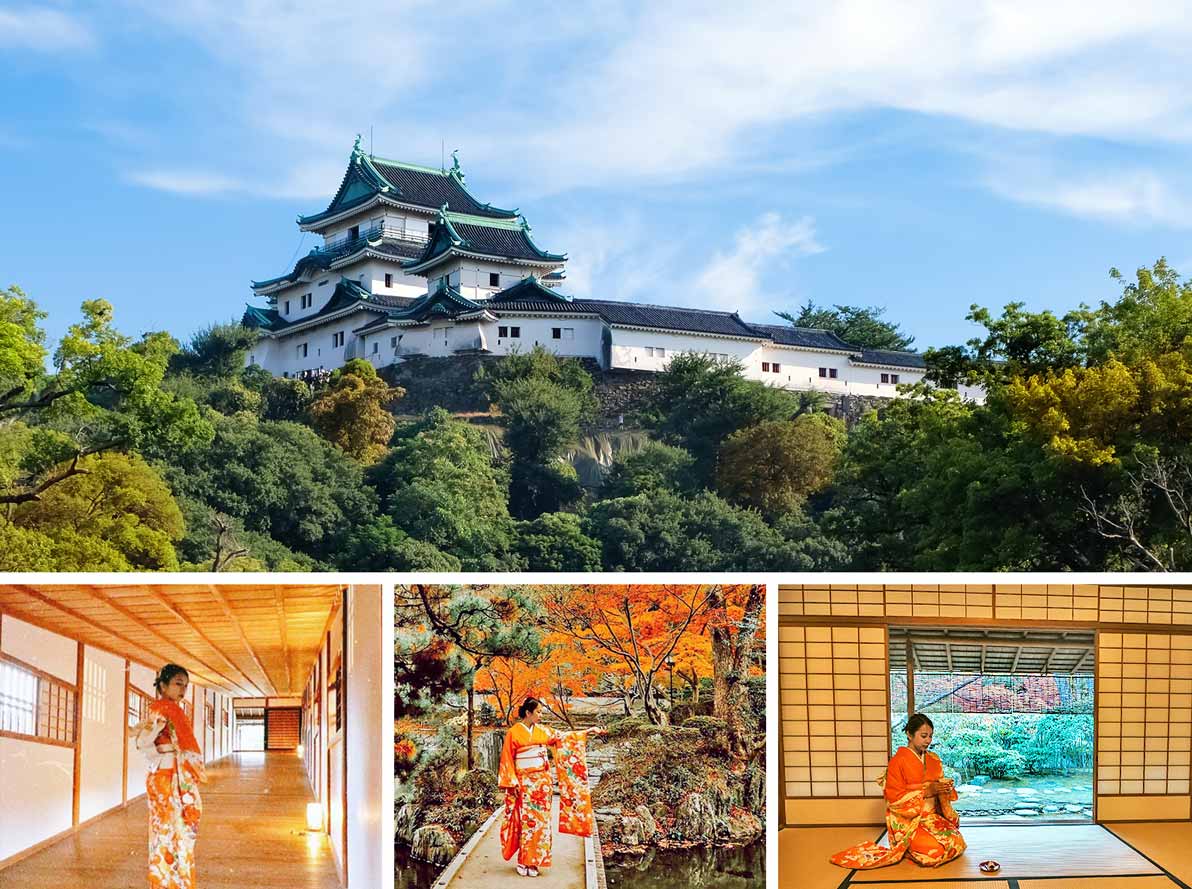 While you're already in Wakayama City after visiting Kada as one of your day trips from Osaka, come and squeeze in a stopover to central of Wakayama City!
Walk over to the top of Wakayama Castle to explore its grounds and surrounding gardens — or better yet, avail the kimono / furisode (traditional Japanese clothing) rental service to fully make the most of your stay (reservation is required). Drop by the gardens to snap some photos, and then end the day on a great note as you go through an authentic tea ceremony in the Koshoan Tea House that's just near Wakayama Castle.
~ TIP: Use a NANKAI ALL LINE 2-Day Pass to easily explore Wakayama Prefecture.
.
.
11. Mount Koya (Wakayama Prefecture)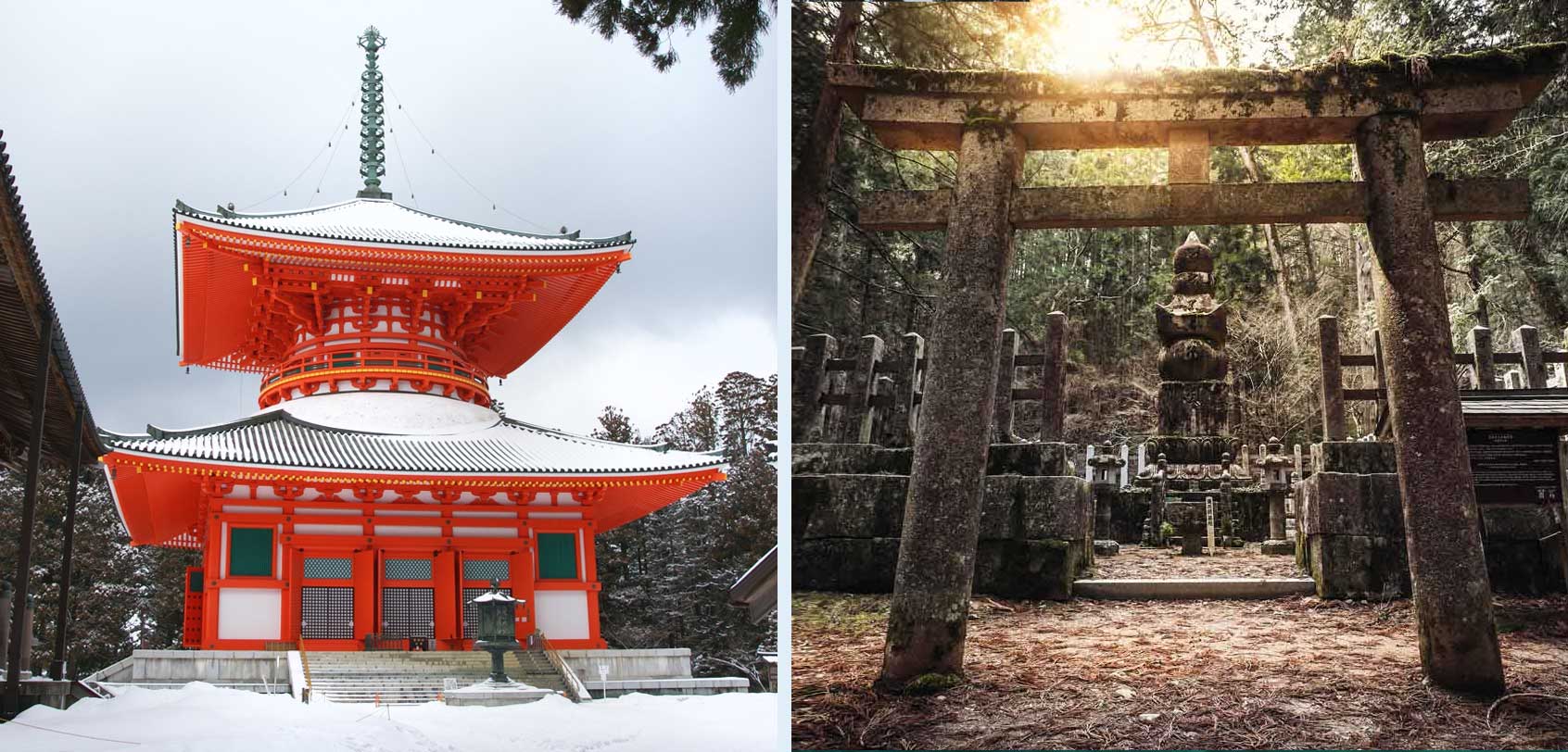 Also fondly called as Koya-san, this place is the center of Shingon Buddhism which is an important Buddhist sect introduced to Japan by a certain Kobo Daishi (one of the country's most important religious figures). But fret not, because even though you're not a Buddhist nor a pilgrim, you can enjoy this serene wooded mountaintop's temple town by walking through its towering cedar forests, witnessing the bright thousands of lanterns in Okunoin's Lantern Hall, and so much more!
Though if you don't want to do a mere day trip, Mount Koya is one of the best places where you can undergo an overnight stay at a shukubo or temple lodging. For a once-in-a-lifetime chance, you can get to experience a monk's lifestyle as you eat shojin ryori (vegetarian monk cuisine), attend morning prayers, and more.
.
.
12. Kuwana (Mie Prefecture)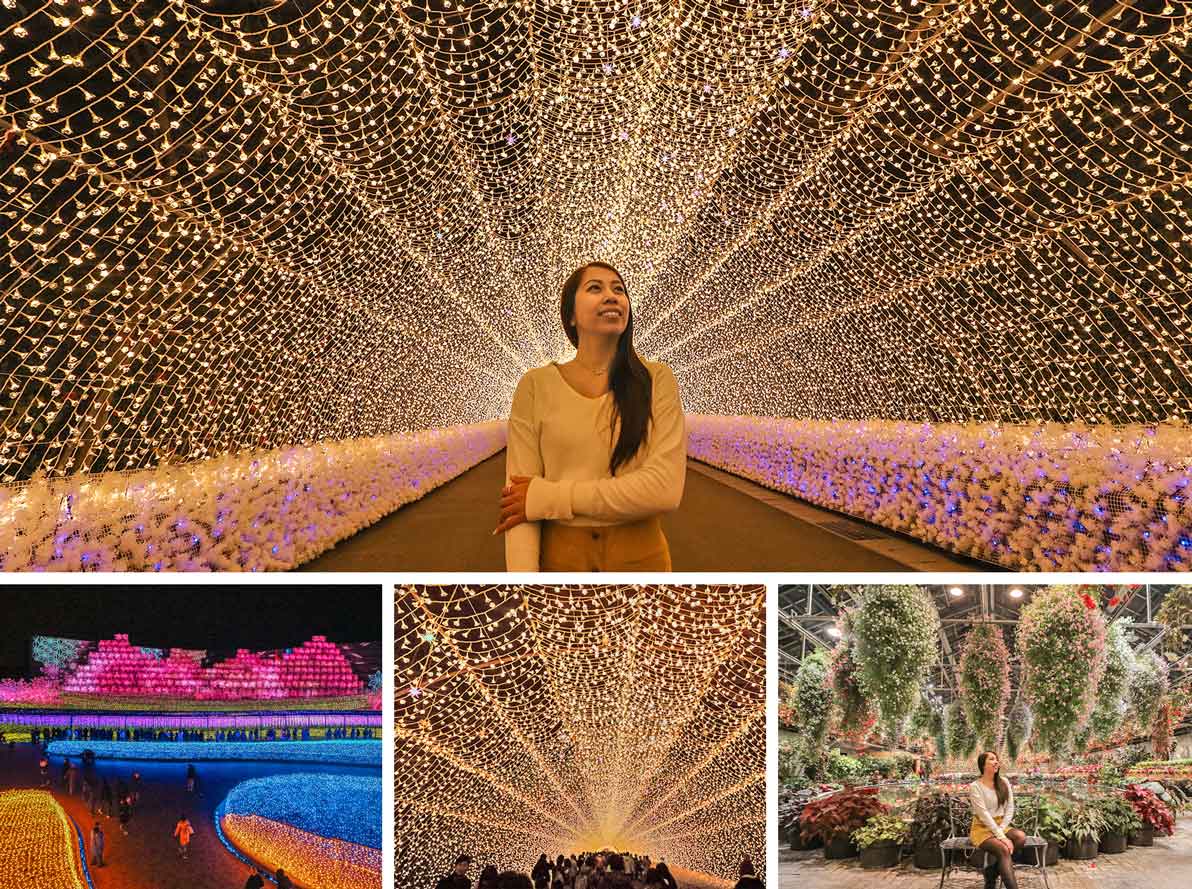 Kuwana city makes for a pleasant day trip from Osaka, and it is also just a 30-minute ride away by train from Nagoya. Though this place is small, there are key attractions worthy of your time such as Mitsui Outlet Park Jazz Dream Nagashima (one of the largest outlet stores) and Nagashima Spa Land (a large theme park).
But the most acclaimed attraction in the city would have to be the Nabana no Sato theme park and gardens. As a part of Nagashima Resort, this park hosts one of the largest flower festivals in the country during the warmer seasons, as well as the one of the largest winter illumination displays in the country during mid-October to early May. Apart from the millions of LED lights that are sprawled all over the park, make sure to get a glimpse of the animated light show (with a theme that changes every year), the iconic light tunnels, the indoor begonia garden, and the Island Fuji observatory deck that lifts people high above the park for bird's eye view.
~ TIP: The best way to reach Nabana no Sato is via the Kintetsu train (with your Kintetsu Rail Pass) to Kintetsu Nagashima Station. From there, ride the shuttle bus to the park which you can ride for free by just showing your Kintetsu Rail Pass to the driver before getting off.
.
.
13. Toba (Mie Prefecture)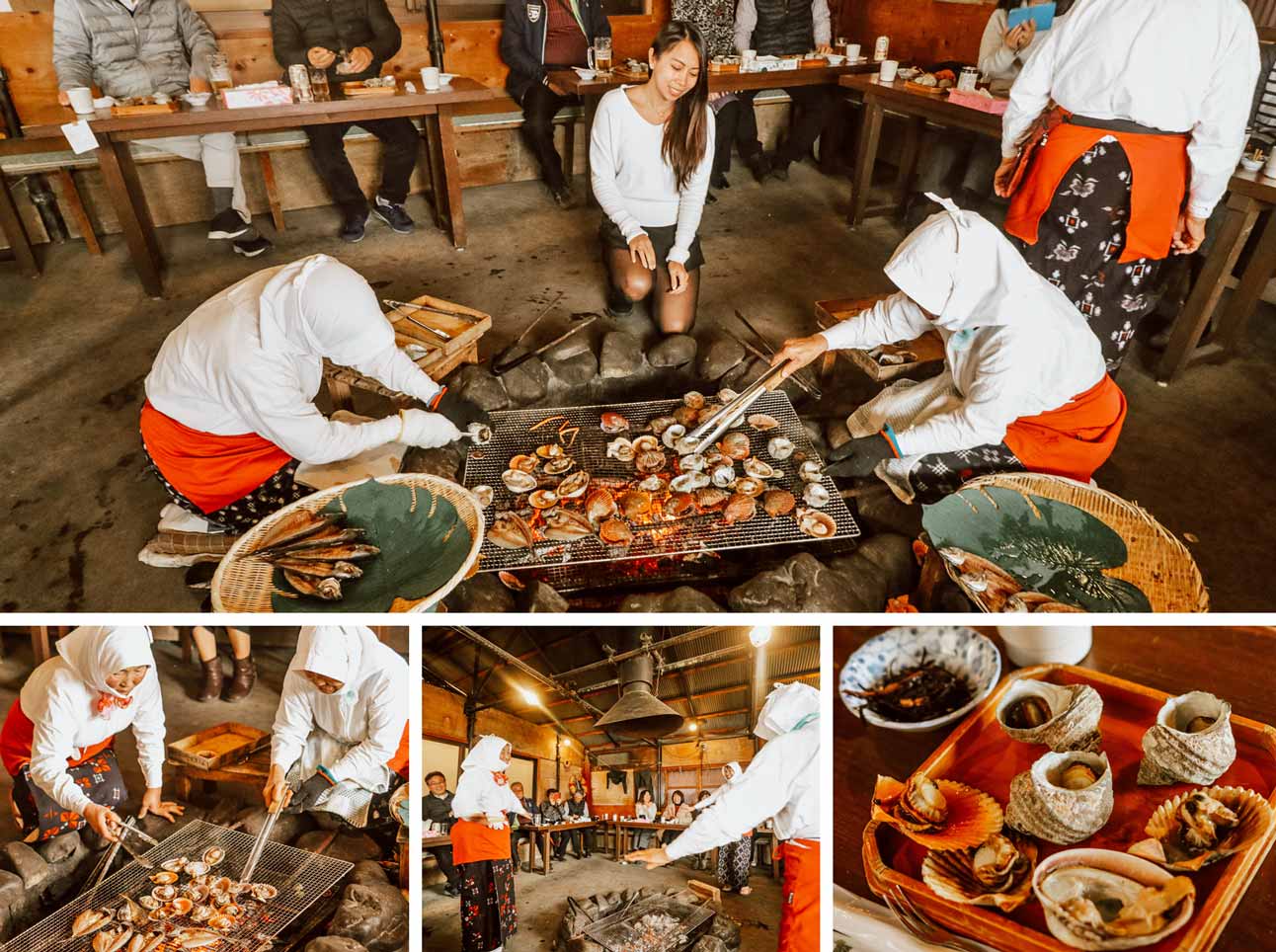 Ama or female free divers are found in various areas in Japan but they are predominantly found in Mie Prefecture's Toba city. As a part of a beautiful centuries-old tradition, they plunge underwater to primarily catch marine life like sea urchins, snails, and abalone.
Nowadays, it's sadly a dwindling practice but thankfully, it still has a considerable community that aims to preserve it all. In order to meet and support some of these ama, you must head over to Toba!
Through the Hachiman Kamado Ama Hut experience, you can meet, chat and eat with the Ama at their rest hut (Kamado) while they cook their fresh catch over the fire for you. It is definitely a special experience — I mean, it sure was for me as I got to meet these wonderful women and learn of their customs! (FYI: They have an in-house English interpreter). Plus, if you want to kick it up a notch, you can dress up in the traditional white ama diving costume and take photos with them all.
~ TIP: Use a Kintetsu Rail Pass to reach Toba as one of your day trips from Osaka. From there, once you book via Hachiman Kamado's website, you can use their free shuttle bus that departs from the station (and which will also drop you off after the experience).
.
.
14. Ise Shima (Mie Prefecture)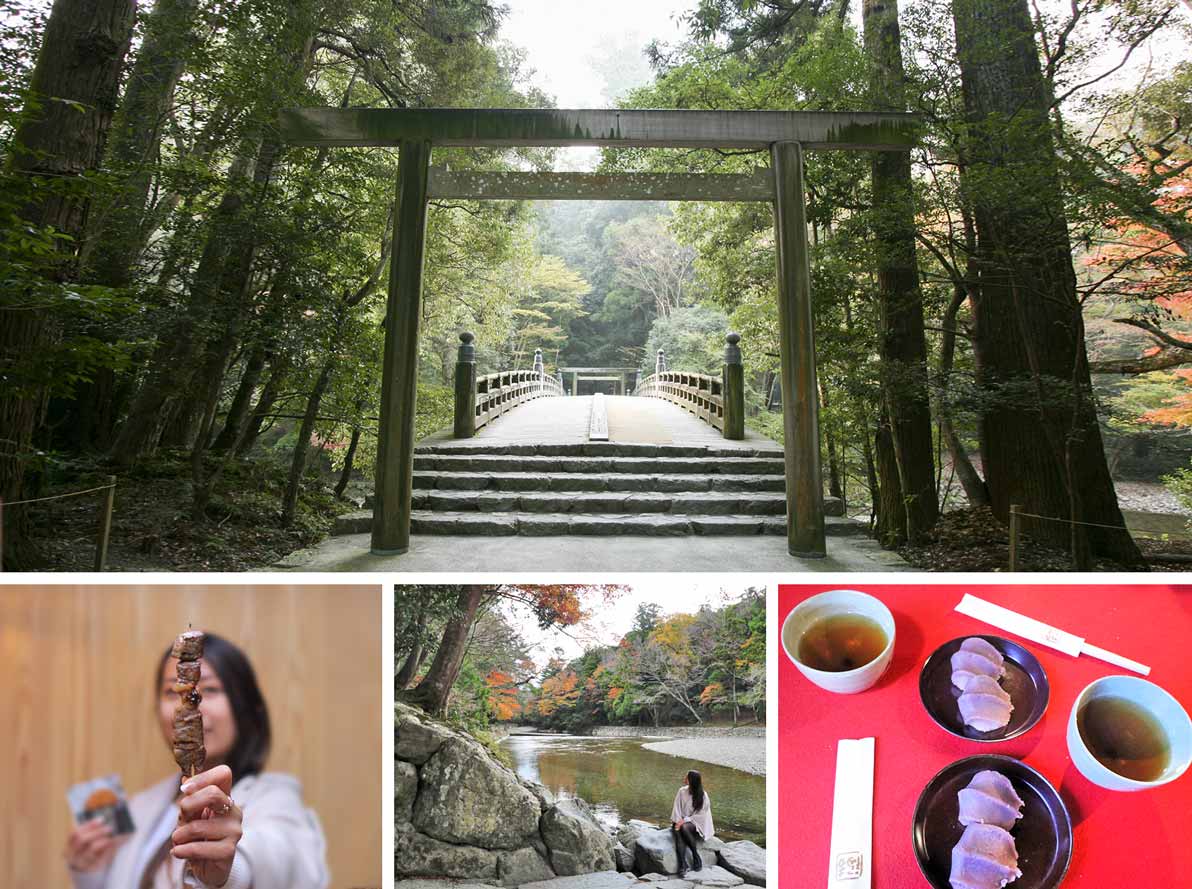 What's special about this peninsula is how it holds Japan's most sacred Shinto shrines: the Ise Shrines. Aside from it, there are also a couple of places of interest to fill up your list of day trips from Osaka — just ready your Kintetsu Rail Pass and you'll be here in a jiffy!
Ise Shrines: This is comprised of 2 main shrines, namely the Inner Shrine (Naiku) and the Outher Shrine (Geku). For the former, it enshrines Shinto's Amaterasu Omikami (Sun Goddess), its most sacred deity — thus making it Japan's most sacred shrine. Meanwhile, the latter enshrines Toyouke Omikami (deity and guardian of food, housing + clothing) who provides for the Sun Goddess; and thus, making it a place that's traditionally visited before the Inner Shrine.


.

Oharaimachi: After the visit to the Ise Shrines, drop by this kilometer-long traditional shopping area that's filled with numerous shops and restaurants! Don't miss out a visit to Okage Yokocho to try the most famous souvenir of Ise which is the akafuku mochi — a kind of sweets which is like a reversed mochi (rice cake) due to the fact that the mochi is wrapped by a generous helping of anko (red bean paste) instead of the other way around.


.


Alternatively, if you can't visit Matsusaka City itself, then sample the locally-loved wagyu beef of Mie Prefecture which is the Matsusaka beef in one of the stalls found in this street. After all, if you ask me, I find this kind of wagyu beef as better tasting than the world-famous Kobe beef 

and you'll be surprised to know that a lot of Japanese locals would agree!


.
.
15. Iga Ueno (Mie Prefecture)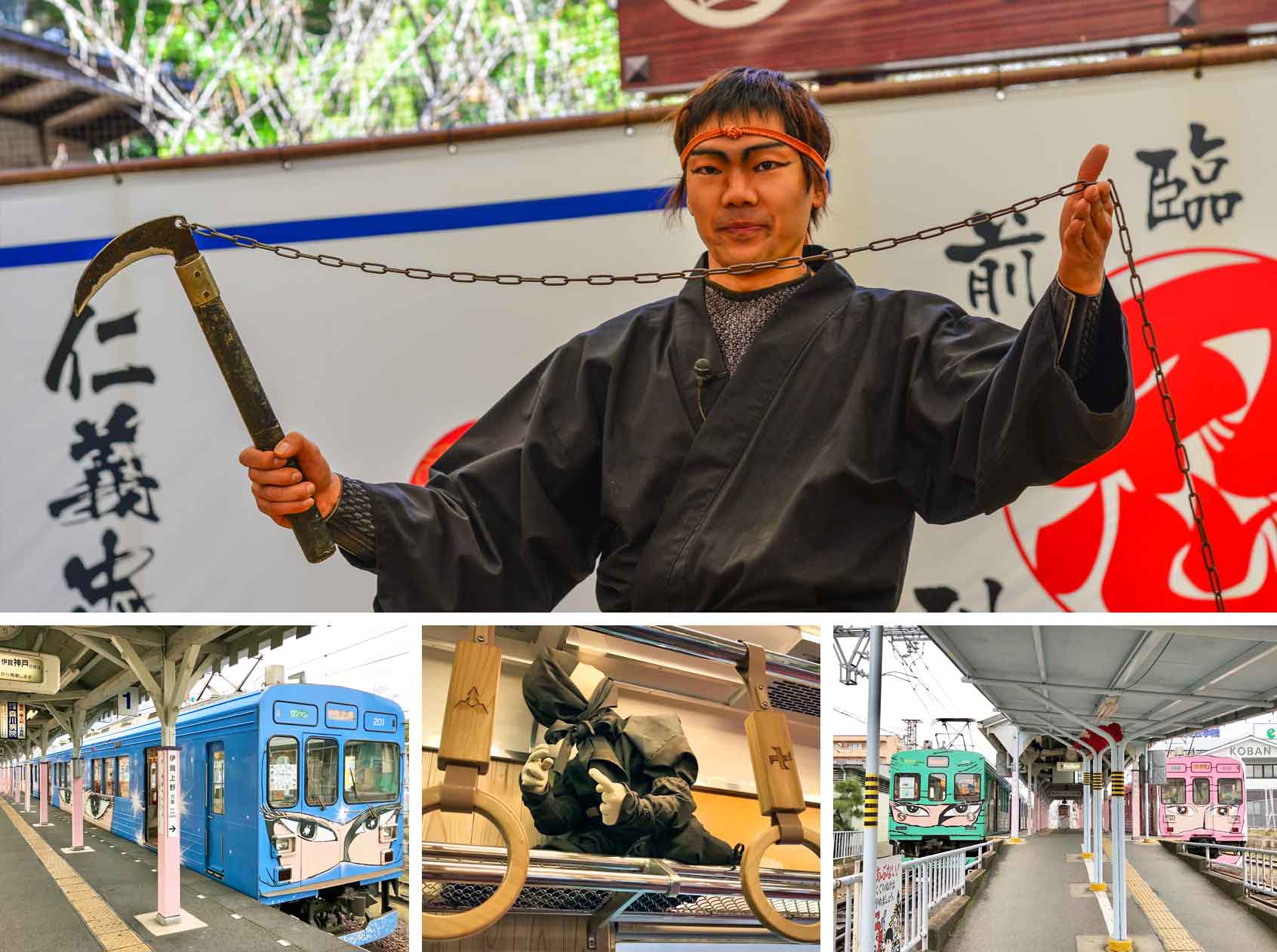 Top photo from Shutterstock
For a quirky and memorable activity, travel to this rural city that's not too far from Osaka — and I say memorable because together with Koka in Shiga Prefecture, Iga Ueno city is considered as the homeland of the ninja or shinobi (a type of Japanese warrior who act in stealth).
Along this line of thought, the city naturally has some renowned ninja-related attractions like the Ninja Museum that exhibits comprehensive ninja halls and shows. You will particularly enjoy the ninja residence which may look bland from the outside, but full of hidden sections and trap doors inside.
~ TIP: Use a Kintetsu Rail Pass to get to Iga Ueno. You'll even particularly love the Iga Railway since it has cool themed Ninja Trains — which you can also ride for FREE with a Kintetsu Rail Pass!
.
.
What are you waiting for? Come and make the most of Japan's Kansai region by visiting any (or all) of the above cities that's only a quick train ride away from Osaka!
What do you think of these top day trips from Osaka?
Which city would you like to see the most?
Or have you been to any of these before? How was it?