Most people flock to Japan for its famous spring (sakura) season; but if you want to shake things up a bit, you should take the time to check out some other scenes. For starters, Japan has some of the world's highly-acclaimed illumination displays, and for this, there is one place that you must NOT miss out on and it is Nabana no Sato park in Kuwana city!
The best part? The park is easily reached by train from Kyoto, Nagoya or Osaka as a day trip. (More info on this by the end of the article).
.
Nabana no Sato is a part of Nagashima Resort and it is basically a massive botanical park found in Mie Prefecture. During the warmer seasons, it hosts one of the largest flower festivals in Japan — but come mid-October to early may, Nabana no Sato transforms into one of the largest winter illumination displays in the country with about a million of LED light displays! It sounds insane, but I'm pretty sure the photos above are proof to the dazzling illuminations that they put every year.
With this in mind, it's a fact that Nabana no Sato is a year-round attraction!
» Flower Festivals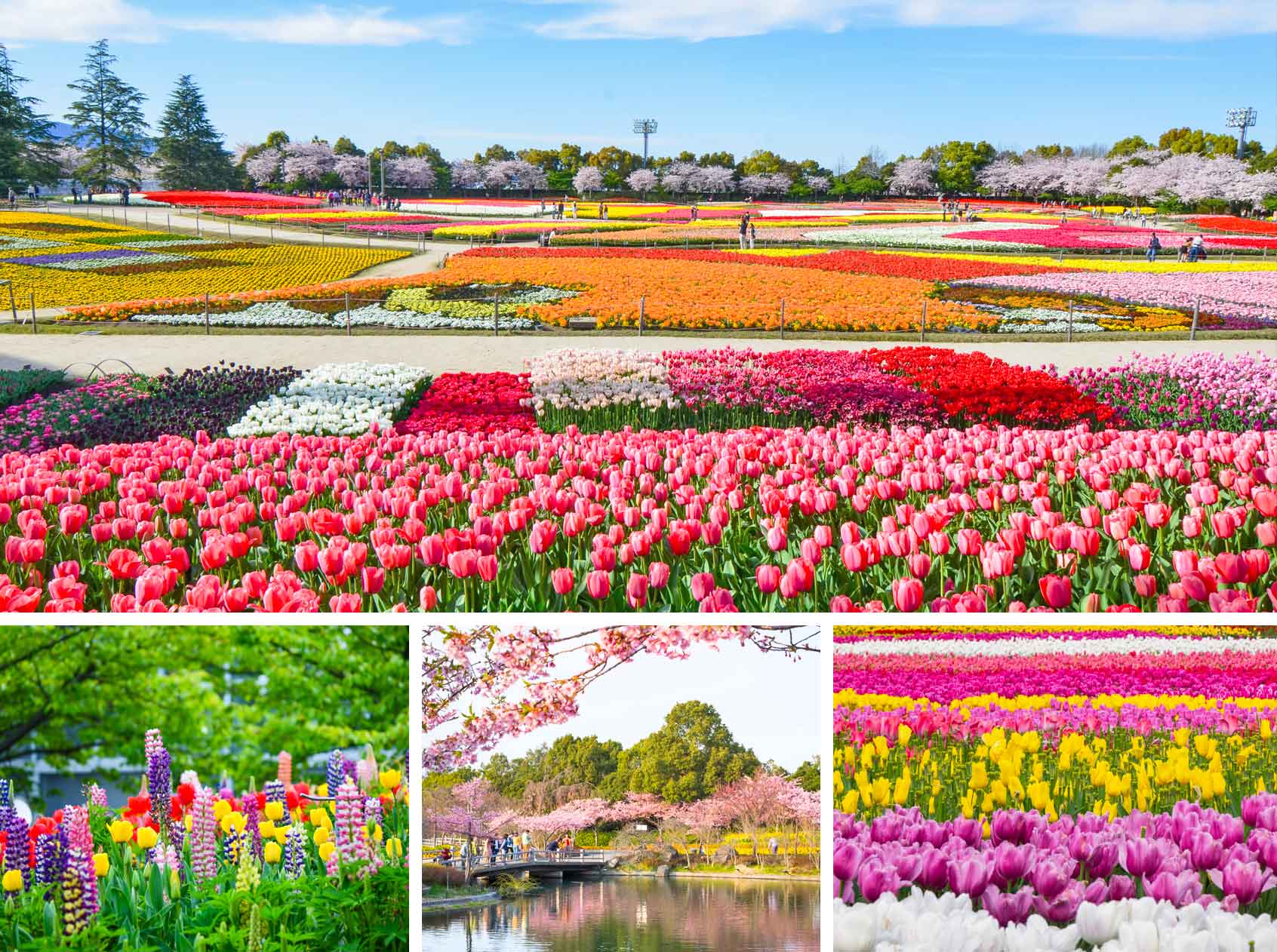 Photos from Shutterstock
The park goes on cycles and depending on the time of your trip, you can witness the following…
Early February to Late March: Plum trees, weeping plum trees and Kawazu cherry blossom or sakura trees that bloom earlier compared to other types of sakura trees.
Late March to Late April: Tulip garden festival with over 200 varieties and most are laid in a way that it makes shapes, etc. (depending on the theme for the year, they could even show a Mt. Fuji design). Around this time too, there is a daffodil festival.
Early May to Late July: Rose festival is held with over 800 kinds in the gardens (don't forget to try out their unique rose soft serve ice cream). Around this time, the hydrangea, cosmos and iris flower festivals are also held.
Year-Round: The huge greenhouse called as "Flower Garden in the Andes: Begonia Garden" is open. In here, you can see various colourful flowers! Don't miss out on the last part of the building where you can find the "Mikaeri-no-ike": a photogenic pond in which flowers hang from above it.
TIP: If you ask me, it would be best to visit here sometime in spring so that you can enjoy BOTH the flower fields (during the day) and the winter illumination (at night).
.
» Winter Illumination
There is much to see in Nabana no Sato during this popular affair so don't forget the following spots…
Cloud Sea of Light: Near the entrance is a charming space full of blue LED lights.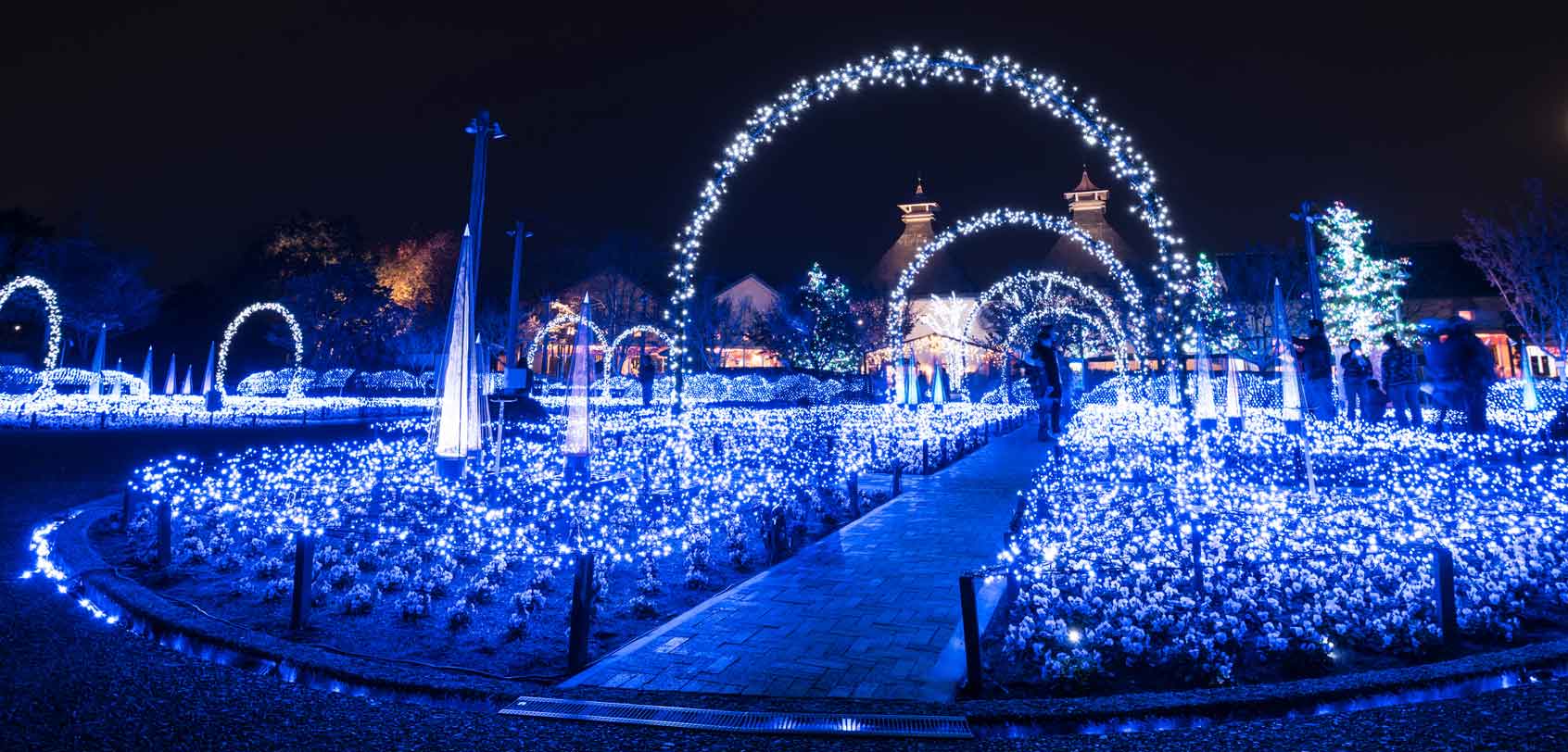 Kagami-ike: I loved this spot because the still surface of the pond perfectly reflected the maple trees that line it — add the effect that the lights have as it flashes on the trees and it becomes even more perfect!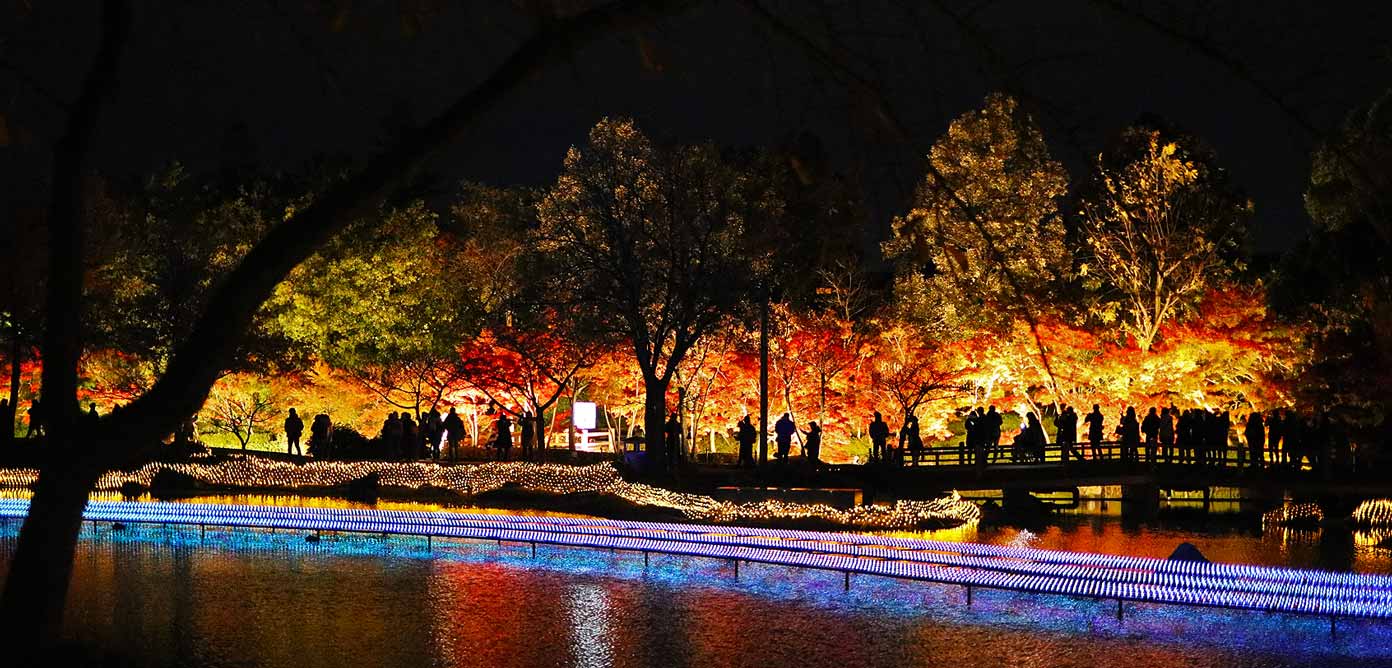 Light tunnel: This is the famous spot in Nabana no Sato that you see in most photos online! Spanning at 200 meters long, I highly recommend immediately walking to the middle to avoid the crowd at the entrance (it's how I got my shot above!). If it rains, the place becomes even more magical with the ground reflecting the illuminations; plus, there's less of a crowd too!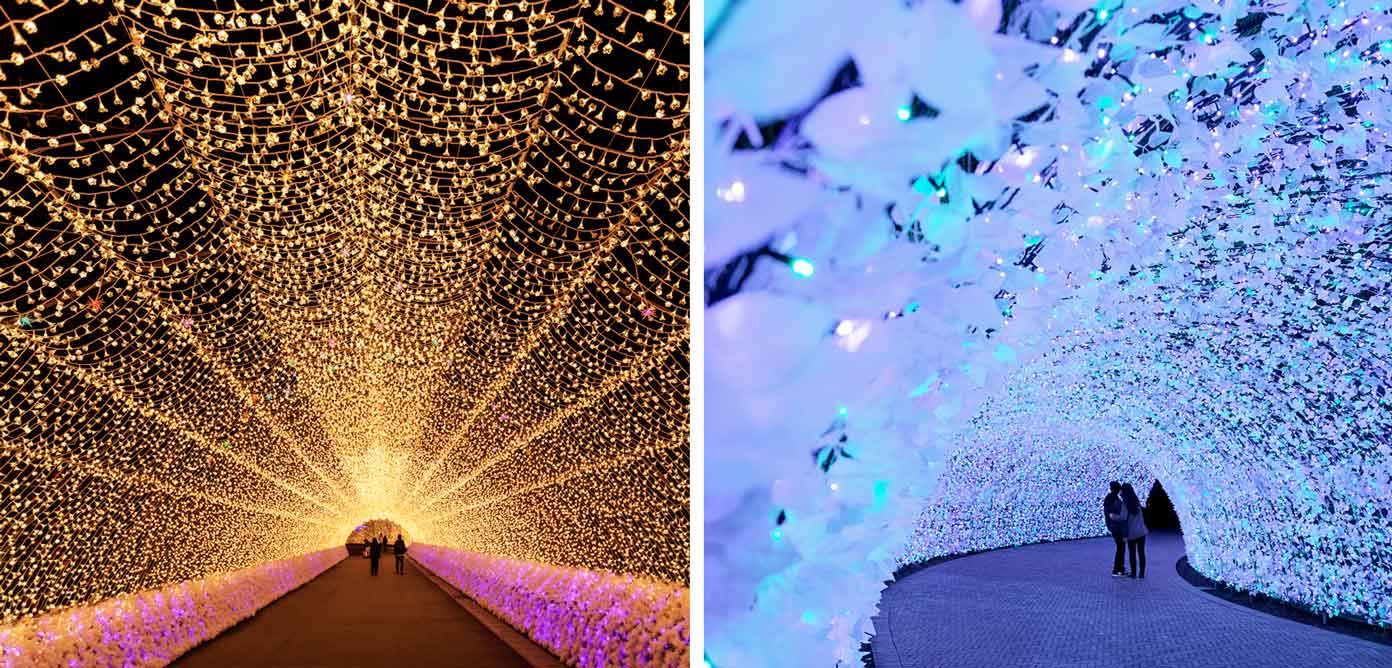 The one on the right is another tunnel at 100 meters that has different colors and flower-shaped bulbs. The color can vary year to year (e.g. pink lights for sakura, violet for lavender etc.)
Hikari-no-taiga: Found at the center of the park is the chapel in which the water is adorned by a river of lights, as if accentuating the beauty of a stream.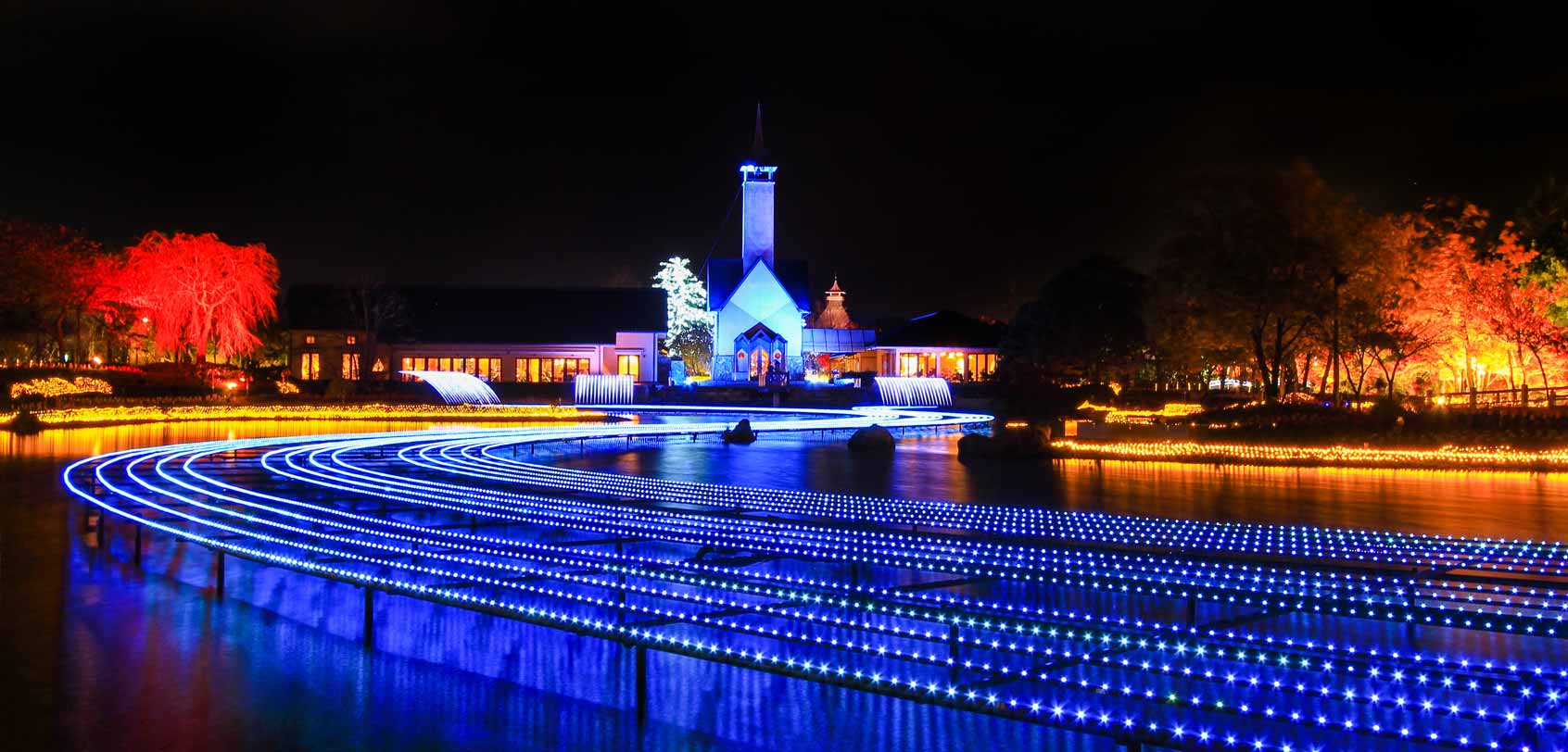 Panorama of Illuminations: This is an amazing illumination show in Nabana no Sato and its theme changes every year! During my visit in 2019, I witnessed their "SAKURA ~ The beauties of nature ~" show that tells the change of seasons and how the sakura tree transitions. (You can see here their past themes). There are two ways to watch this: up close or from up a nearby building (which has seating and snacks available)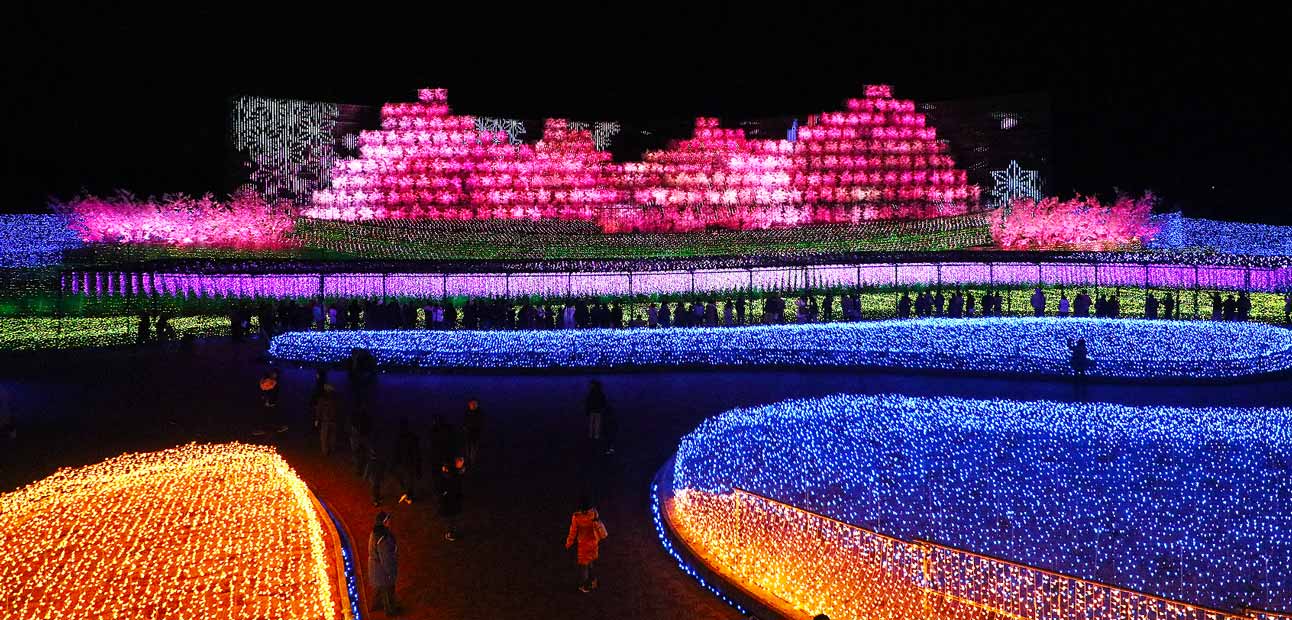 Flower Garden in the Andes: Begonia Garden: As I've previously mentioned above, this is a big greenhouse which has various colorful flowers. If you visit during the colder seasons, this becomes a great respite from the cold.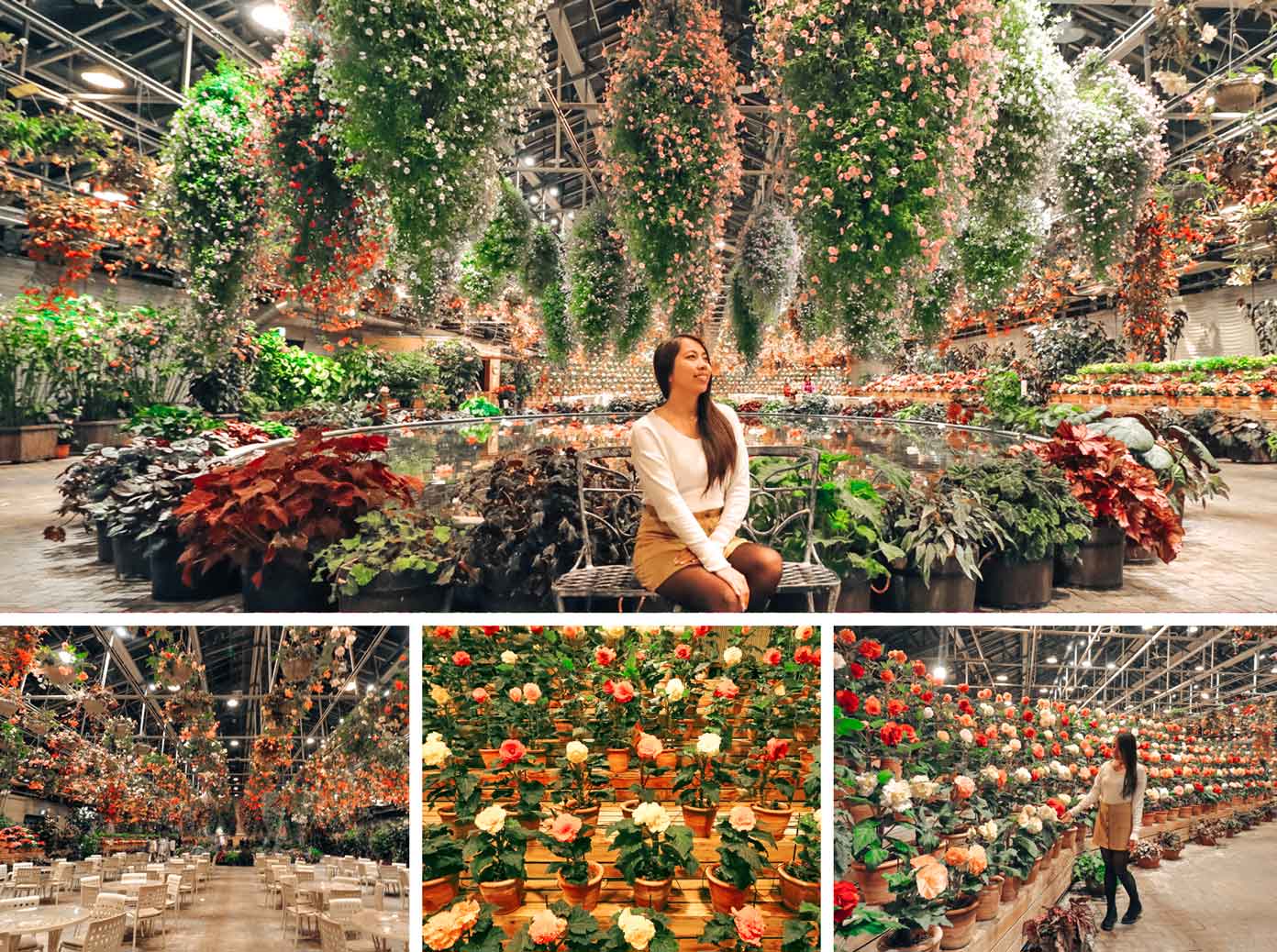 If you hold a Kintetsu Rail Pass. entry to this Begonia Garden is FREE! (More info about this at the end of the article). If you don't have this train pass, it's an additional ¥1,000 fee for entry.
Island Fuji: A giant observation platform deck that lifts people 45 meters high above the park for a bird's eye view! To get in, you need to pay an additional ¥500 per person. Don't worry if you get seated at an odd place because the whole platform turns 360 degrees; as such, everyone gets a fair chance at viewing the whole of the flower park's winter illumination.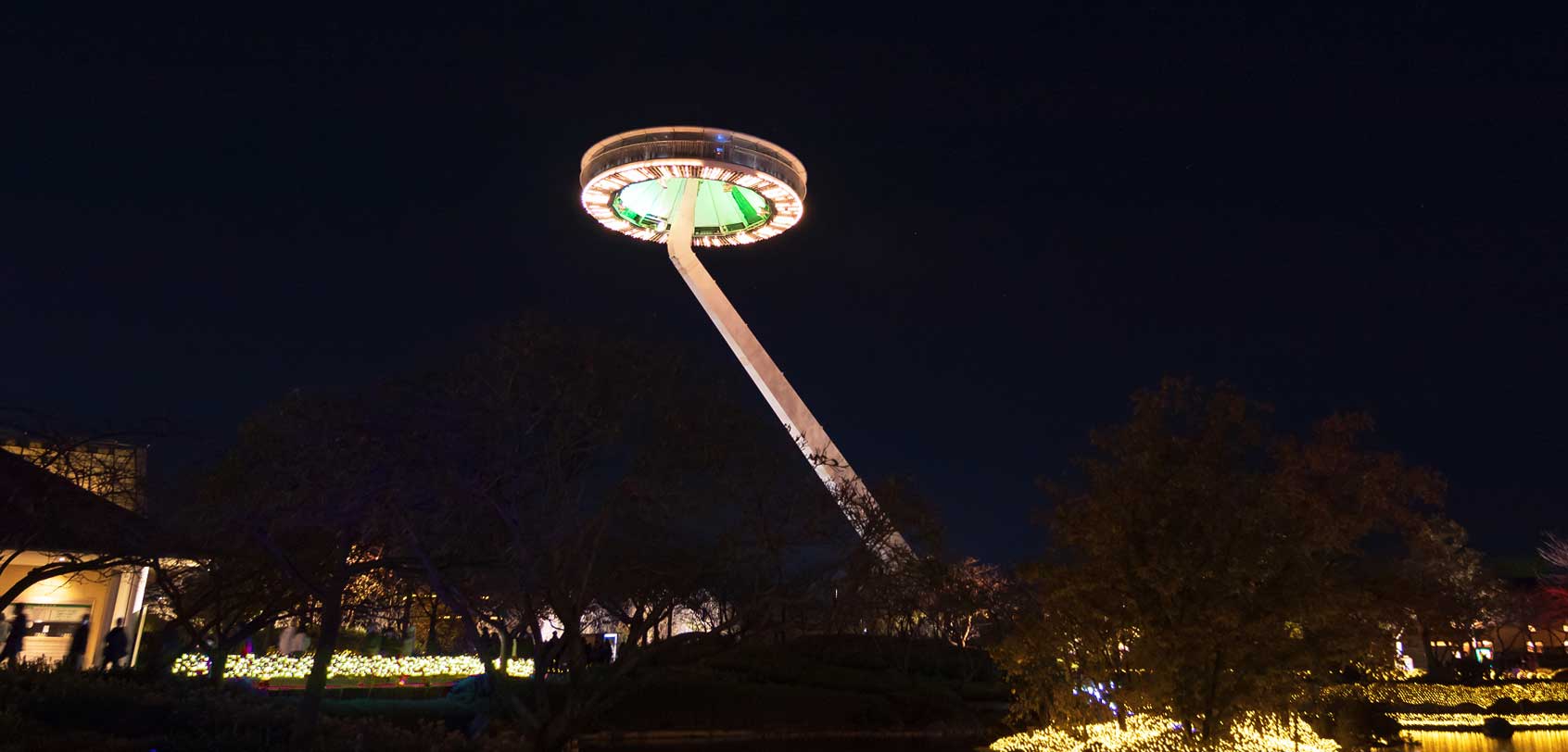 What else to do in Kuwana? If you want more things to do, some of the city's top attractions are the Kaizoji Temple, the Shichiri-no-watashi ruins, the Kyuka Park and Kuwana Castle among many others.
.
What is the address details?The name of the park is Nabana no Sato.
Address: 270 Komae-urushibata, Nagashima-cho, Kuwana-shi, Mie
Operation Hours: 9AM to 9PM* (Weekdays)
*Hours of operation may vary per season
How to get to Nabana no Sato?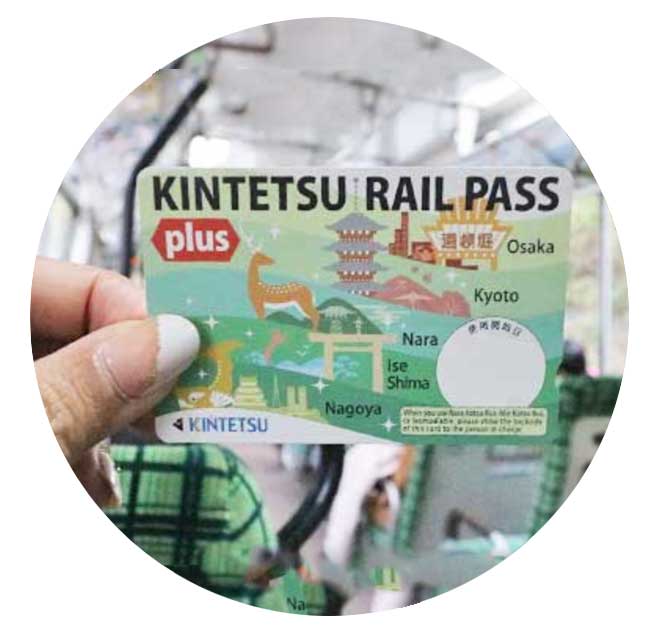 If you're coming with your own transportation, there is free parking in the premises both for cars and buses. Otherwise, the best way to reach Nabana no Sato from Osaka or Nagoya is via the Kintetsu lines. As a visitor, it is best to buy a Kintetsu Rail Pass and head over to Nagashima Station. From there, you can ride the shuttle bus to the park which is FREE if you hold a Kintetsu Rail Pass Plus.
What is the Kintetsu Rail Pass? It's a train pass that grants you unlimited rides on the Kintetsu-serviced train lines.
VALIDITY OPTIONS & TYPES:
*Children under 6 travel free
1 day or 2 days (consecutive): For Osaka, Nara and Kyoto (NOTE: These can't be used to visit Nabano no Sato; only the 5-day pass applies)

1 day = Adult:

¥

1,500 / Child:

¥

750
2 days = Adult:

¥

2,500 / Child:

¥

1,250

5 days: For Osaka, Nara, Kyoto, Ise-Shima and Nagoya

Standard = Adult:

¥

3,700 / Child:

¥

1,850
~ Unlimited rides on Kintetsu Line, Iga Tetsudo Line
~ Includes special perks on certain facilities including Nabana no Sato
Plus = Adult: 

¥

4,900 / Child:

¥

2,450
~ Unlimited rides on Kintetsu Line, Iga Tetsudo Line, Nara Kotsu Bus, Mie Kotsu Bus and Toba City 'Kamome' (sea gull) Bus Lines
~ Includes special perks on certain facilities including Nabana no Sato
If you need help when riding the trains, just use the directions feature in Google Maps — I find this as a very helpful tool if I want to reach a certain place from a particular location. However, take note that Google Maps doesn't work offline if you want routes or transportation schedules, so I recommend that you get a pocket WiFi or a SIM Card to stay connected online).
How much is the entrance fee to Nabana no Sato?
The entrance fee depends per season but you can check by their website to verify. Take note that this fee already includes a ¥1,000 gift certificate that you can use inside the flower park.
¥1,000 in summer

¥1,600 in spring and autumn

¥2,300 during winter illumination
However, if you hold a Kintetsu Rail Pass, you can get discounted entrance fees as follows:
¥800 in summer

¥1,400 in spring and autumn

¥1,800 during winter illumination
Alternatively, there is another option of getting a Nabana no Sato Illumination ticket only if you simply want to visit the park (and not a Kintetsu Rail Pass).
Valid for 2 days from the day of use, it can be purchased at most Kintetsu station ticket counters and it includes:
– Roundtrip train transportation to and from Kintetsu Nagashima station
– Roundtrip bus transportation from Kintetsu Nagashima station to Nabana no Sato
– Nabana no Sato entrance fee
– ¥1,000 voucher you can use inside the park
The price for this ticket starts from ¥3,300 (adult) and ¥2,750 (child). It will also depend on where you travel from but you can save as high as ¥1,070.
Should I get a visa to visit Japan?
If you're NOT a citizen of any of Japan's exempted countries, you are then required to avail a visa beforehand. If you're from the Philippines, you can read my guide on how to get a Japan visa in Manila here.
Helpful Japanese phrases
Hello: Konnichiwa (Kohn-nee-chee-wah)
Thank you (normal): Arigatō. (Ah-REE-gah-tohh)
Thank you (less formal): Arigatō gozaimas (Ah-REE-gah-tohh goh-zahy-mahs)
Thank you (informal): Dōmo (DOHH-moh)
Yes: Hai (Hai)
No: Iie (E-eh)
Goodbye (long term): Sayōnara (Sah-yohh-nah-rah)
Goodbye (informal): Ja ne (Jahh neh)
.
Excuse me: Sumimasen (Soo-mee-mah-SEN)
I'm sorry: Gomen nasai (Goh-men-nah-sahy)
Is there someone here who speaks English?: Dareka eigo ga hanasemasu ka? (Dah-reh-kah ey-goh gah hah-nah-seh-mahs kah?)
Help!: Tasukete! (Tahs-keh-teh!)
Cheers!: Kanpai! (Kan-pie!)
.
.
…What are you waiting for?
Don't miss out on this amazing attraction in Kansai!
What do you think of Nabana no Sato?
What season would you like to see the most?
Or have you been here before? How was it?