Growing up, I was a huge fan of Jim Morrison. So I had to visit his grave at the Pere Lachaise Cemetery in Paris.
I ended up visiting the Cimetiere Pere Lachaise when I was 21 years old, and I had the privilege of going back again to see it with new eyes seeking out its other famous residents.
Paris has other cemeteries that are worth visiting, (Montmartre and Montparnasse both have famous residents) but Pere Lachaise the largest cemetery spanning an area of 110 acres (44 hectares) Pere Lachaise is a wonderful way to spend an afternoon in Paris.
It is possibly the most visited grave in the world.
Not only is it popular for its size and artistry of its tombs it also houses some very famous souls that died in Paris and chose this as their forever resting place.
Pére Lachaise Cemetery Tour
This post was originally published in 2010, but we have updated it since going back.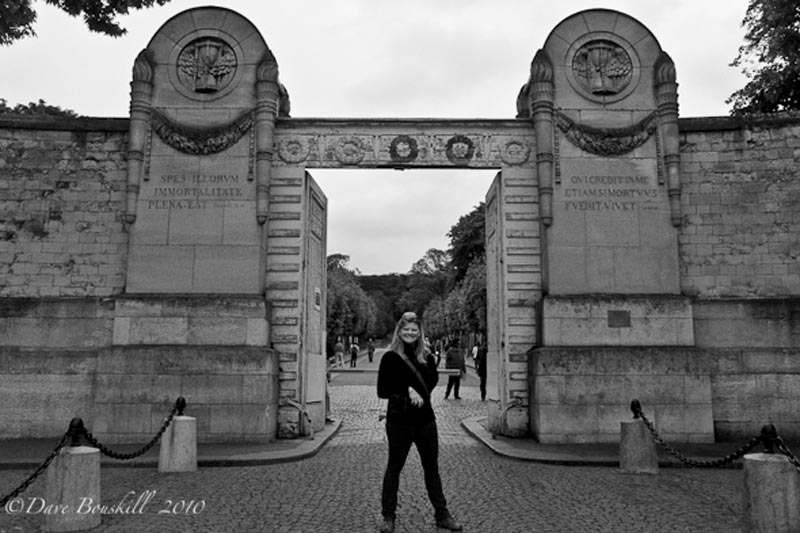 Located in the northeast corner of Paris, the Pere Lachaise Cemetery is the most visited cemetery in the world.
Over 800,000 souls are buried here and besides Morrison, there are many other famous residents include Chopin, Moliere, Edith Piaf, Rossini and Oscar Wilde.
We explored the cemetery on our own, but Get Your Guide offers walking tours. We have taken other cemetery guided tours in New Orleans and Rome since, and wish we did the Pere Lachaise Famous Graves Tour to see more. Find out Details here
Besides the famous residents, we mention in this post, you'll also Yves Montand and Simone Signoret and the Playright Molière.
We explored the cemetery on our own, but Get Your Guide offers walking tours. We have taken other cemetery guided tours in New Orleans and Rome since, and wish we did the Pere Lachaise Famous Graves Tour to see more. Find out Details here
Oscar Wilde

's Tomb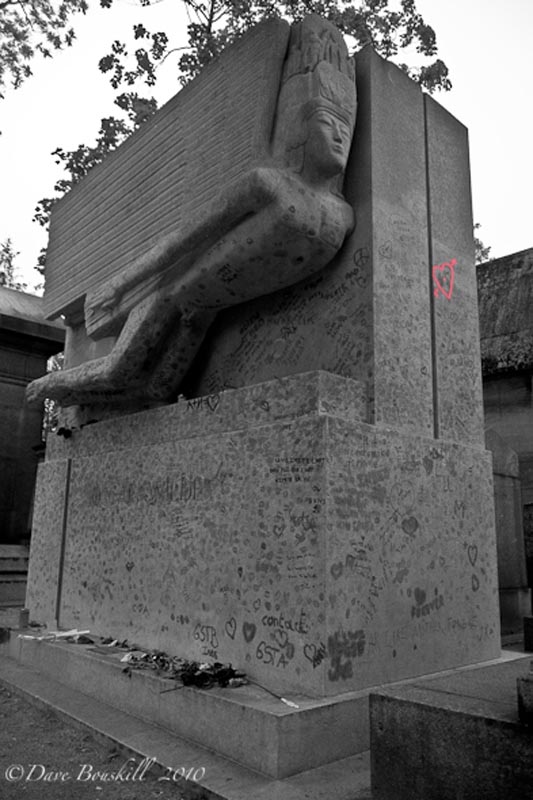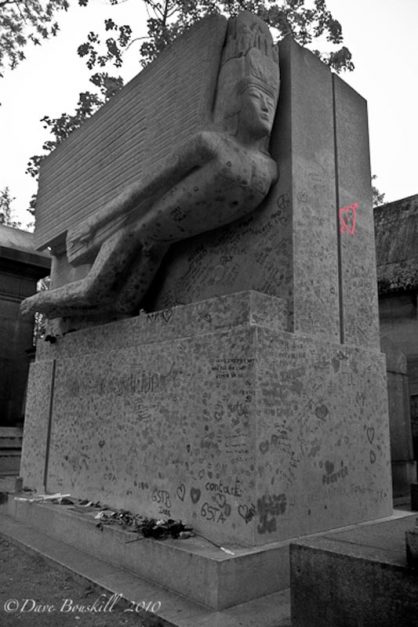 Oscar Wilde's grave is vastly popular at Pere Lachaise.
After serving a two-year sentence in England for sodomy, Wilde moved to France in poor health where he died of meningitis. He died a pauper in France and was buried in a modest grave. But he was moved to
It is covered with pink and red kisses from adoring fans. People have written poems and left love notes and have scratched their names into the already once restored gravestone.
Visiting Pere La Chaise is free, but it is much more interesting with a guide Get the Guide offers guided tours for just $9.
One can always tell when you happen upon a famous grave by the crowd of people.  Walking with our heads buried in our map we would look up to see a crowd and rush to take a look at what famous person is buried there.
Abelard and Heloise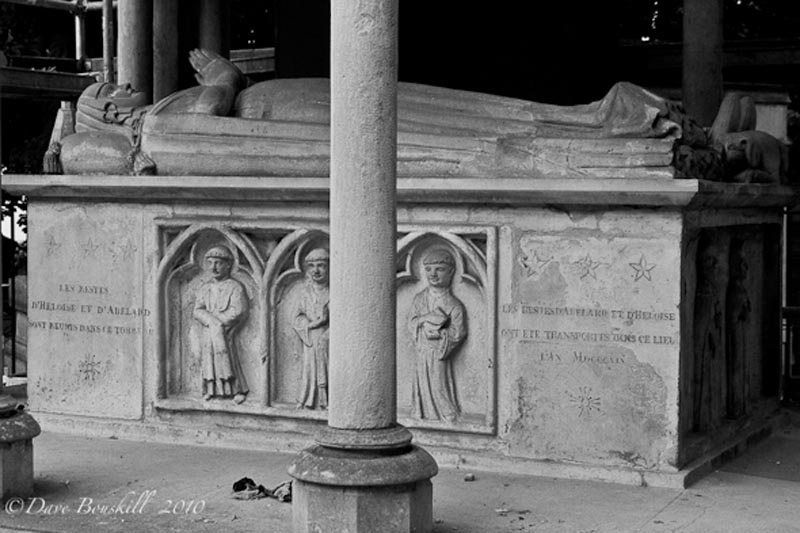 We didn't know the story of the ill-fated lovers Abelard and Heloise, but the crowd drew us to their tomb and we looked into their story to find that their story is tragic and confusing.
I will let you read more about it rather than going on in my own words.  Abelard and Heloise: The Love
The day was grey and raining which made for a perfect setting for a visit to the old cemetery.
Jim Morrison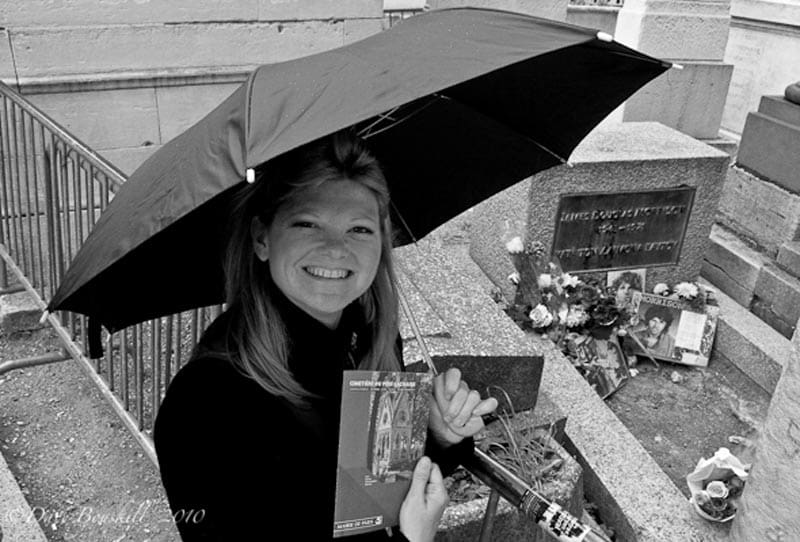 Our first stop like many other people was the grave of Jim Morrison. Everyone in the cemetery was looking for him.
Many people didn't know where to get a map and were wandering aimlessly.  We would run into them at times and they would ask if we know where to find Jim.
Cimetiere Pere Lachaise is one of many Free Things to do in Paris. See our guide for more ideas.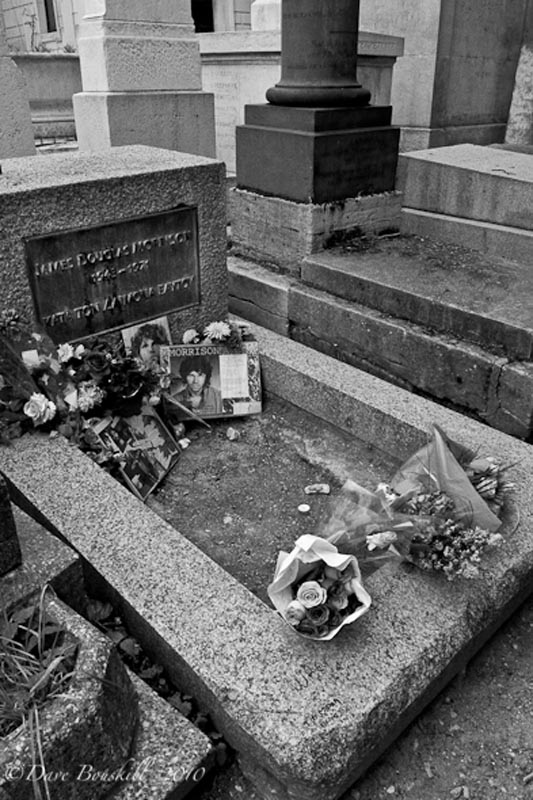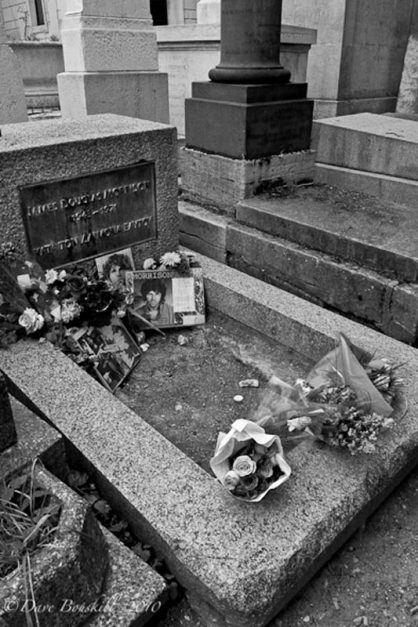 Pere Lachaise is still a functioning cemetery and I couldn't imagine what it must be like for the families that have plots near his and the other famous resident's sites. 
The headstones near Morrison's grave have endured residual graffiti and the spill off of vandalism all around the famous singers final resting place.
A Great compliment to your Pere Lachaise cemetery tour is a visit to the Catacombs of Paris. The underground maze housing million of human bones on display as works of art.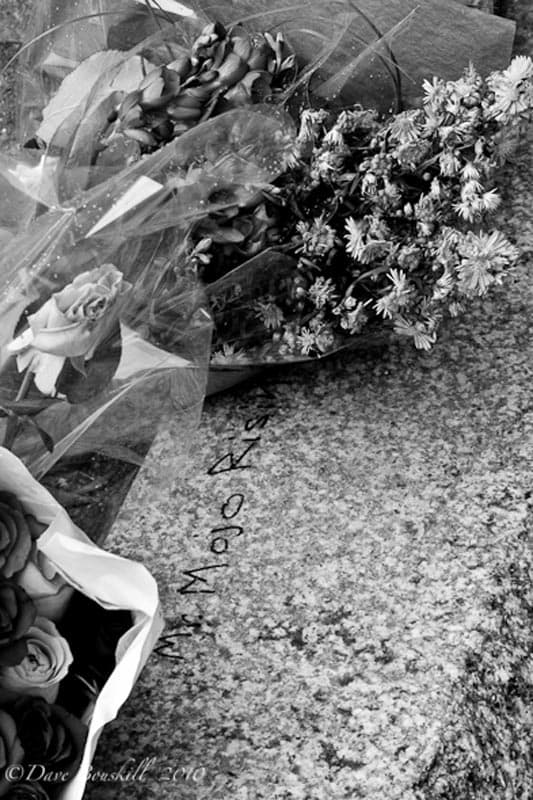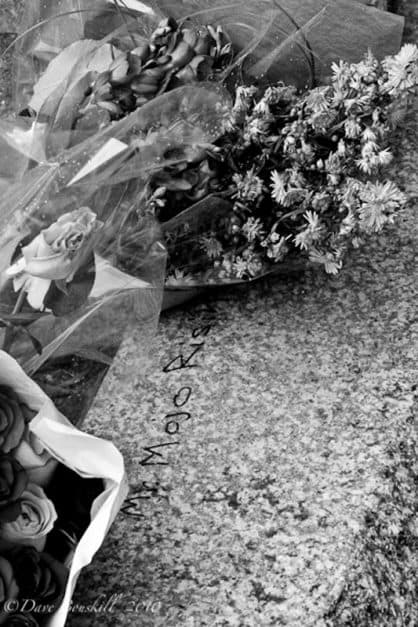 Jim Morrison's grave has become legendary.  It looks like it is undergoing major restoration as his bust on top of his headstone is gone. 
Much of the graffiti on his and the surrounding graves has been cleaned up as well.
It looks like they are working to stop this as Jim Morrison's grave is off limits.  A fence has been put around it and there is security watching at all times.
Frédéric Chopin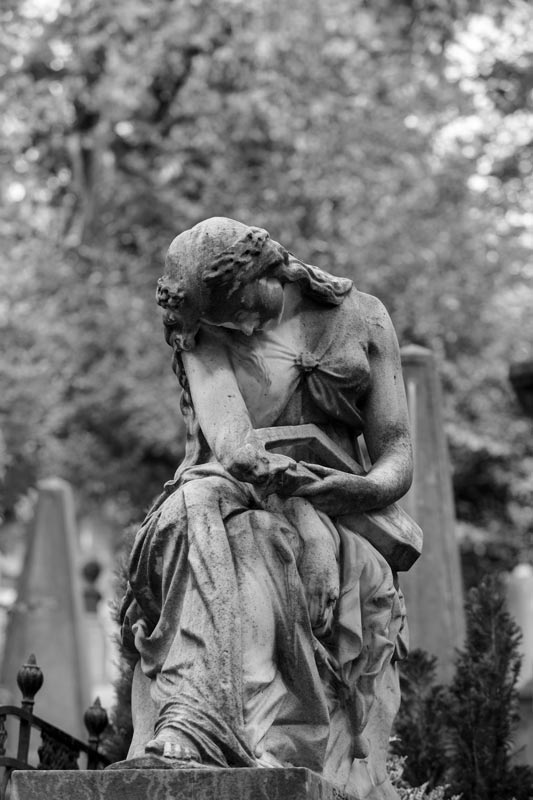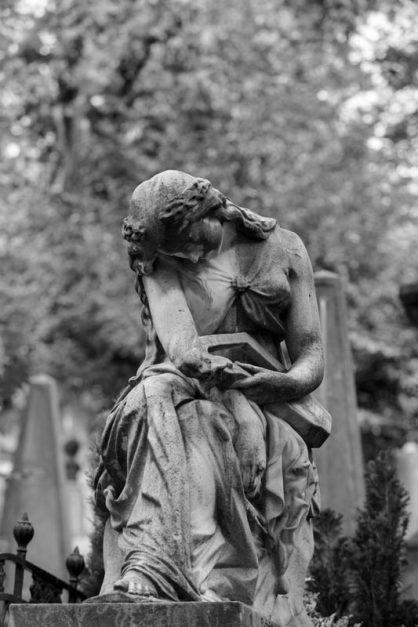 One of the greatest composers in history, Frederic Chopin is buried in the Pere Lachaise Cemetery.
Look for the crying Musique Statue.
Euterpe, the muse of music is seen crying over a broken lute. (an old time stringed instrument)
Marcel Proust
Another name you might recognize is French Author Marcel Proust. He wrote the longest novel in the world.
It was published between 1913 and 1927 in seven parts!
Grim Reaper Tomb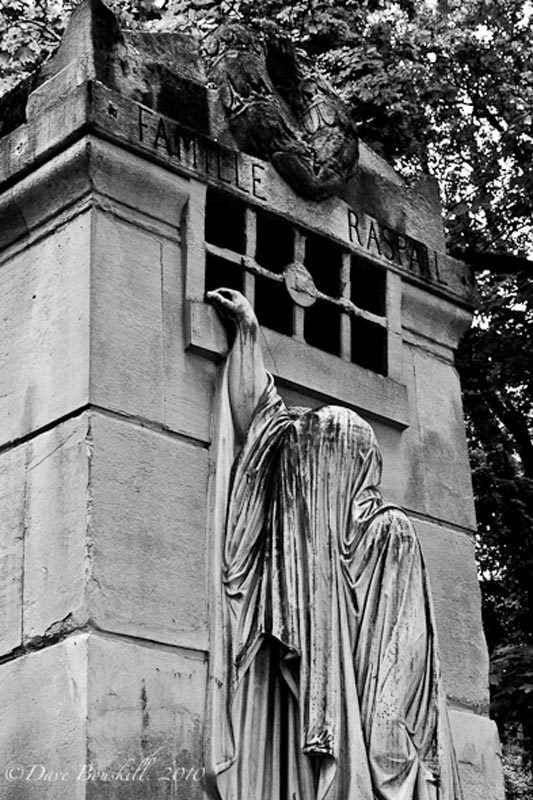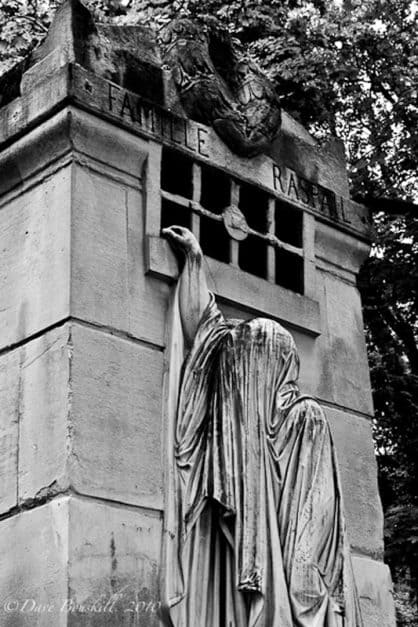 The Cimetiere Pere Lachaise is a fascinating tourist destination in Paris.
Giant mausoleums, chapels and even a pagoda loom in every spare piece of land.
Massive monuments tower over crumbling tombstones and rotting graves as giant chestnut trees stand guard overhead.
Paris Commune
A final noted monument in Pere Lachaise is the Communard's Wall. It pays tribute to 187 workers were shot and killed in 1871.
We missed this during our visits, but if you are looking for it, it is located on the outer pathway of Avenue Circulaire
Other French tombs to look out for are Jean de la Fontaine, a French Poet of the 17th century and Honoré de Balzac, a French playwright of the 1800s.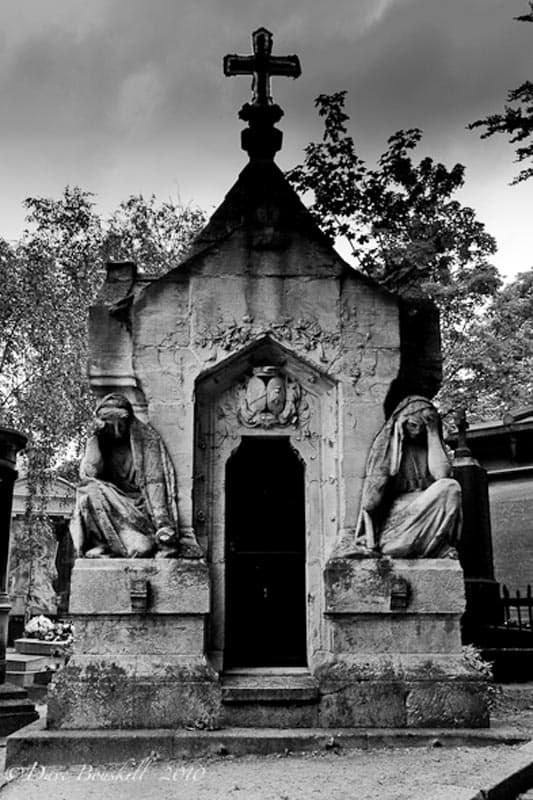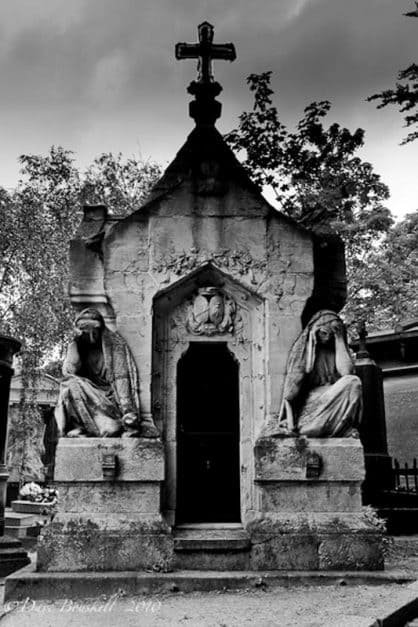 For some of the graves, it is obvious that their bloodline has ended and their plots have been left to fall apart.
Others have relatives that are alive and well and are maintaining the sites with flowers and sculptures, they are clearing away the debris and even washing the stones to shine brightly.
Even Unknown Graves are Impressive
It is impressive to visit without a map. We didn't have our nose buried in it running from one famous gravesite to another.
Instead, we had the chance to slowly to witness the grandeur and intricate designs of love and despair that have gone into some of the lesser-known monuments.
If you are not interested in the famous residents of Cimetiere Pere la Chaise you can still visit the cemetery and be in awe of the artwork on display at this museum of the dead.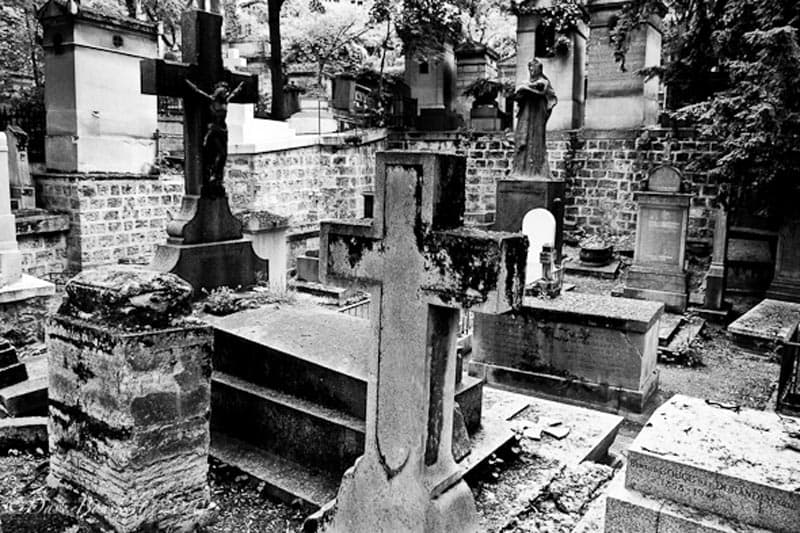 Composers, Dukes, and celebrities not only from Paris but from all around the world are buried here alongside normal families are buried here as well.
King Louis the XIV was buried here, although we didn't see his tomb.
Unknown children, fathers, brothers, and sisters have made Cimetiere Pere Lachaise their doorway to the other world.
Pere Lachaise is a working Cemetery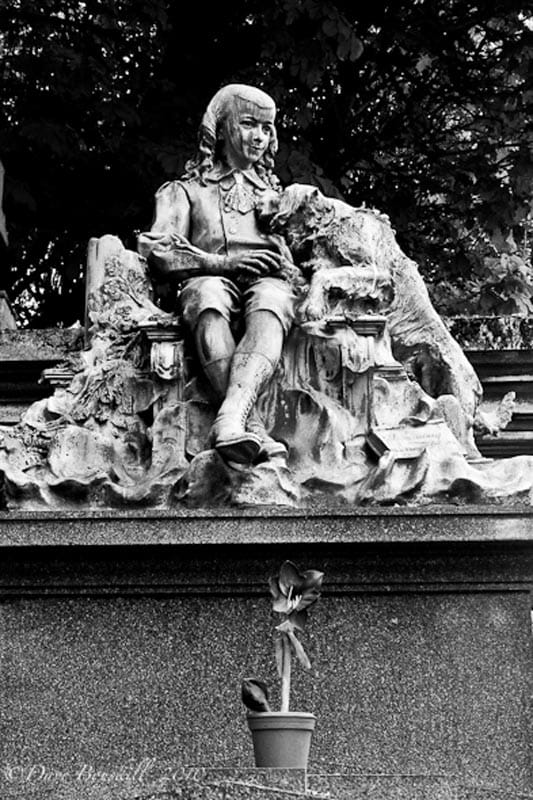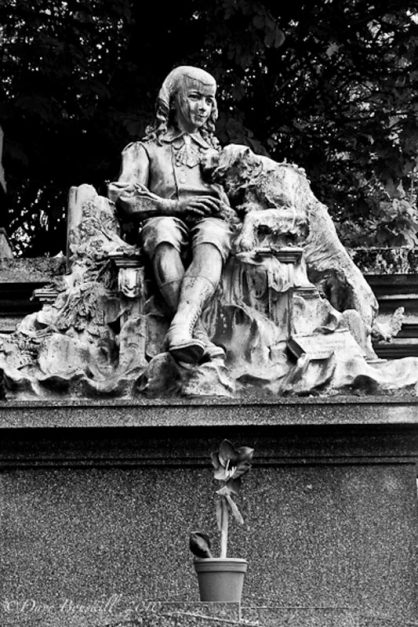 We were brought back to the reality of the sadness that Cimetiere Pere Lachaise holds when we happened upon a funeral taking place on the path where soldiers that have died for France are buried.
The sorrow and the misery in the faces of the people reminded us all to respect the dead.
Enjoy the artistry and investment that has gone into some of the monuments, but we must stop defacing and ruining a family's final memory of their loved one.
How to Get to Pere Lachaise Cemetery
Père Lachaise Cemetery is located in the 20th Arrondissement on boulevard de Ménilmontant.
Catch the #2 or #3 metro to the Pere la Chaise subway stop at the east end of the city and you exit right at the cemetery's west corner entrance.
Philippe Auguste is another subway stop for Cimitiere Pere Lachaise.
There will be a crowd of people examining the large map on display, but don't bother with trying to memorize or write down the numbers of the sections and graves.
Instead, walk east to the main entrance at Avenue Principal and pick up your own map to search for the final resting place of your favorite musician, writer or politician.
While I thought it was cool when I was 21 to see the graffiti-covered tombstone of Jim Morrison. I was happy to go back and visit Pere Lachaise again to really take in the tombs of these fascinating souls.
I am also happy to see that the Cimetiere Pere Lachaise is doing something to clean up the memory of not only a rock legend Jim Morrison but the people around him and the other famous graves of the world's most popular cemetery.
Get the Lonely Planet Paris Travel Guide before you visit this great city. 
Read More:
Paris Museums Attractions and Closures