Looking for the very best things to do in Nova Scotia? After extensively traveling the entire province from North to South, we've had many grand adventures.
This Nova Scotia travel guide will help you make the most of your East Coast Road Trip and offer unique ideas of what to see and do.
Things to do in Nova Scotia
We could dedicate an entire post to Halifax, so we won't spend too there. Instead, we give the highlights and then move on to the very best things to do in Nova Scotia.
We've broken it down in sections with maps so you can plan which part of the province you want to see during your visit.
Nova Scotia is our favourite province to visit on the East Coast of Canada.
Nova Scotia Road Trip Map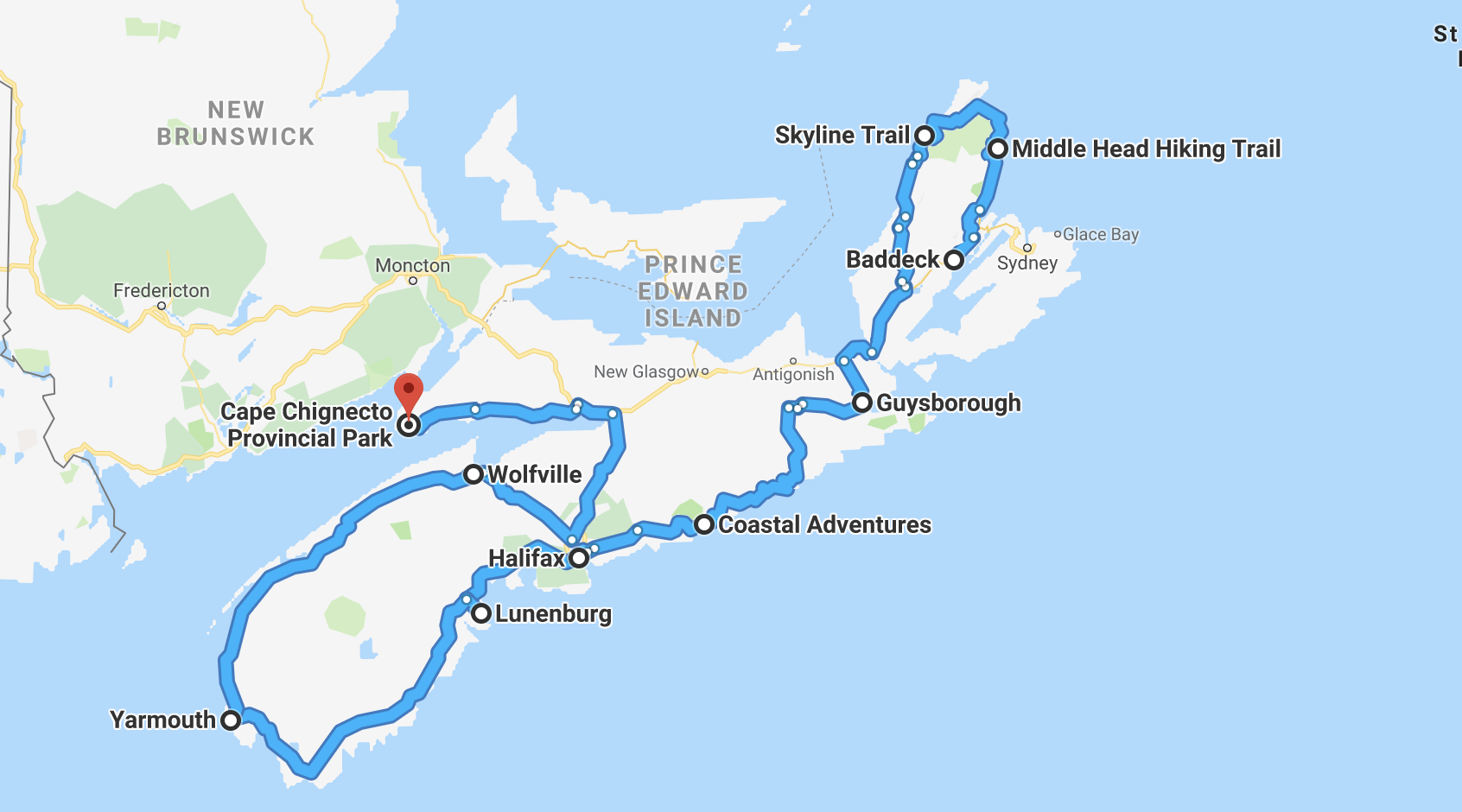 We've had the pleasure of exploring most of the province and feel it is time to share our picks for the very best things to do in Nova Scotia.
1. Halifax – Part 1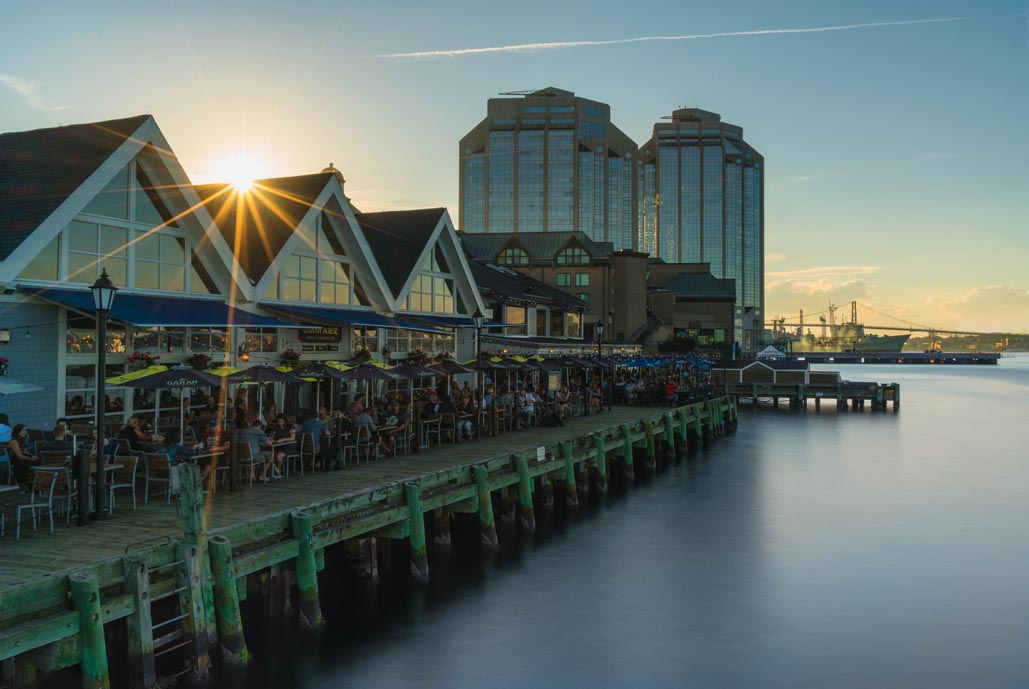 Most trips to Nova Scotia will begin in Halifax. Halifax is the capital of Nova Scotia and it is worth staying in the city for at least two or three days.
It has a bustling waterfront filled with attractions, restaurants, and scenic views.
The Canadian Museum of Immigration is the star attraction at Pier 21.
Here you'll see artifacts from the Titanic and the fascinating history of immigration to Canada.
But there are plenty of things to do in Halifax and it warrants its own article.
Here are some not to miss highlights.
Alexander Keiths Brewery Tour – this is a fantastic and fun brewery tour in the heart of downtown Halifax.
Halifax Citadel National Historic Site – A fort founded in 1749, it's an excellent place to visit. There's great views of the city here too. It's a major m
Pier 21 – The Canadian Museum of Immigration at Pier 21 is Canada's answer to Ellis Island in New York. This is where the majority of immigrants came through. You can trace your ancestry at this interactive museum.
Halifax Public Gardens
Maritime Museum of the Atlantic – A superb interactive museum detailing the history of shipping and the East Coast Maritime heritage. Plus, there's a great display on the Titanic.
South Shore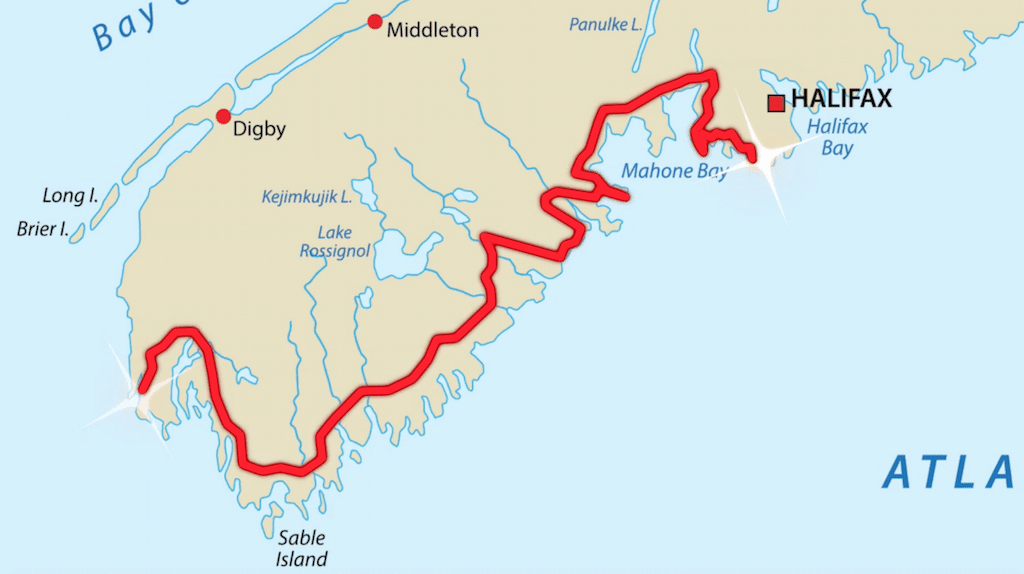 The South Shore of Nova Scotia is often overlooked save for a quick stop at Peggy's Cove or Lunenburg.
Most people that visit Nova Scotia head north to the Cabot Trail, and it's a great choice, but there are other things to do in Nova Scotia too!
2. Peggy's Cove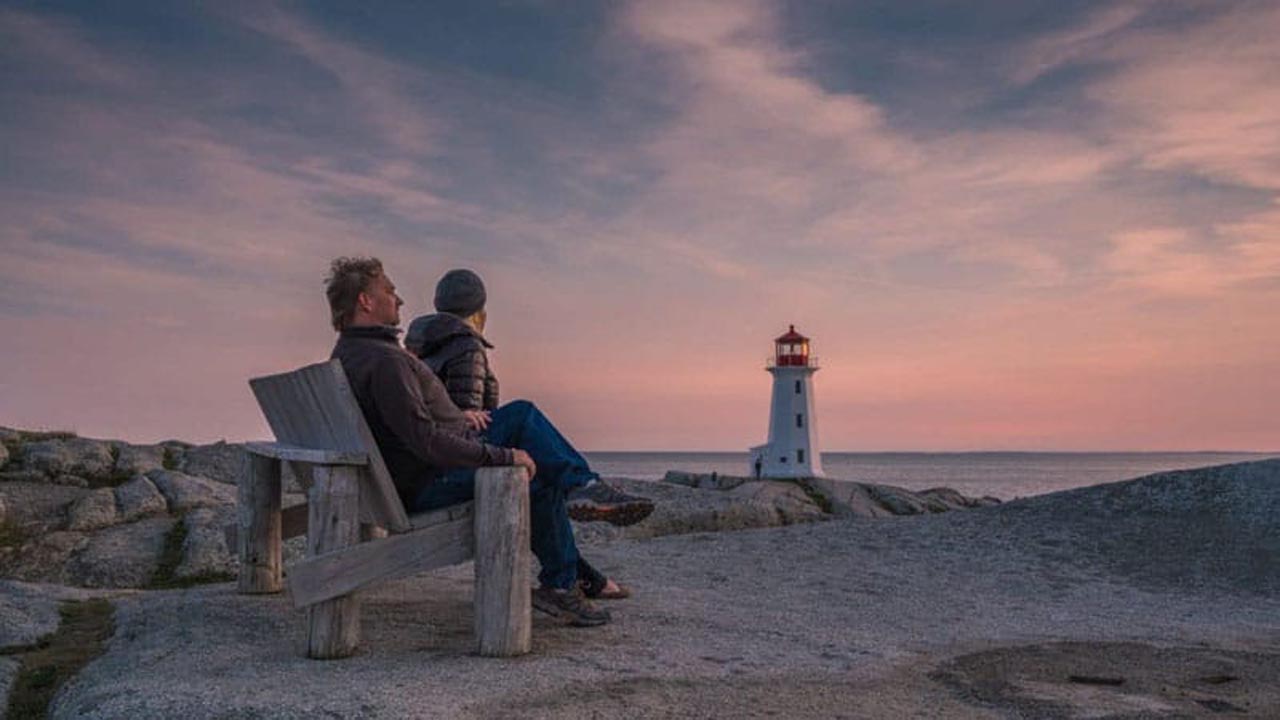 Heading Southwest from Halifax, your first stop is Peggy's Cove located just 45 minutes from the city.
Peggy's Cove is one of Nova Scotia's most visited attractions and crowds can be huge here!
We recommend staying overnight in the area and visiting at sunrise.
Tour buses don't arrive until late morning, so if you get to the lighthouse early, you'll have it all to yourself.
Peggy's Cove is a picturesque fishing village dating back to 1811.
The 400 million-year-old rock stretching out to the sea, was created by molten lava bubbling up from the surface of the earth.
Note: Be careful! Don't walk too close to the water and never stand on the black rocks. People have lost their lives in Peggy's Cove by not heeding the warning signs. Rogue waves often come up on shore and if you are close by, you could be  swept out to sea.
3. Peggy's Cove Boat Tours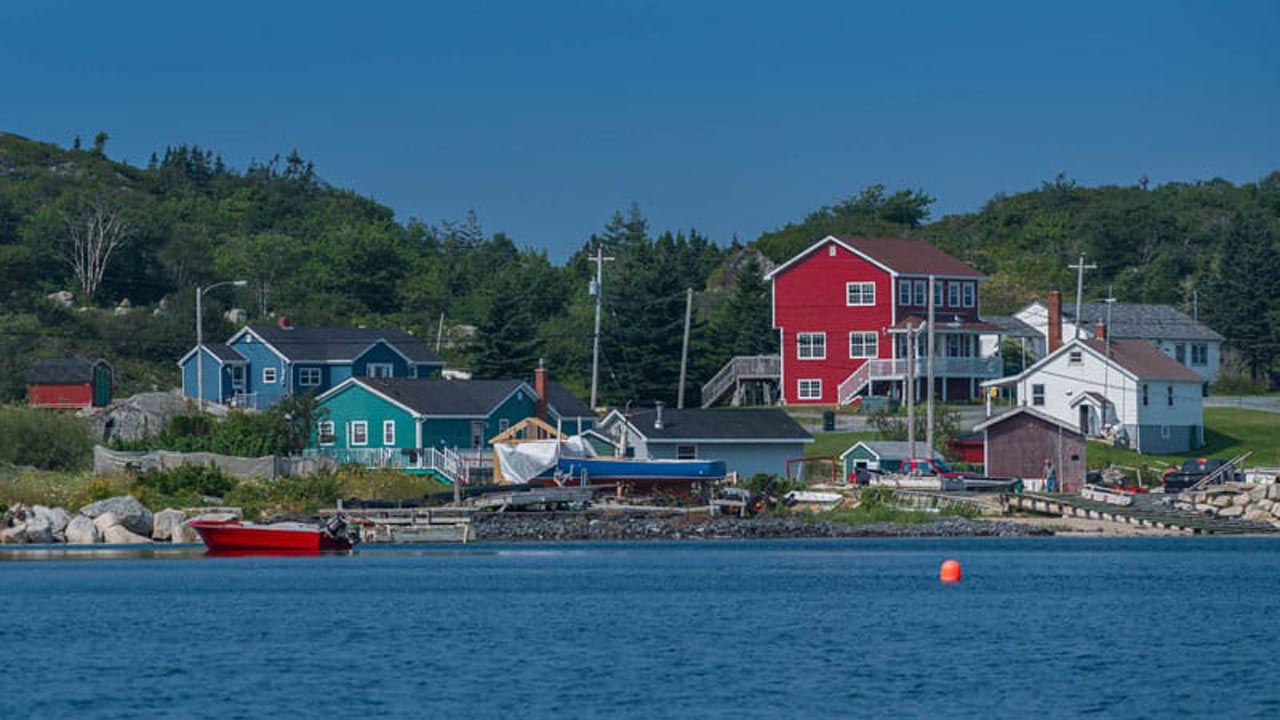 If you do visit Peggy's Cove in the afternoon, a fun way to avoid the crowds is to hop on a Peggy's Cove Boat Tour.
It's interesting to see the lighthouse and shoreline from this perspective.
As you leave the harbour, everyone onshore takes notice as the Captain sounds the horn letting them all know just how much fun we are having.
The tour then takes you through the beautiful homes and plots of land with private beaches in the nearby inlet of West Dove. This area shows the prosperity the fishing industry brought to these parts.
Where to Stay in Peggy's Cove:  Oceanstone Resort
Where to Eat in Peggy's Cove: The Sou'wester Restaurant
4. East Coast Outfitters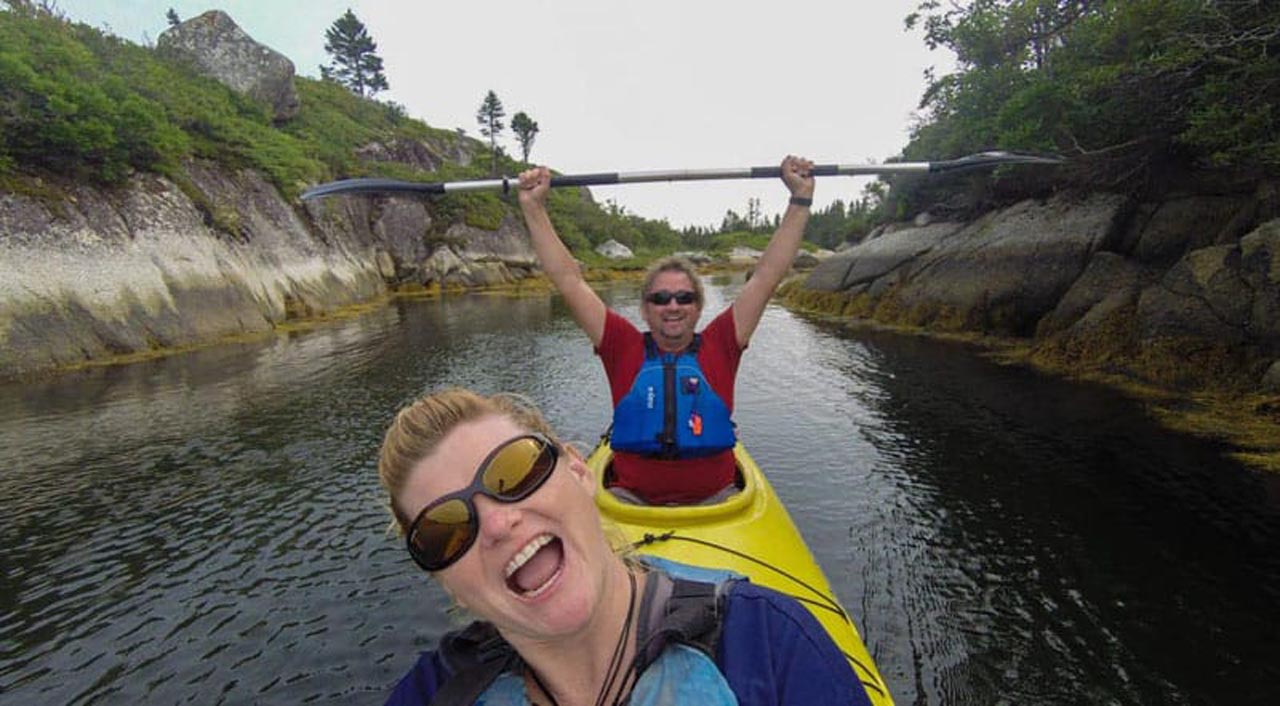 Kayaking at Lower Prospect Point was our first time kayaking on the East Coas of Canada. It is the perfect introduction to sea kayaking.
Most people think of kayaking on the Bay of Fundy when visiting Nova Scotia, but the east coast has incredible scenery and quiet coves to explore.
This is an excellent day trip from Peggy's Cove or Halifax.
5. Mahone Bay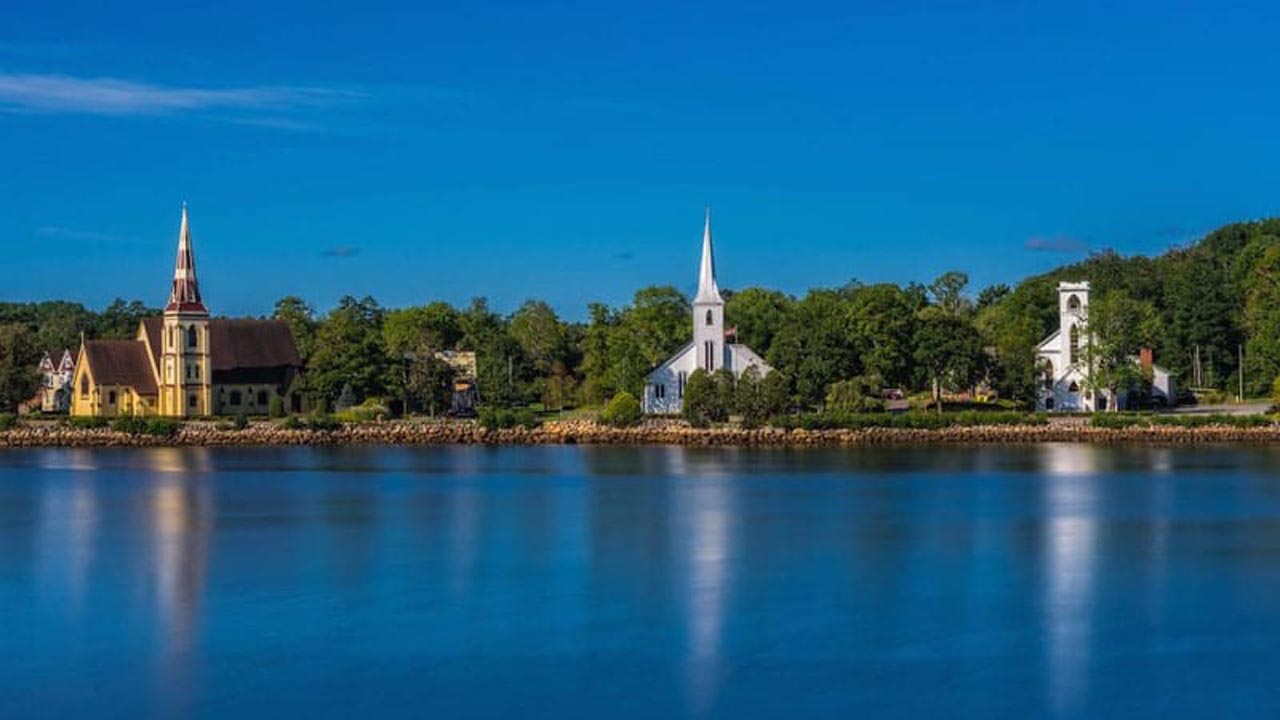 Mahone Bay is a must-stop on any Nova Scotia Road Trip.
It has been named one of the prettiest small-town downtowns in Canada. It's easy to understand why.
The most famous landmark of Mahone Bay would definitely be the famous Three Churches. The three spires along the waterfront are a popular stop for photographers.
An afternoon can be wasted walking the streets of Mahone Bay checking out the shops and cafes.
Make sure to stop by the Haskapa Berry Store to learn about this superfood. Try the Haskapa gin, it's delicious!
6. Lunenburg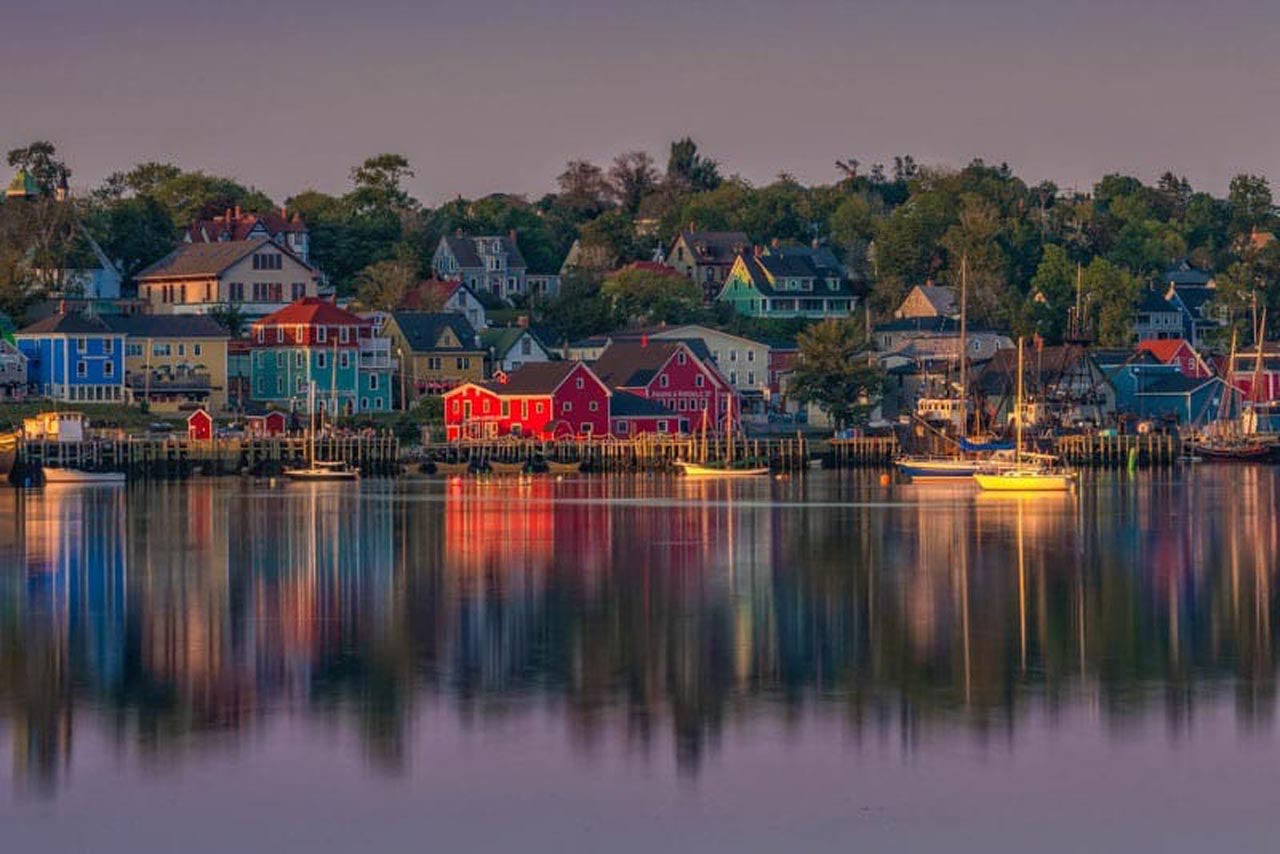 Lunenburg is one of only two urban centres in North America to have the honour of being named a UNESCO World Heritage Site.
Lunenburg is famous for its painted houses creating a rainbow of colours along the waterfront.
The pastel buildings all must adhere to a strict code to keep the town beautiful.
At the waterfront, you'll find restaurants, shops, and The Fisherman's memorial. It is a moving memorial dedicated to the fishermen and mariners that lost their lives through the years.
The Bluenose makes its home in Lunenburg and if you are lucky, it might be in from one of its tours around the country.
The Fisheries Museum of the Atlantic is located right on the waterfront and cannot be missed.
Where to Stay in Lunenburg – Lunenburg Arms Hotel
Where to Eat in Lunenburg – Fleur de Sel
Book a tour with Lunenburg Walking Tours to learn of the mariner history of Lunenburg and to discover its Victorian architecture.
7. Blue Rocks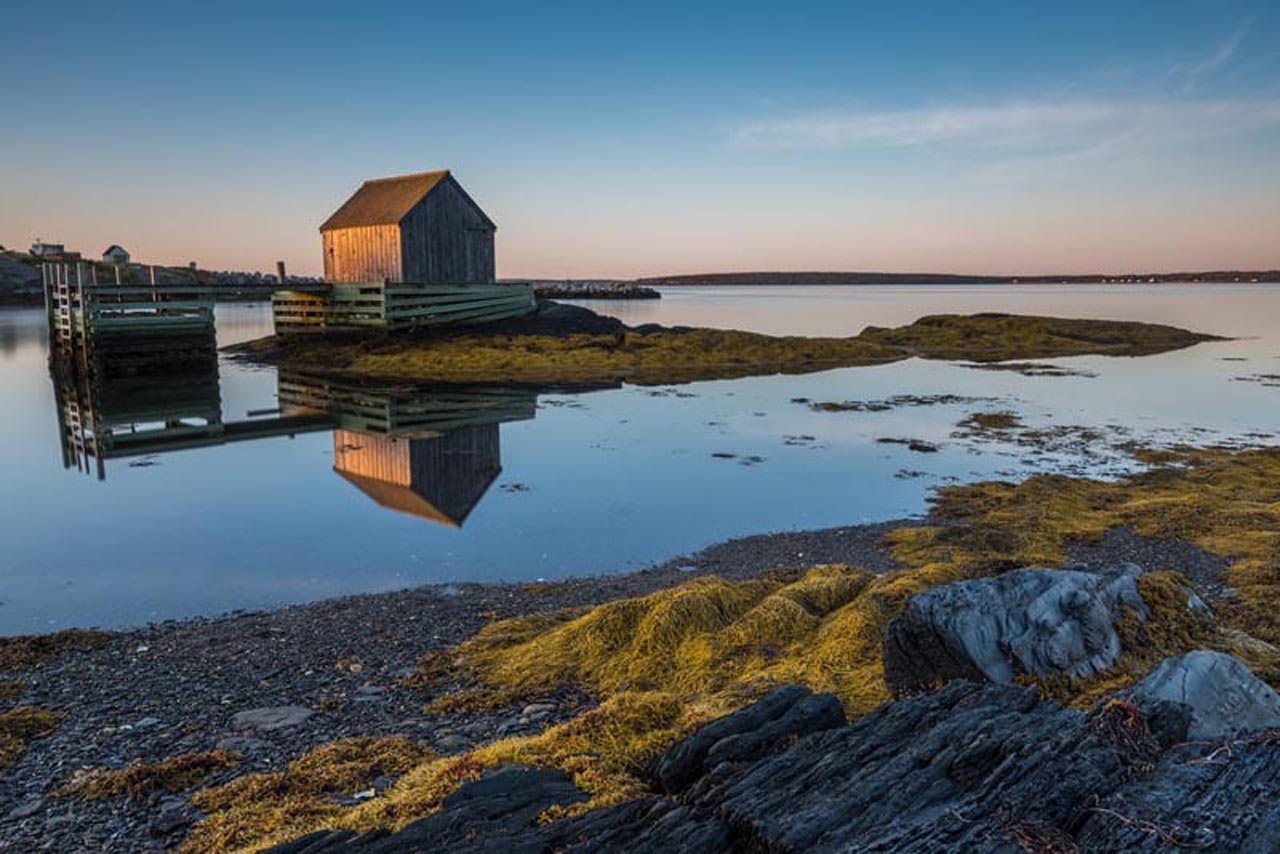 On your way out of Lunenburg, take a detour to the Blue Rocks for a morning picture of the fishing village.
Blue Rocks is a quiet and picturesque village on the water.
Nothing says "East Coast" more than fishing lodges lined up on the pier overlooking shimmering rocks in the bay.
8. LaHave Bakery and Ferry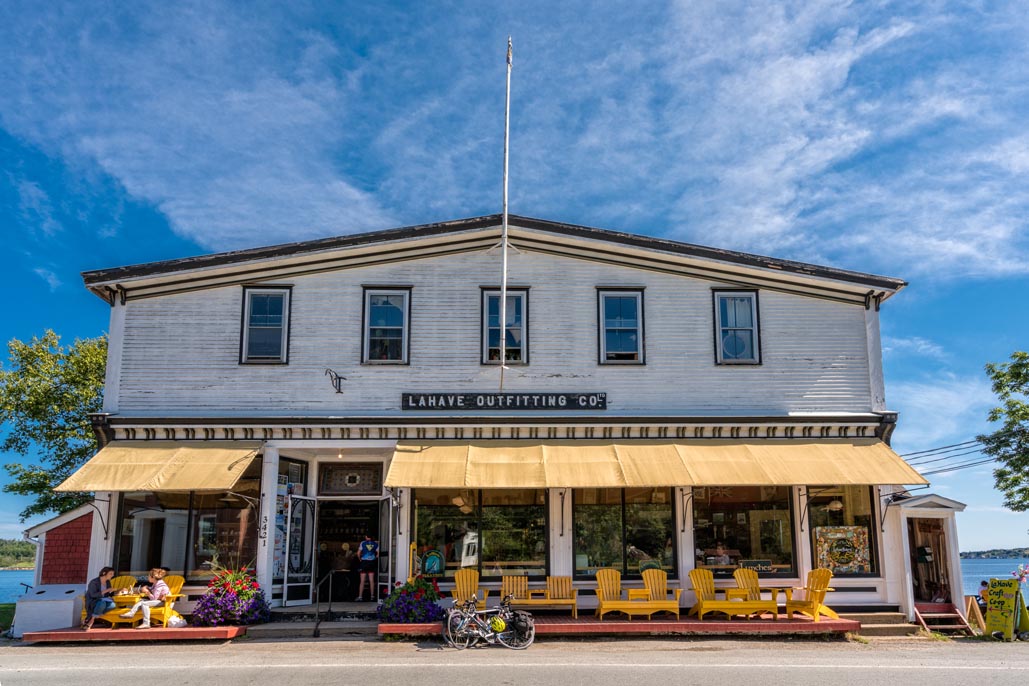 When doing a road trip through Nova Scotia, be sure to use the LaHave Ferry. It is one of the last remaining cable ferries in the country.
It's just a quick 5-minute journey, but it is wild to see a cable pulling a ferry across the river.
While in LaHave, stop in at the LaHave Bakery for some sweets.
The Victorian era building sits on the waterfront serving fresh baked goods and coffee. It's the perfect place to stock up on road trip goodies.
9. Crescent Beach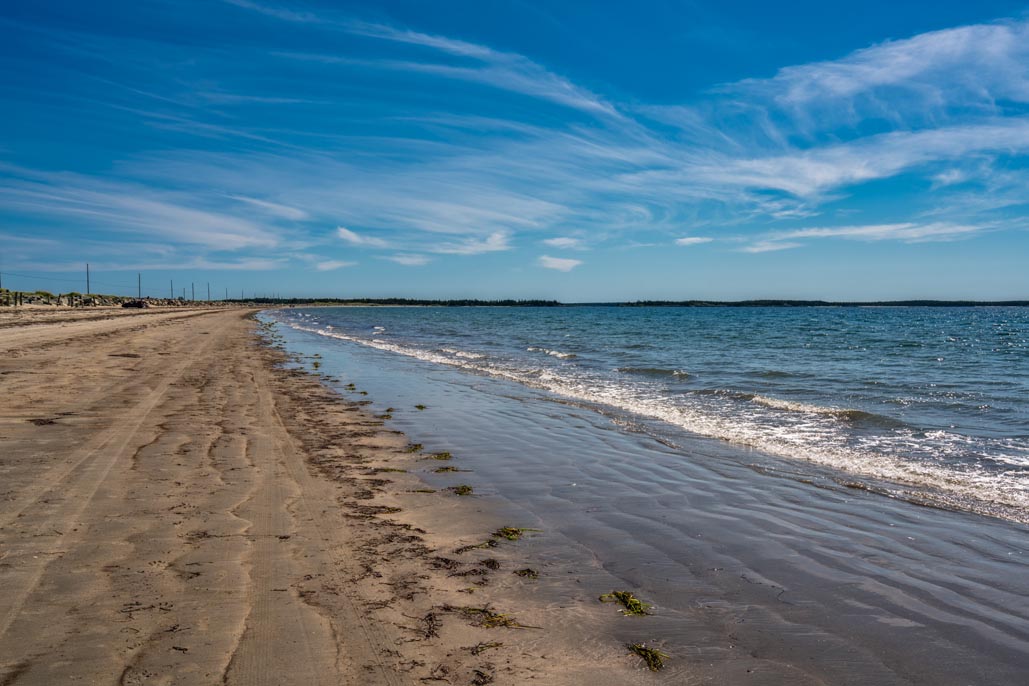 The water may be cold on the Nova Scotia coast, but Crescent Beach is a beautiful setting.
Plus it's the only beach in Nova Scotia that you can drive on.
At 2.5 km long, you can easily find a spot all to yourself to enjoy a picnic or do some sunbathing before moving on.
10. Liverpool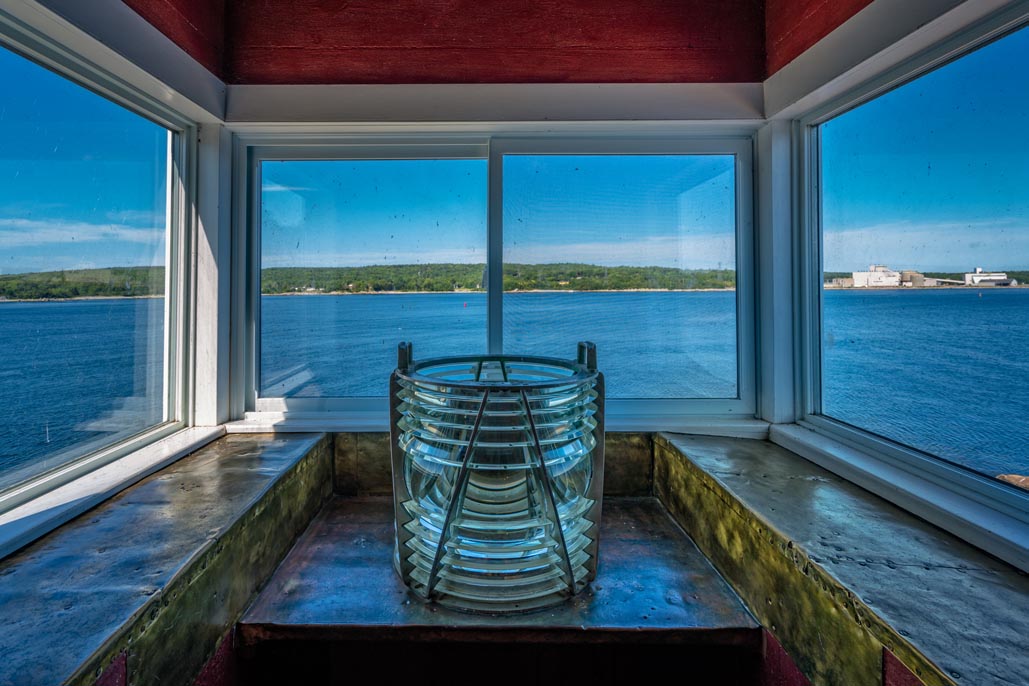 Liverpool is home to the Privateers.
Privateers were private citizens who were commissioned to "carry on all forms of hostility permissible at sea." They patrolled the waters of Nova Scotia during the war of 1812.
Learn about its history while spending a few days exploring.
There's kayaking along the Mercy River and plenty of hiking along the shore.
Liverpool houses The Four Point Lighthouse which is free to visit and is the 3rd Oldest Lighthouse in Nova Scotia.
Located along the lighthouse route, it is a popular stop.
Where to Stay in Liverpool: Lanes Privateer Inn
Where to Eat in Liverpool: La Vista Restaurant in Lanes Privateer Inn
11. Shelburne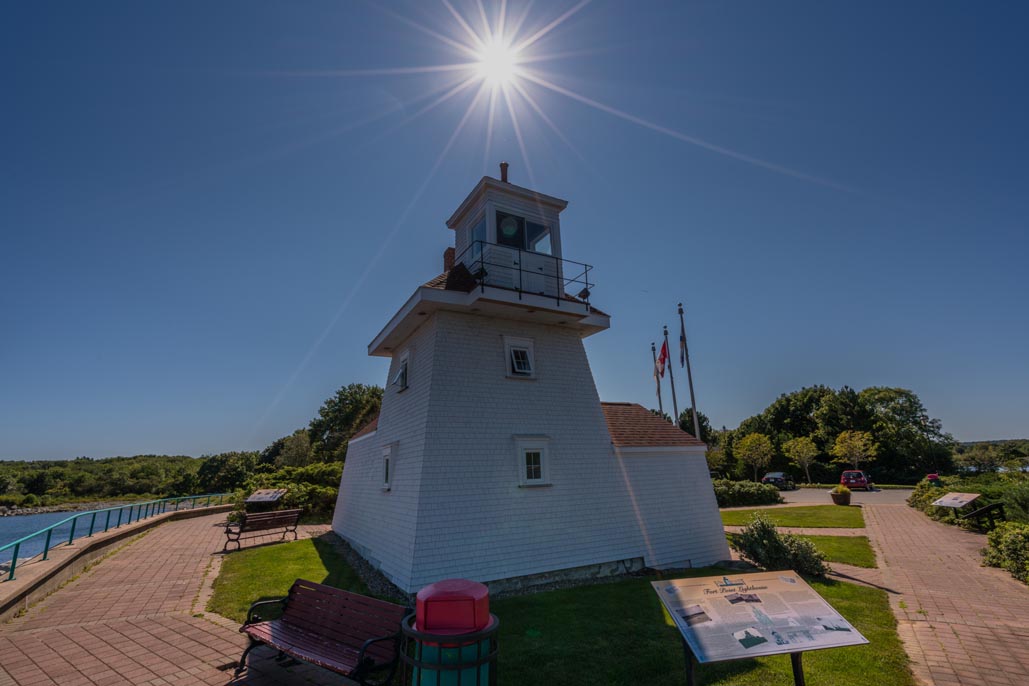 As you continue along the Lighthouse Route, the next stop is Shelburne.
You may not have heard of Shelburne, but it is the third-largest natural harbour in the world!
During the American Revolution, 3000 Loyalists settled in Shelburne from New York City making it (at one time) the fourth-largest community in North America!
Visit the Shelburne Waterfront Heritage District and the Shelburne County Museum that highlights the Loyalist history of the area.
12. Yarmouth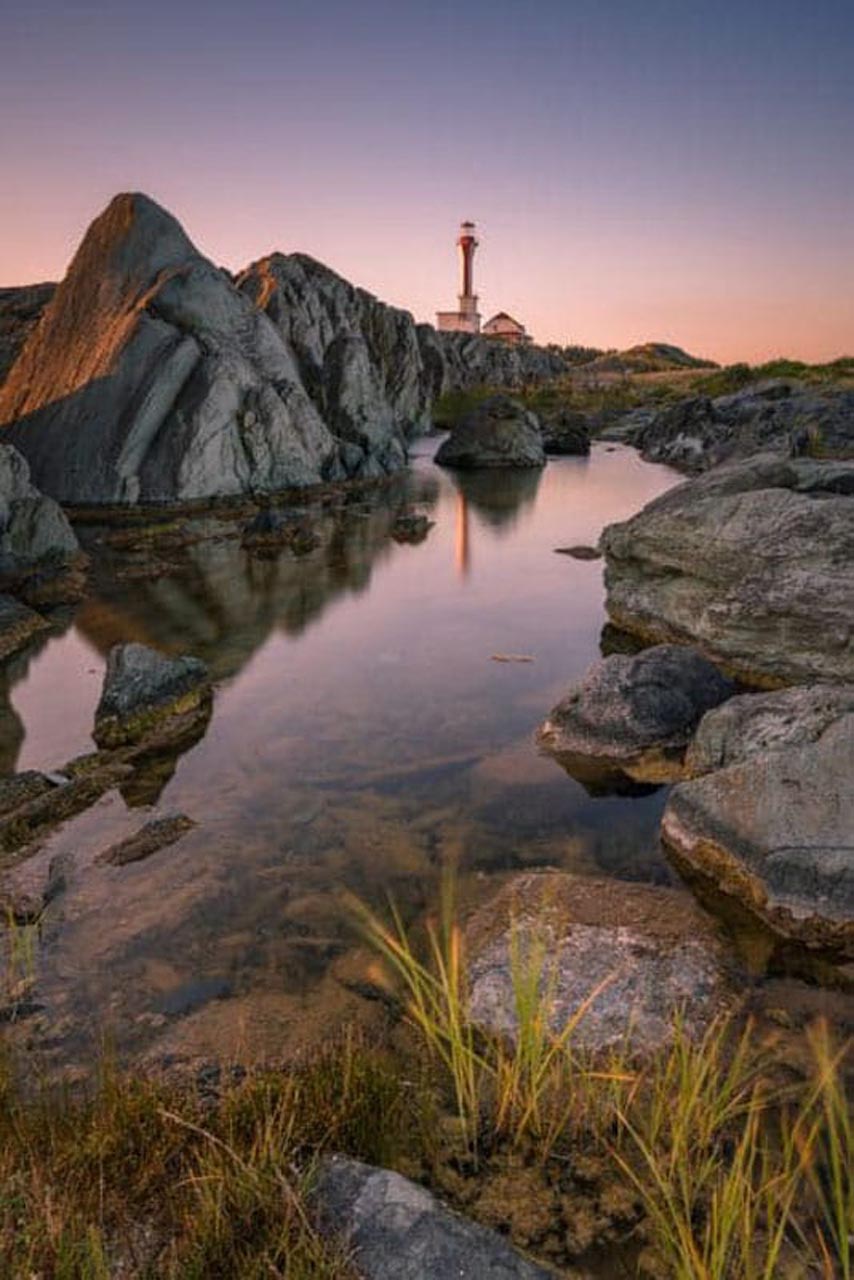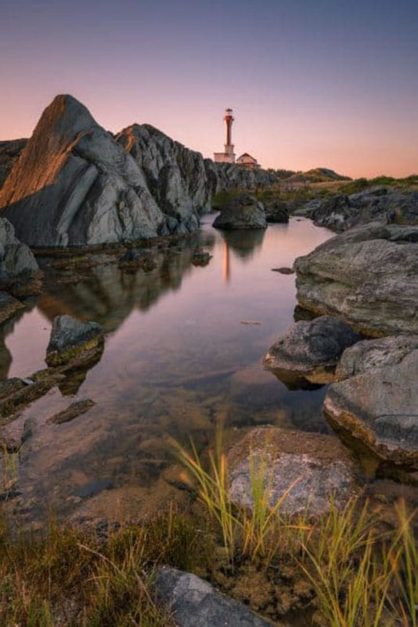 Yarmouth is the major urban centre of the area with ferries operating from Portland Maine.
The Cape Forchu lighthouse is the star attraction of Yarmouth and is Nova's Scotia's second most visited lighthouse after Peggy's Cove.
What makes this special is that it is free from crowds. It may be popular, but when we were there, we saw only two other people!
We didn't find a lot of other things to do in Yarmouth and instead preferred our stay outside of town at Ye Olde Argyle Lodge.
Where to Stay near Shelburne and Yarmouth: Ye Olde Argyler
Ye Olde Argyler was a full-service lodge in a beautiful setting. They offer kayaking trips from there too!
Click here for your google map of our route
The Bay of Fundy – Part 3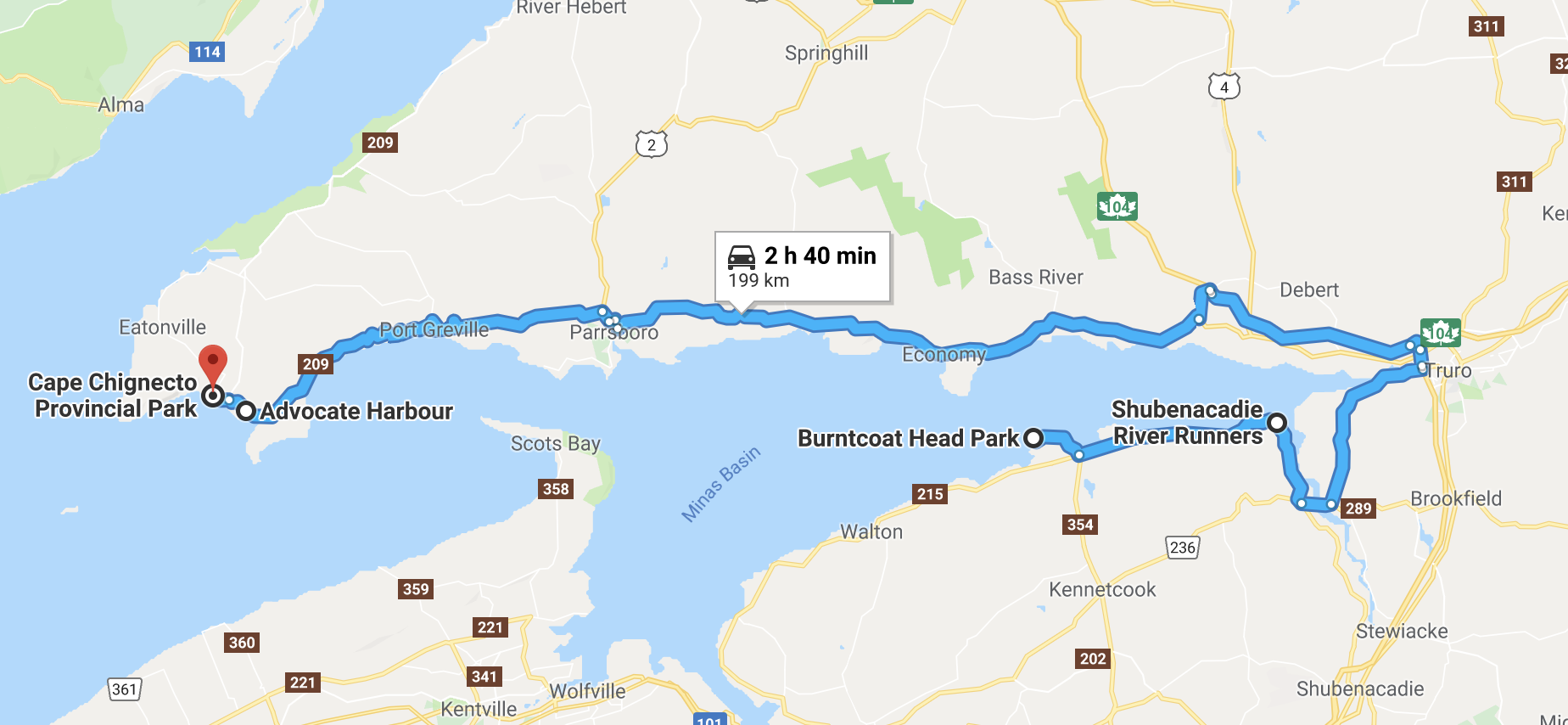 The Bay of Fundy is home to the world's highest tides. It moves 100 billion tons of water every 6 hours! 
That is more than all of the freshwater rivers in the world combined!
The tides can reach 16 metres (52 feet) with an average range of 35 to 55 feet.  And the horizontal range can be as much as 5 kilometres in places.
It is amazing to witness a bay filled with water at one moment of the day and then return to see it barren and dry the next!
A visit to the Bay of Fundy's highest tides in the world is not to be missed! There are a few different ways to experience it.
13. Burntcoat Head Park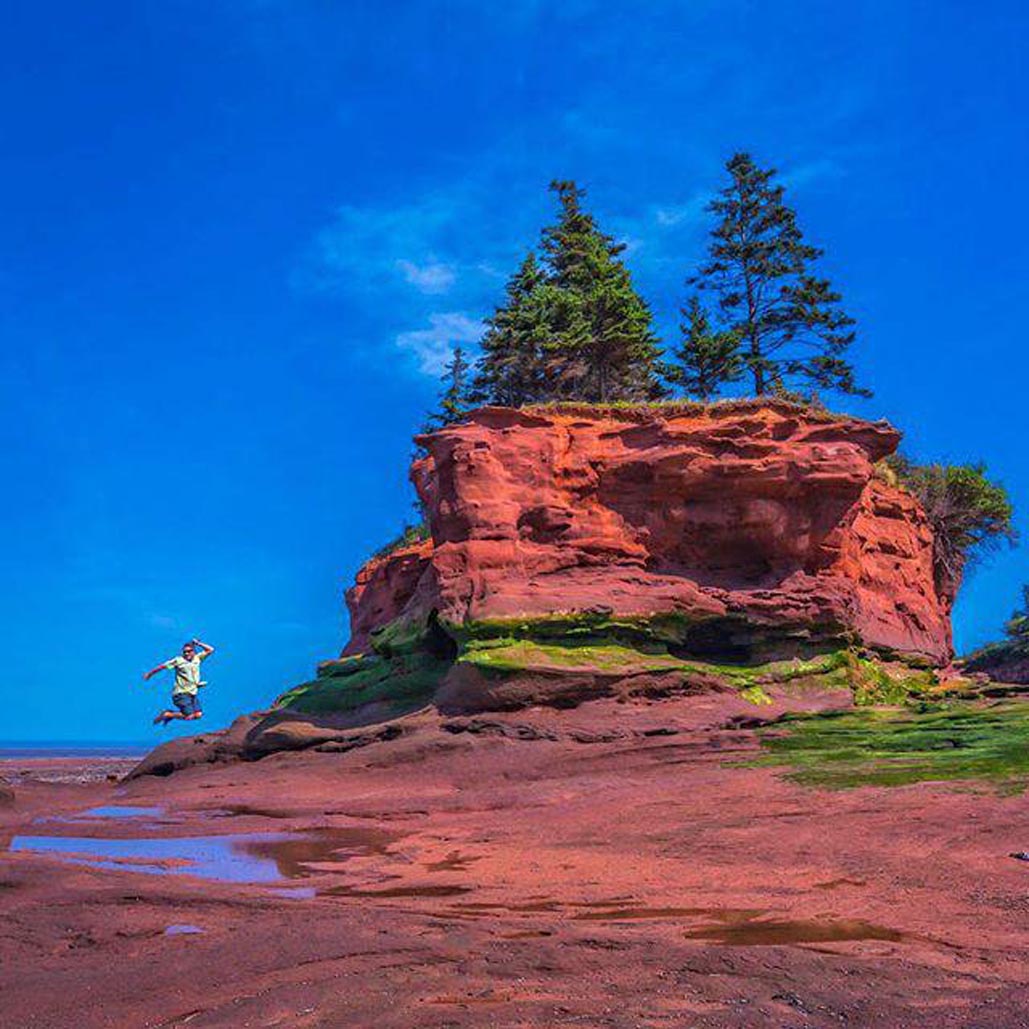 Burntcoat Head Park is Nova Scotia's answer to New Brunswick's Hopewell Rocks. It is here that you can walk on the ocean floor during low tide at the Bay of Fundy.
For three hours on either end of low tide, there is a window where visitors can explore rock formations and sea beds that are normally covered in water.
This 3-acre park has hiking trails, a lighthouse and an interpretive centre making it a great way to spend an afternoon.
14. Wolfville
Working our way up from Yarmouth, we stayed the night in Wolfville before heading on to Explore the Bay of Fundy.
Wolfville is a great place for exploring the up and coming wine region of Nova Scotia.
15. Tidal Bore Rafting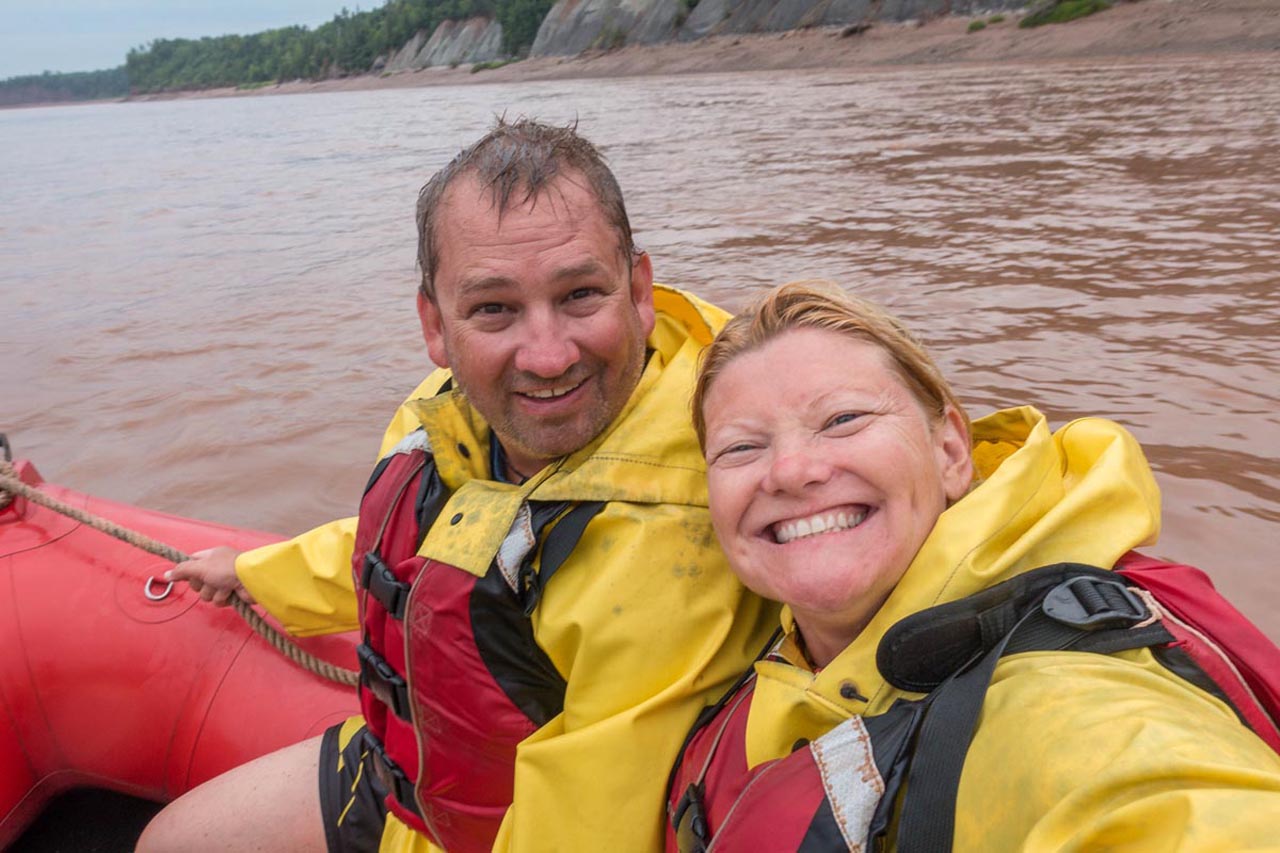 If you are looking for an adrenaline-filled adventure, Tidal Bore Rafting at the Shubenacadie River is an action-packed way to experience the high tides of the Bay of Fundy.
We went with River Runner's rafting adventures and had an amazing time riding the waves as the 100 billion tons of water flowed with force into the river creating rapids and whirlpools.
One minute you are walking on the riverbed floor and the next you are rushing into the rafts to grab the waves as they come in. It's the most fun you'll ever have on the Bay of Fundy.
16. Kayaking Three Sisters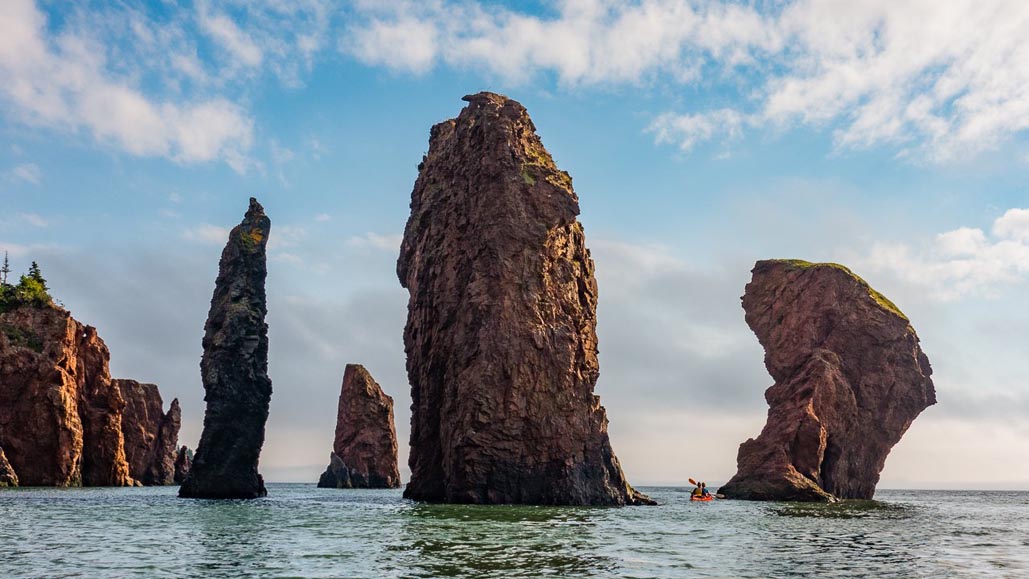 The Three Sisters on the Bay of Fundy cannot be missed. Here is where you see huge sea stack jutting out of the ground.
When the sea is low, they are massive, but when the tide comes in, you can kayak through them.
A two-day adventure with Nova Shores Adventures out of Advocate Harbour takes you out to a secluded beach on the Bay of Fundy where you camp for the night.
We arrived at camp at low tide, but we had to pull our kayaks hundreds of metres up on shore because, within a few hours, it was all underwater.
Having the chance to hike around formations like elephant rock and go into sea caves at one time of the day and then hopping in our kayaks to explore the Three Sisters and those same formations the next is an experience we'll never forget.
17. Cape Chignecto Provincial Park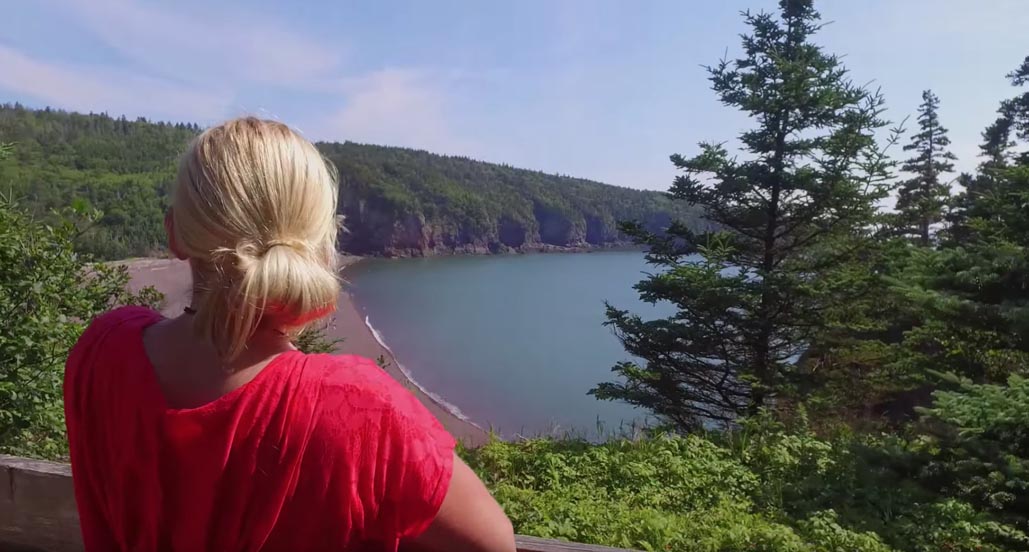 If kayaking and camping isn't your thing, you can still view the Three Sisters from above.
The 5.5 km trail system (3.4 miles) follows an easy trail to state of the art wooden viewing platforms offering views of the Three Sisters.
But you will also see amazing views of sea cliffs, Eatonville Harbour and beaches.
The scenery from this trail is awe-inspiring and when we visited, there was nobody else there!
Where to Stay in Advocate Harbour near Three Sisters: Driftwood Park Retreat
18. Annapolis Valley
During one of our trips to Nova Scotia, we worked our way back to Halifax from Wolfville on the Bay of Fundy through the Annapolis Valley.
It is fast becoming a major wine producing route in Nova Scotia. It's a good place to make a home base while exploring the Bay of Fundy.
There's Acadian history here at Port Royal and Grand Pré.
Section 3 – Ceilidh Trail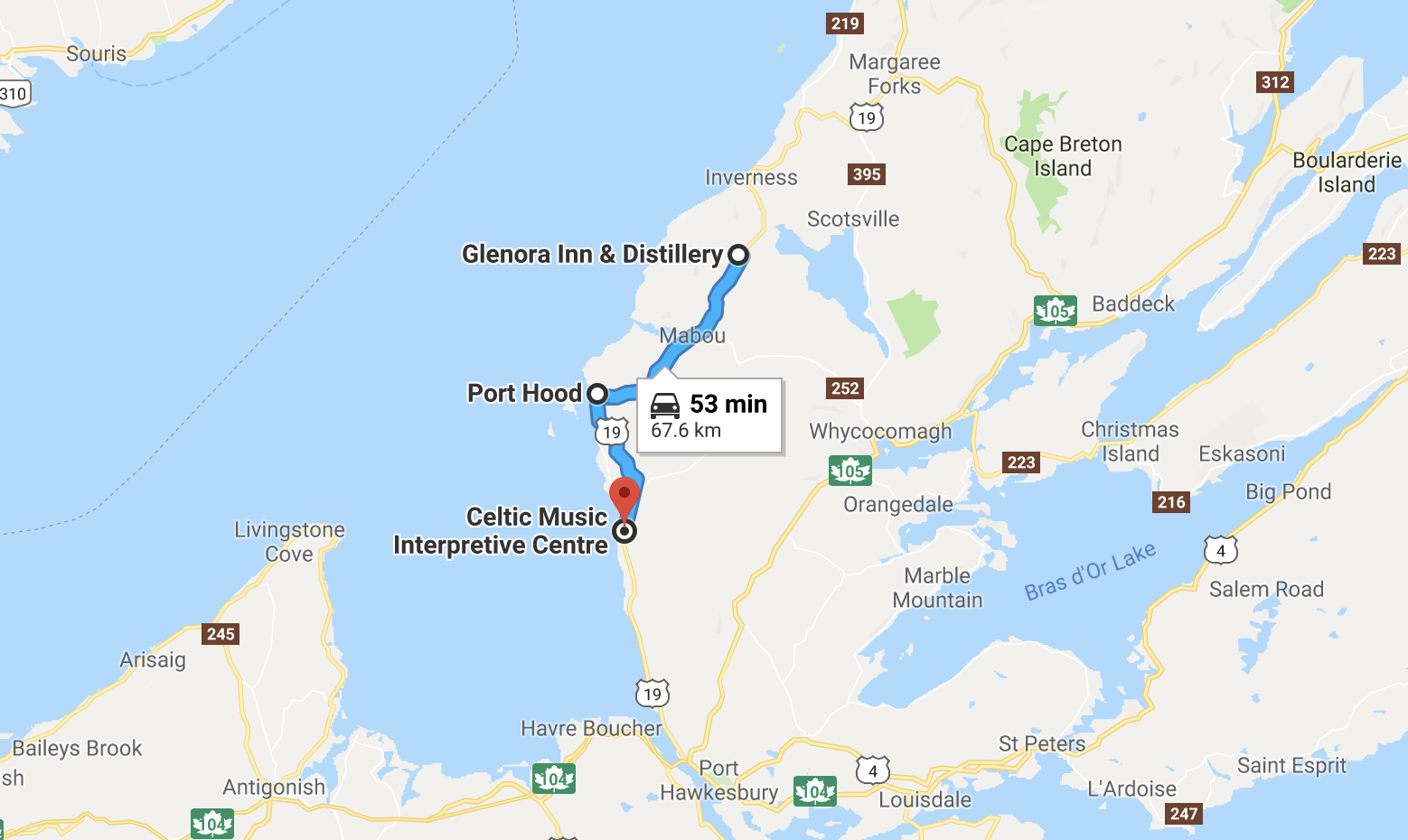 The Cabot Trail is Nova Scotia's top road trip, but another trail to explore, it's the Ceilidh Trail. Ceilidh Trail is the cultural centre of Nova Scotia and a perfect addition to your Cabot Trail Road Trip.
Here you will learn about fishing traditions and Celtic heritage.
19. Lobster Tour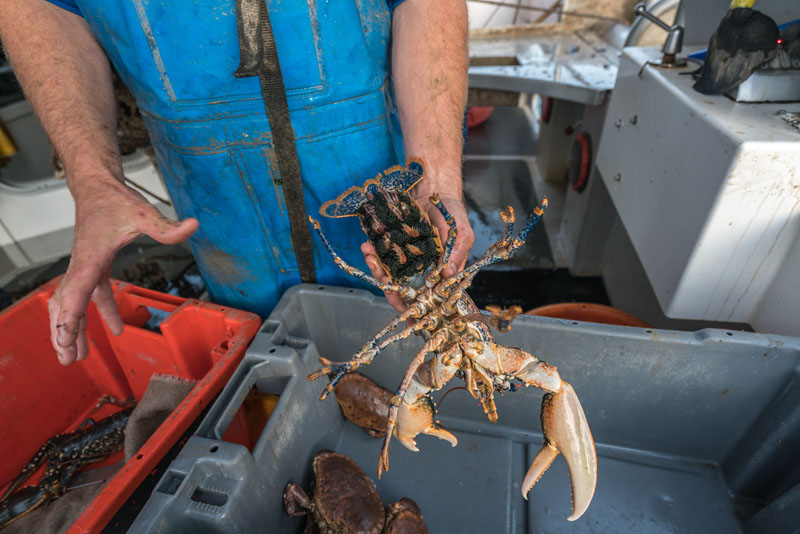 Take a Lobster Tour in Port Hood to learn how lobsters are caught.
Gillis Lobster Tours and Charters will take you out on an actual lobster boat to check traps and see what its like to run an operation in Nova Scotia's main fishing industry.
There are many rules for catching and keeping lobsters. 
You'll learn about conservation, what size is legal to catch, how they are stored and how small lobsters can simply swim right out of the traps.
When it's all done, try your hand at mackerel fishing (you can catch and release or take a few home for dinner) and make a stop at Port Hood Island.
20. Glenora Distillery Tour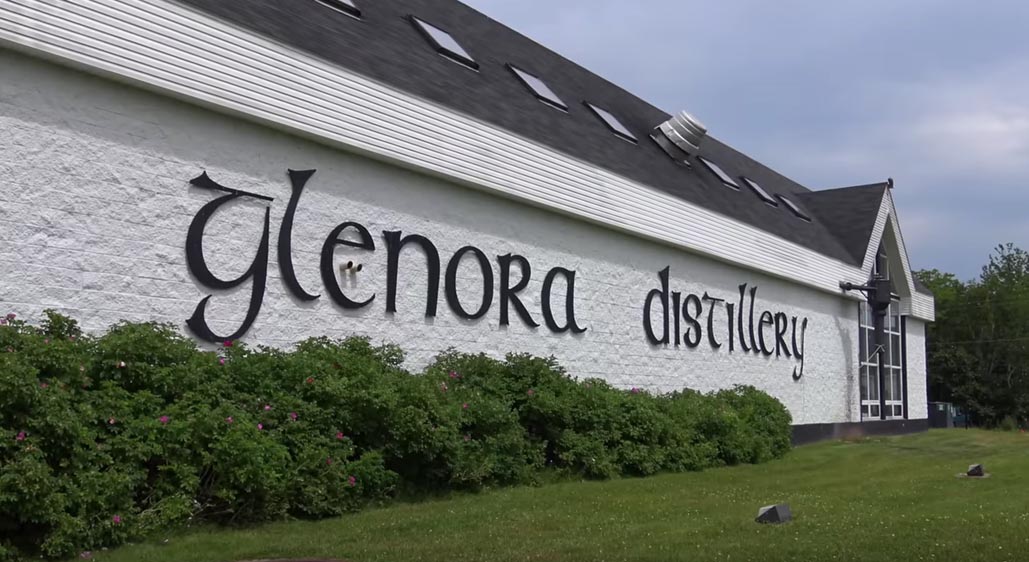 The Glenora Distillery is the first single malt whiskey distillery in North America.
Take a tour of the distillery to learn how the whiskey is made and have a taste to see what you want to buy.
The locals claim that the Glenora Stream is so clean and fresh it is said to be the water of life.
The pure water makes for perfect spirits!
21. Celtic Music Interpretive Centre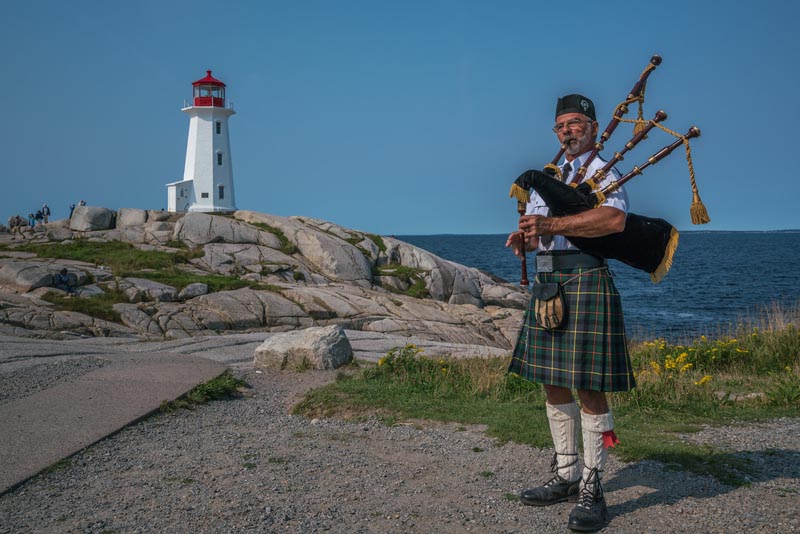 Before you travel Cape Breton Island, check out the Celtic Music Centre to learn of the history, culture and music of the Island. It will give you a better understanding of Nova Scotia's heritage and you can chat up the locals when you pop into a pub for a pint.
There are daily performances, interactive exhibits and demonstrations.
22. Lobster Boil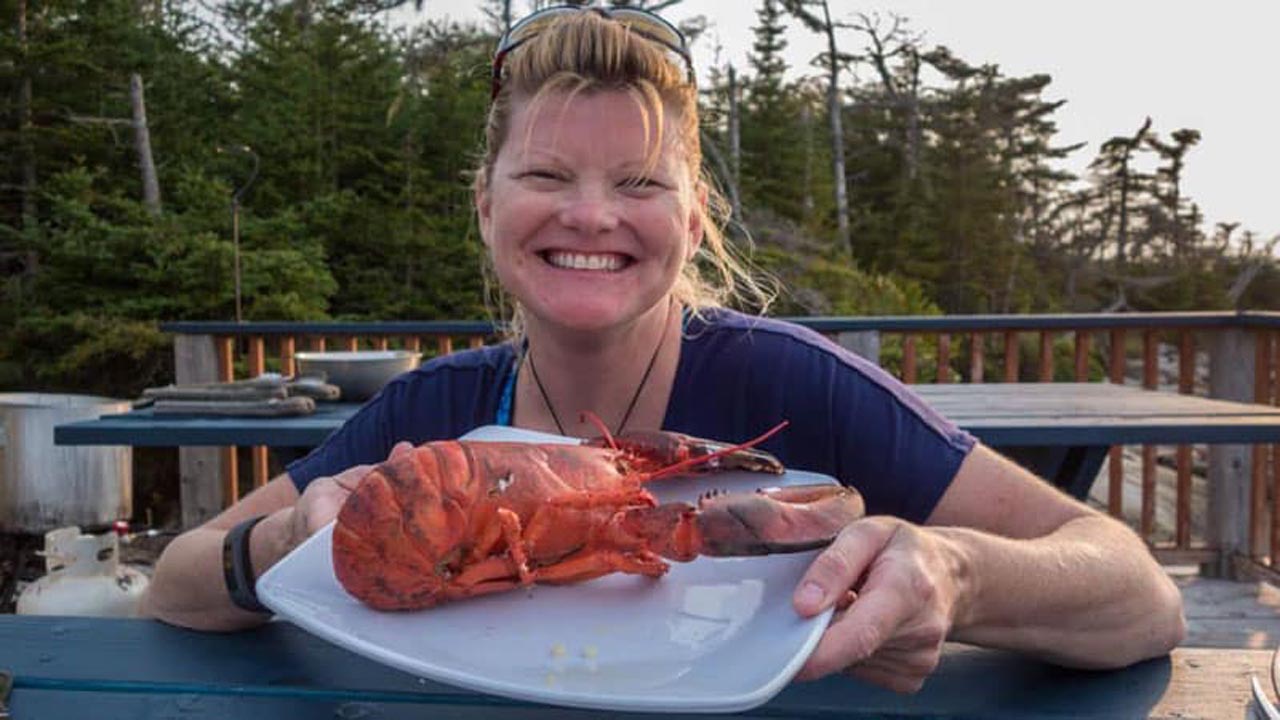 When in Nova Scotia, you must try lobster. They have perfected serving lobster every way imaginable. From lobster poutine, to lobster bisque, and lobster soup.
But the best way to enjoy fresh Nova Scotia Lobster is with nothing at all.
If you get the chance, set up shop at a local eatery and enjoy a lobster boil with lobsters straight out of the ocean. No butter, no salt just pure clean meat.
Cape Breton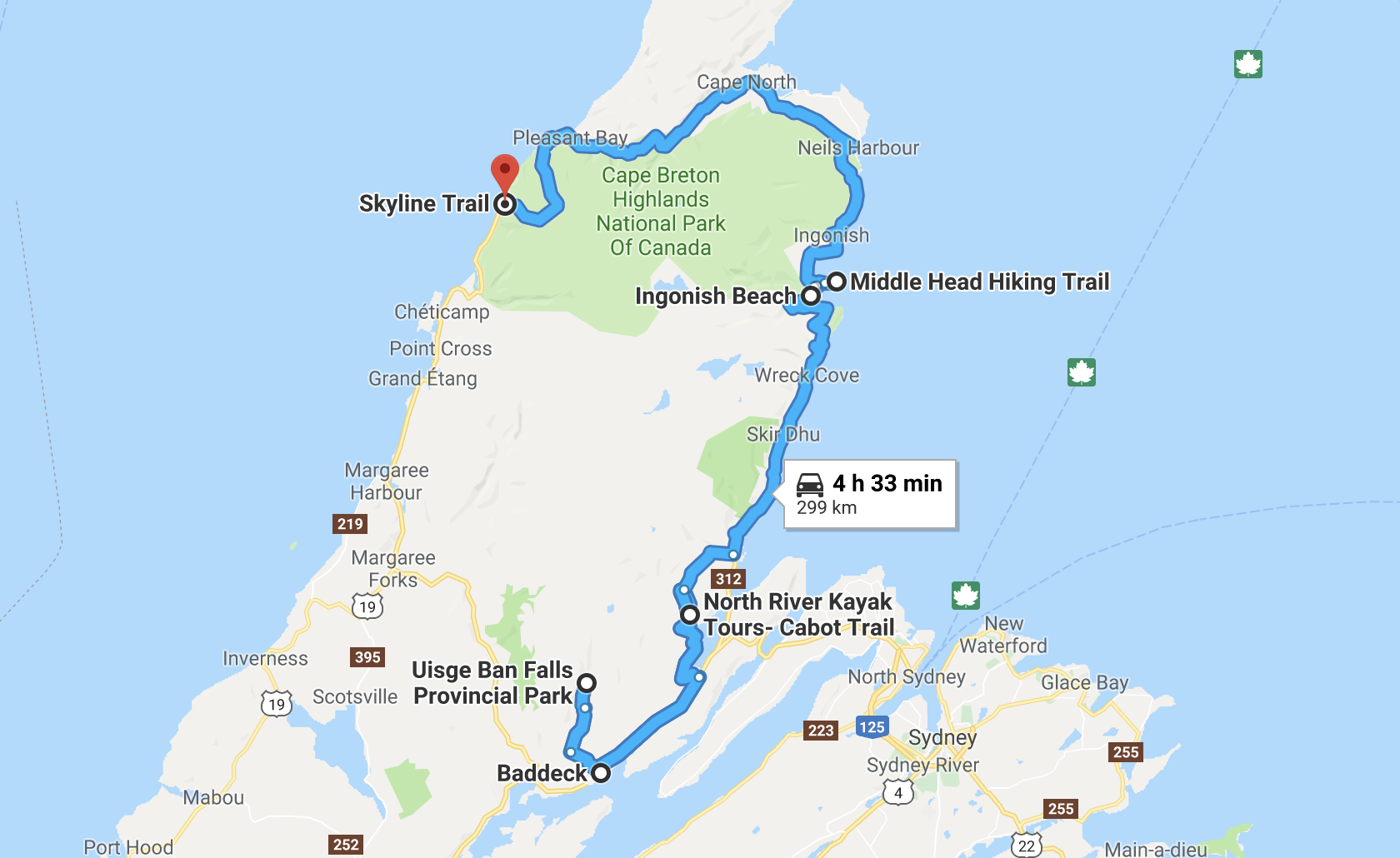 23. Cabot Trail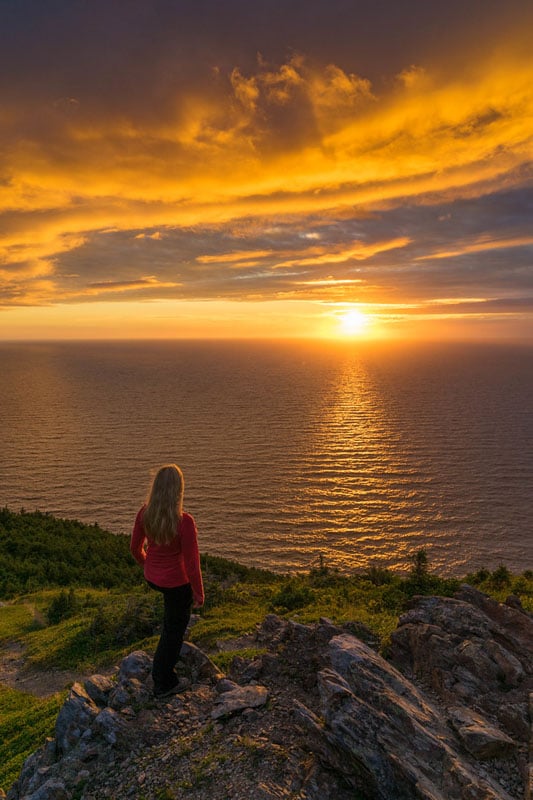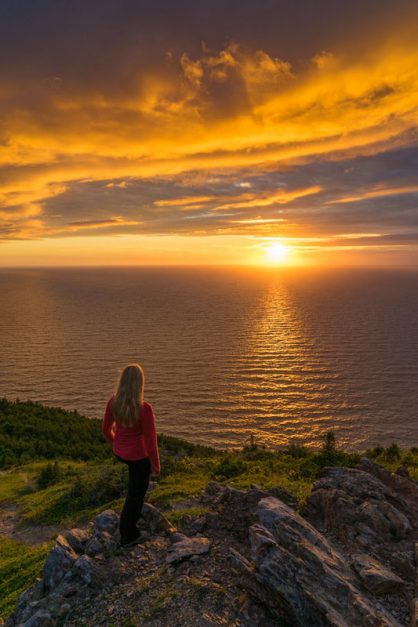 There is no doubt that the Cabot Trail is one of the top things to do in Nova Scotia.
Rated as one of the best road trips in the world, visitors flock to the trail to witness its breathtaking views, enjoy its world-class hikes and take in the scenic lookouts along the drive.
Tip: Drive counterclockwise along the trail for the best views and to be on the outside lane for views.
24. Baddeck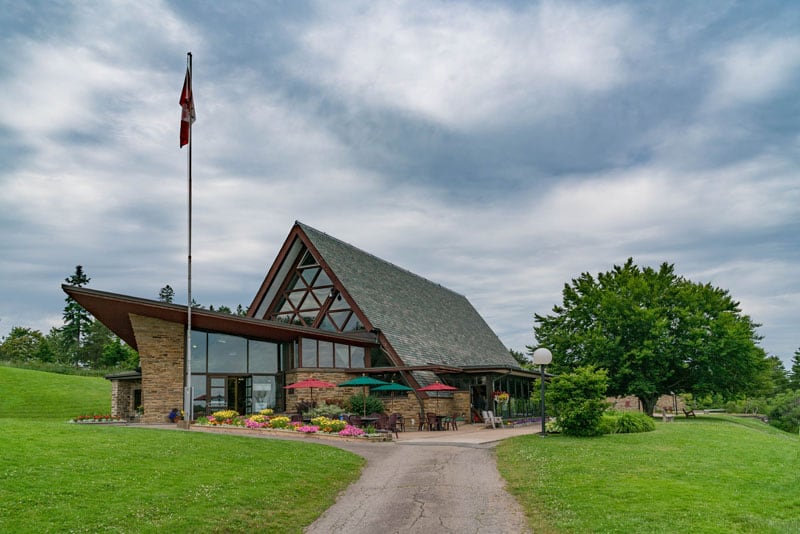 Baddeck is an important stop on the Cabot Trail because it was home to Alexander Graham Bell's summer house.
Built on the site of his cottage named "Beinn Bhreagh", Gaelic for "Beautiful Mountain."
Learn about his famous inventions like the telephone and his work with Hellen Keller 
25. North River Kayaking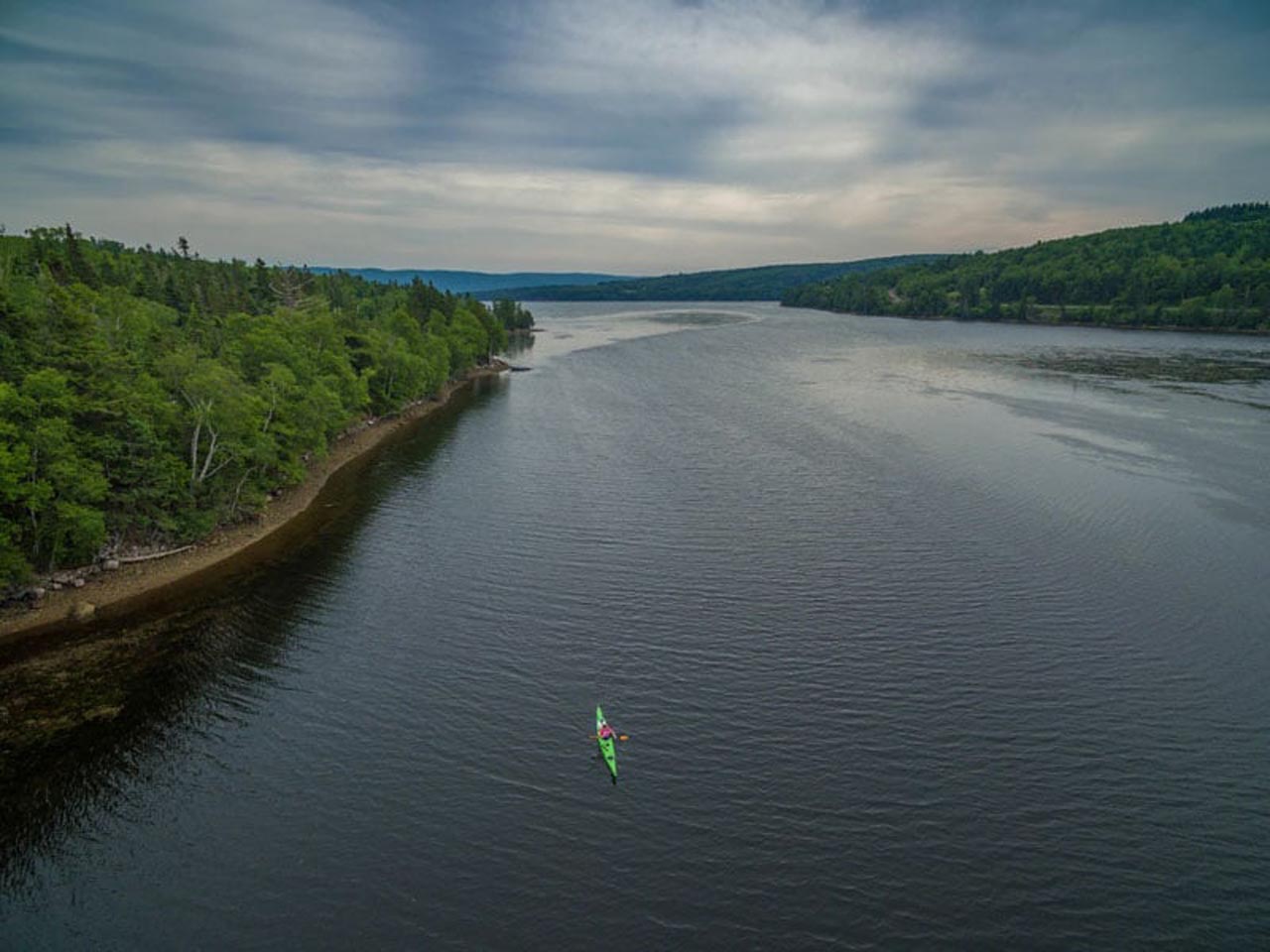 Whenever we visit Nova Scotia, we always try to put a kayaking trip on our itinerary. A good stop on the Cabot Trail for kayaking is the North River.
North River Kayaking offers half day, full day and overnight tours and we had so much fun with them.
The trip starts on the North River giving you a chance to get used to kayaking before heading out along the coast.
It's the guides that make the trip and North River Kayaking's guides are fantastic. We ate lunch on a secluded beach while listening to stories of growing up in the area.
If you are travelling along the Cabot Trail in Cape Breton, this is a must stop.
26. Cape Breton Highlands National Park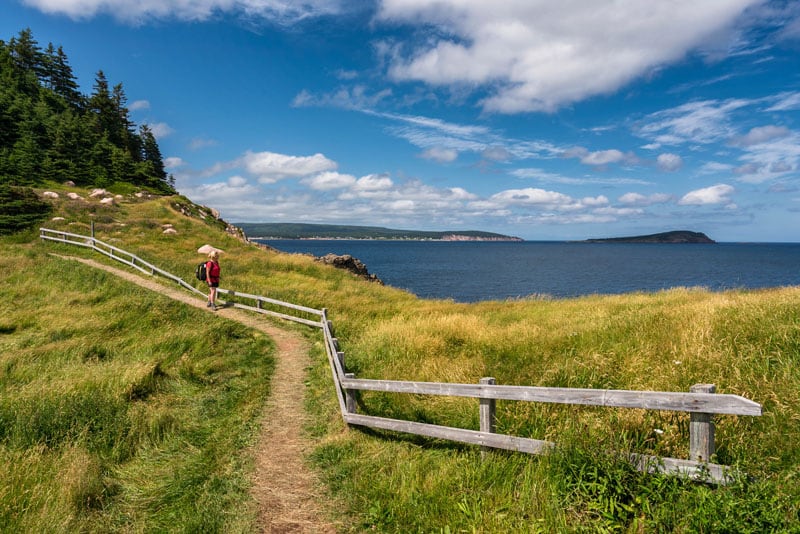 The 300 km loop of the Cabot Trail, weaves around the coast of Cape Breton. With incredible views overlooking the Gulf of St. Lawrence, hiking trails, waterfalls, campgrounds and scenic lookouts it is a must for anyone traveling to Nova Scotia.
Make a base in Cheticamp to explore Cape Breton. It's one of the premier places to go whale watching and you'll see bald eagles along the route too!
Hikes of the Cabot Trail
27. Skyline Trail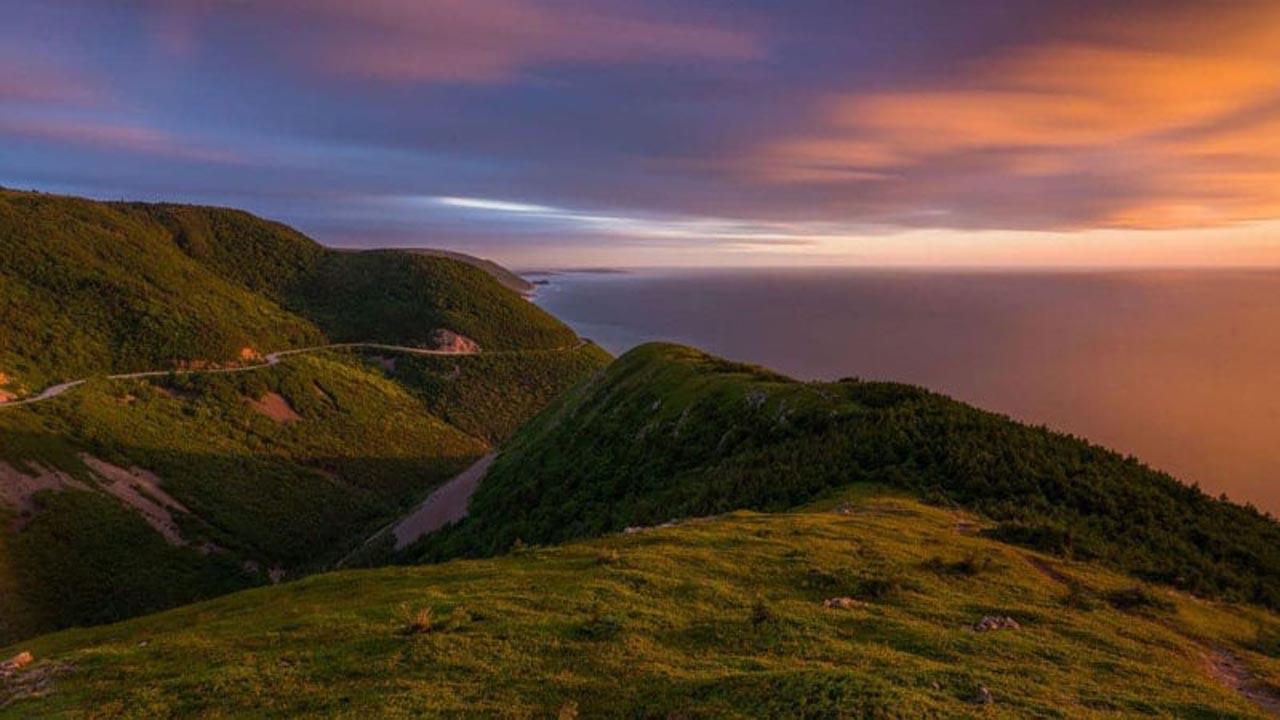 The most stunning hiking route on the Cabot Trail is without a doubt the Skyline Trail.
The Skyline Trail is the most popular hike on the Cabot Trail so crowds can be a problem, but we suggest getting around this inconvenience by hiking it early in the morning or at sunset as we did.
The hike is a 7.5 km loop and we suggest giving yourself at least 2-hours to take n the view and make stops. Moose are often spotted along the trail.
The trail itself is quite easy and well market with an excellent boardwalk leading down to different viewing points.
28. Uisge Ban Hike
Another hike we enjoyed was heading out to the Uisge Ban Waterfall.
Located just outside of Baddeck Uisge Ban (pronounced Ishkaban)  is an easy 1 1/2 km stroll to a beautiful waterfall.
It goes through a mossy forest meandering along a running stream.
If you are in the area visiting Alexander Graham Bell's House, be sure to stop here.
29. Middlehead Trail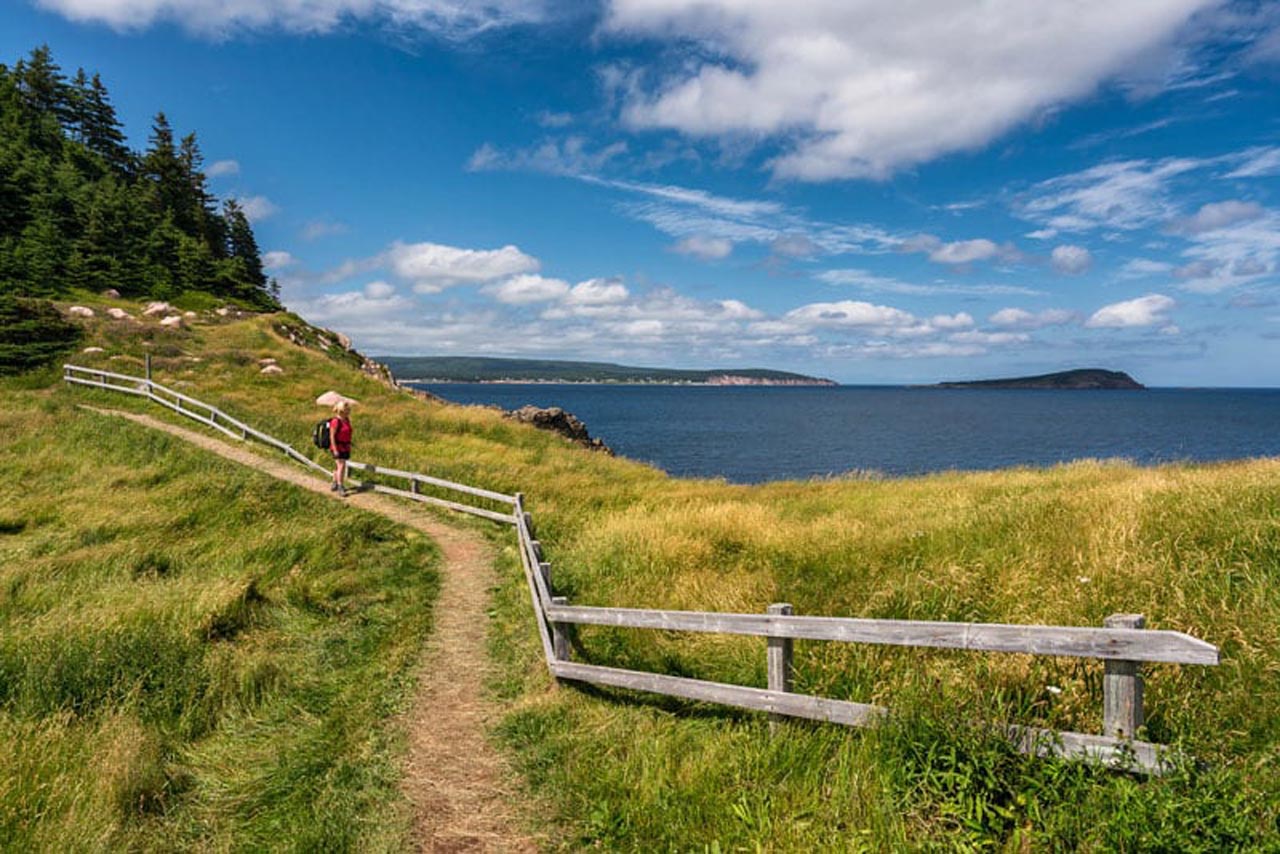 The Middlehead Trail is a popular hike on the Cabot Trail. It is located just beyond the historic Keltic Lodge at Ingonish Beach.
The 3.8 km (2.4 miles) loop follows a long peninsula stretching to the Atlantic Ocean.
The peninsula separates to bays of Cape Smokey and Ingonish Island.
Time: 1 – 2 hours
30. Ingonish Beach – oTENTNIK
The Keltic Inn looked like an amazing place to stay, but being on a road trip, we stayed at an oTENTNIK on Ingonish Beach.
oTENTNIKs are run by and can be booked through Park's Canada. 
They are the perfect accommodation for families on a Nova Scotia Road Trip, or for couples (sleeps up to four adults or 2 adults four children) looking to spend some time outside, but not ready to rough it too much.
Everything you need for camping is supplied, so if you want a night or two of camping, but don't have the gear, this is the way to go.
Tents sleep six people and are stocked with sleeping pads, camping chairs, propane stove, cooking gear and plates and bowls. (Bring your own sleeping bags)
31 Lantern Walk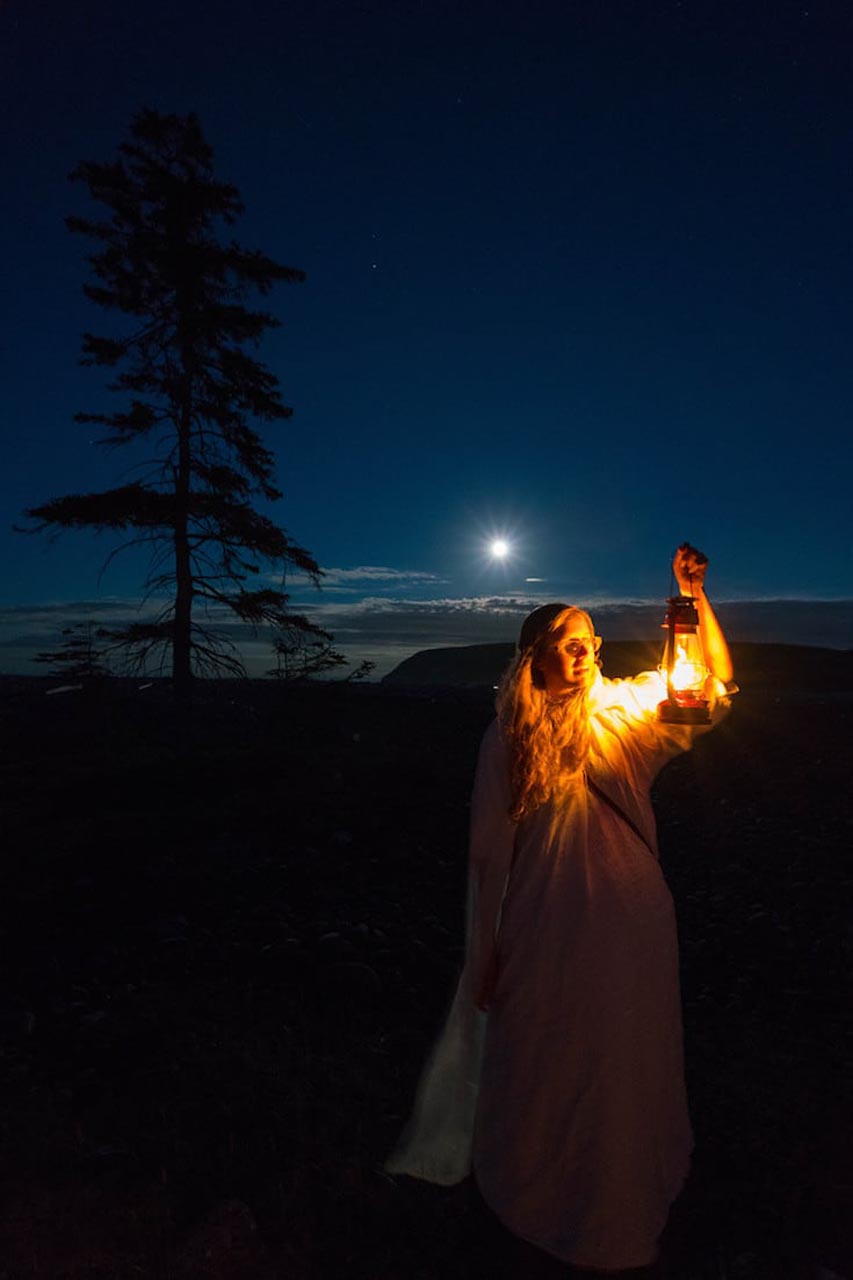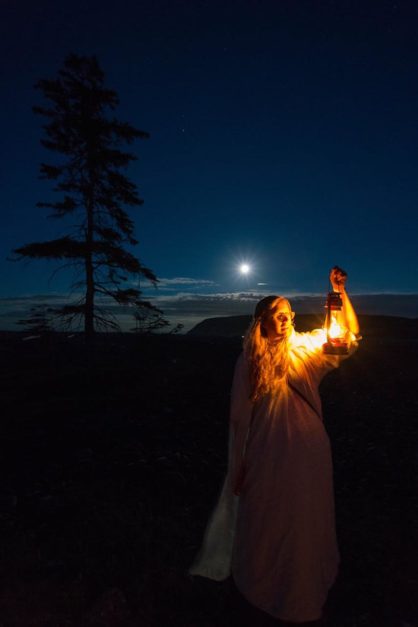 While staying at Ingonish Beach, we joined the after dark lantern walk. This guided tour is filled with history and fun.
This really was a special tour that takes you through the history of Ingonish and Cape Breton.
Ghost stories are told, complete with actors hiding in the woods and voices chanting in the forest.
It is magical and you can almost feel the spirits joining along for the walk.
Eastern Shore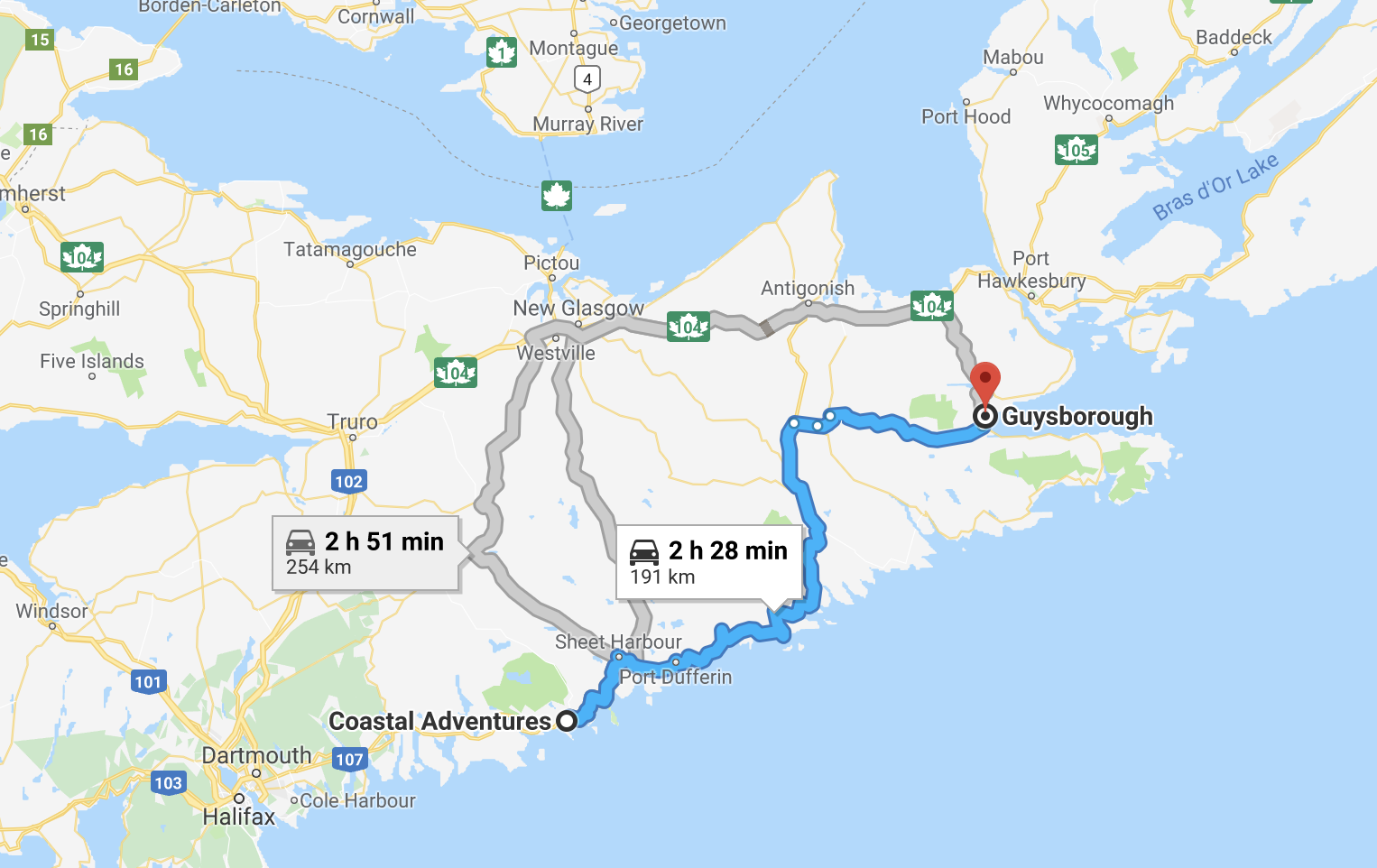 32. Guysborough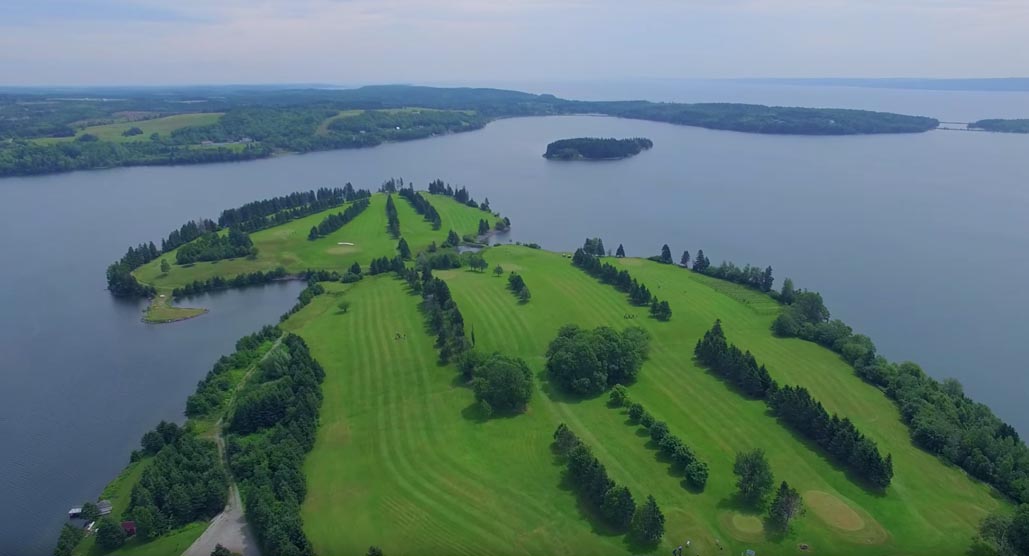 This under-appreciated destination is not on a lot of Nova Scotia Itineraries, but something tells me it will soon be very busy.
We started our trip at the Authentic Seacoast Distillery where we hopped on golf carts to explore the golf course located on the water.
It was then time to tour the state-of-the-art distilling and brewing facility where we learned how they make their award-winning spirits and craft beer.
You can rent a bicycle and take a spin on the TransCanada Trail and pick up a picnic lunch at the Harbour Bakery or Skipping Stone Cafe to take with you for the day.
33. Coastal Adventures Eastern Shore Kayaking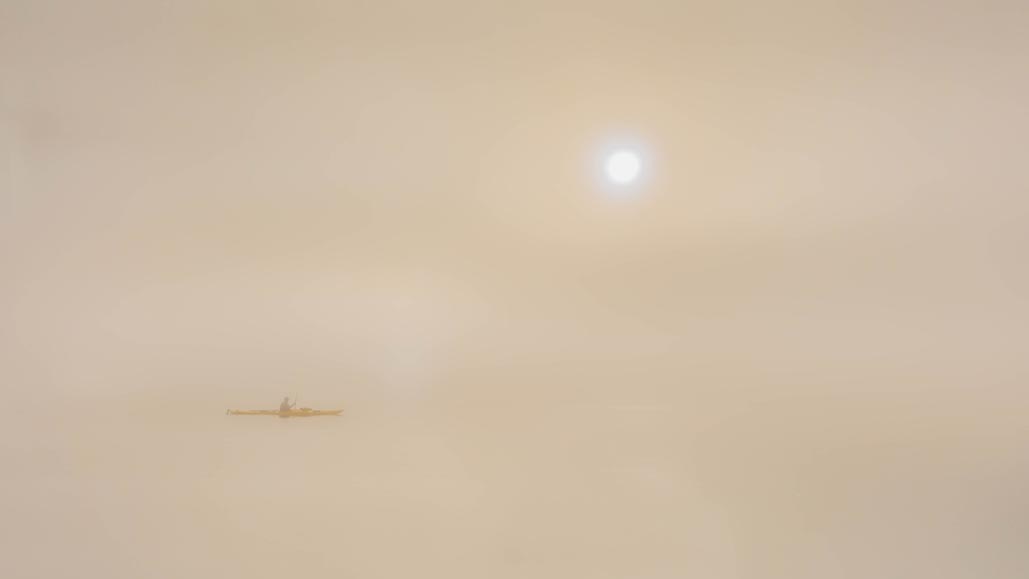 A Nova Scotia road trip is never complete without a great adventure and our tour ends with a kayaking tour with Coastal Adventures.
The Eastern Shore offers impressive kayaking along the rugged shore.
Taking you through sea stacks and sea caves, exploring islands and hiking along beaches.
Owner Dr. Scott Cunningham is the author of Sea Kayaking Nova Scotia and runs Atlantic Canada's foremost sea kayaking operation.
Nova Scotia is a province filled with adventure, culture and impressive scenery. It is one of our favourite places to visit in Canada and we hope that you add it to your Canadian travel itinerary too!
Our trips to Nova Scotia have been sponsored by Tourism Nova Scotia. For more information on things to do in Nova Scotia visit the Nova Scotia Tourism Website. 
You won't be disappointed!
Save to Pinterest: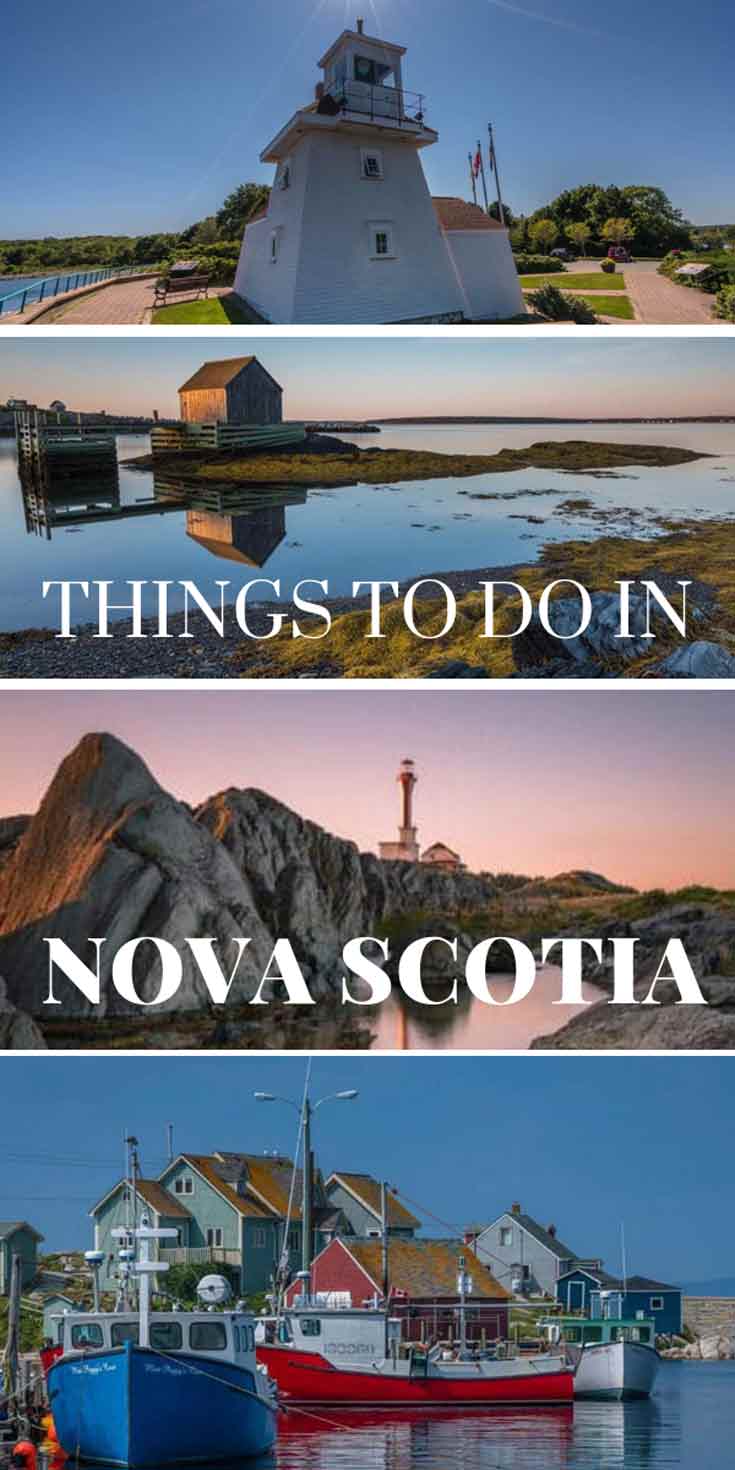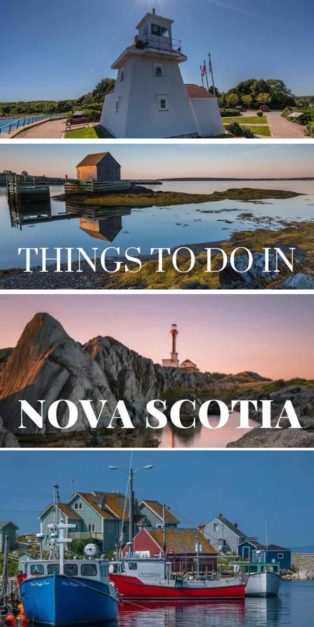 Have you been to the East Coast of Canada? What are your favourite things to do in Nova Scotia?
Read More:
Why Nova Scotia Should Be the First Stop on the East Coast
Saint John New Brunswick, The Complete City Guide